Thunderstorms have returned with a bang over Tamil Nadu with many places receiving heavy rains over the past couple of days. In particular parts of Delta dts have recorded very heavy rains with few places in Trichy and Thanjavur districts recording nearly 15 cms of rains for the 24 hours ending Monday morning. Similarly parts of Thiruvarur, Perambalur and once again Thanjavur districts recorded heavy rains during the wee hours of Tuesday. If one were to look at the rainfall pattern on Sunday the heaviest rains happened over parts of South TN and around Trichy & Thanjavur dts which shifted slightly to the North on Monday night over parts of Thanjavur, Perambalur, Ariyalur dts.
In the meanwhile yesterday parts of Chennai and suburbs recorded light to moderate rains with the IMD observatory at Nungambakkam recording 3 cms. Though conditions for Chennai and suburbs improve from today the spell yesterday gave an indication on what to expect over the next 3 days or so which is expected to be the best period for the city before a lull in rains are expected for the next week or two as monsoon conditions pick up slighlty on the back of a possible disturbance over Central Bay.
In a way the precursor to the above mentioned disturbance in the form of a weak circulation is triggering wind convergence over parts of Tamil Nadu providing for conducive conditions for convective thunderstorms to develop after what is a fairly hot day on most occasions. Today conditions look good for fairly widespread thunderstorms over North Tamil Nadu with parts of Tiruvannamalai, Vellore, Ranipet, Villupuram dts likely to come under intense thunderstorms in a few places. Once again places about 50 – 75 kms from the coastline may see very heavy spell of rains during the late night hours.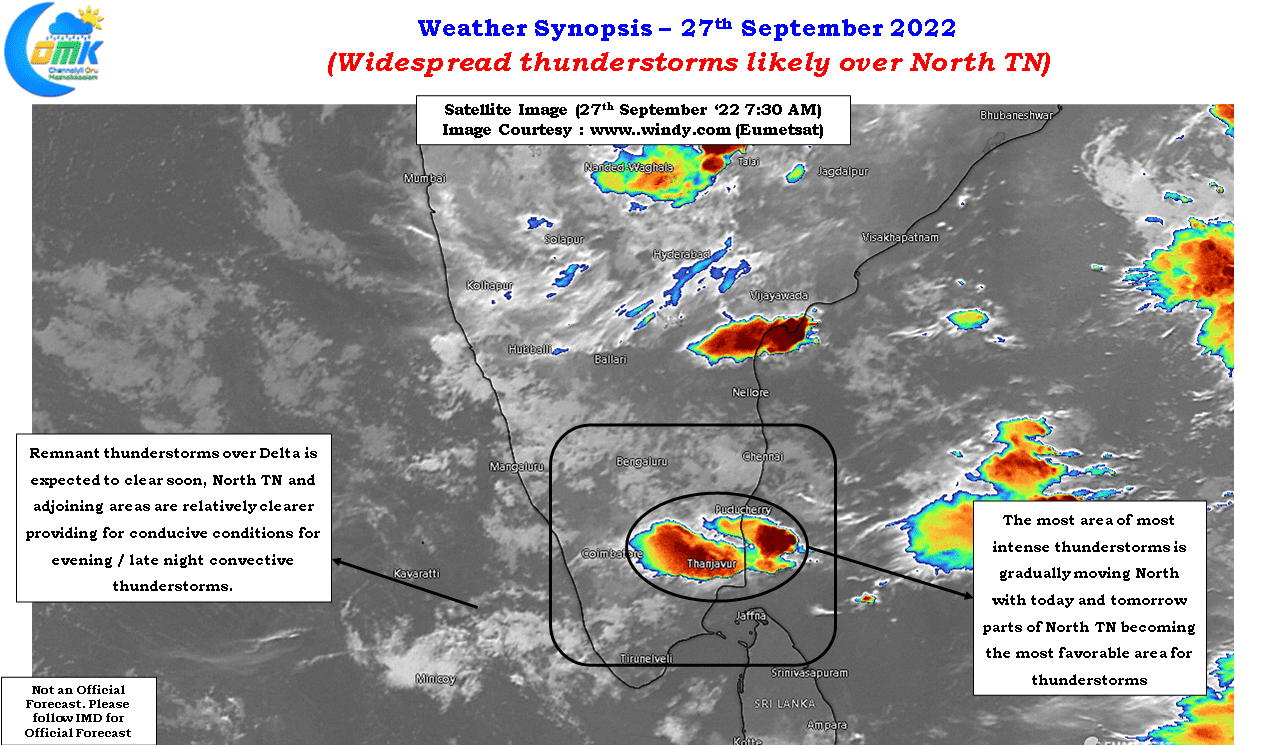 Over the next two days the area favored by wind convergence will be around North TN and adjoining parts of South AP which is likely to augur well for Chennai and suburbs as well. Though places along the coast line might miss out the most intense thunderstorms western and southern suburbs of Chennai are due to an intense spell of thunderstorms between today and end of the week.
On the overall scheme of things it is exciting few days for weather enthusiasts as well with the current Southwest Monsoon seasonal tally at 469.5 mm and four days left for the season to end. Based on outputs from weather models in all probability Southwest Monsoon 2022 could end up setting the All time record for the highest seasonal tally over TN & PDC. The biggest excitement would be whether could we see the seasonal tally cross 500 mm for the first time in recorded history.