The period when Southwest Monsoon starts withdrawing over the Indian Sub Continent is one of the most favorable period for thunderstorms just like the pre monsoon transition season. Winds tend to become scrambled leading to situations like Convergence, LWD etc. This year so far predominantly wind convergence has been the trigger for thunderstorms over the interior areas of Tamil Nadu with very rarely clear LWD type of conditions seen.
Particularly since September & October the almost continuous Lows over the Bay has provided for regular wind convergence drive thunderstorms. For a change wind charts today LWD type of conditions are seen between 1.5 kms ASL & 3 kms ASL altitude stretching all the way from Interior Karnataka to Coastal Tamil Nadu. This is likely to create conducive conditions for Thunderstorms to develop over most parts of Tamil Nadu along with AP & Karnataka.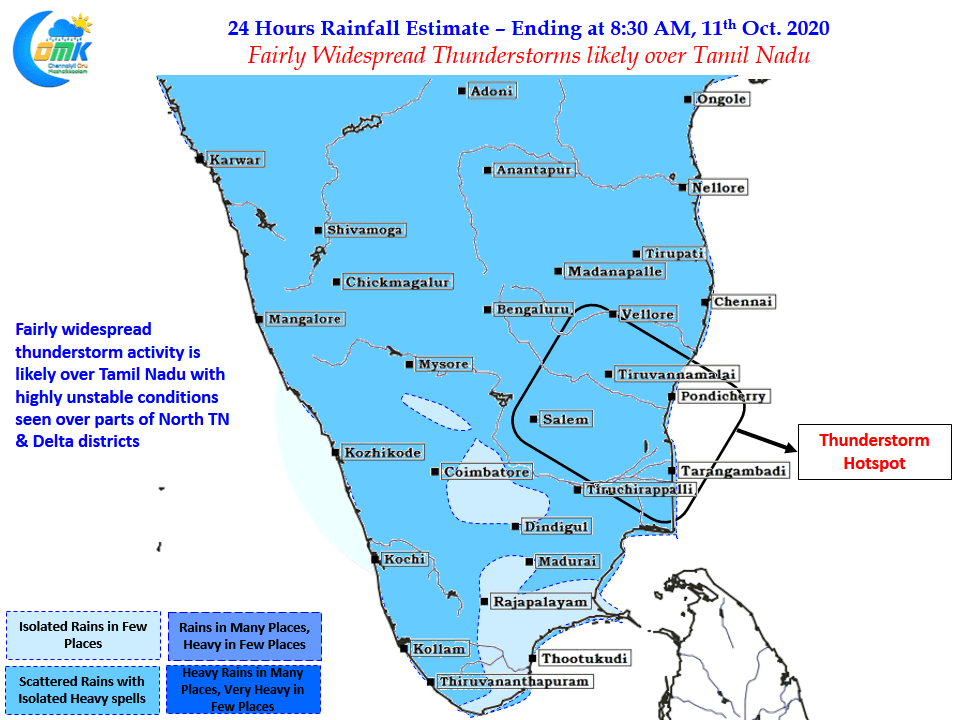 Looking at how the LWD is placed it appears parts of North TN is likely to see fairly intense thunderstorm activity. There is fairly tight agreement among models on North TN getting the best of the spells today though the impact areas vary between the NW areas like Krishnagiri to the coastal areas like Pondicherry / Cuddalore. Parts of Tiruvannamalai, Villuppuram, Kallakurichi, Cuddalore dts could see some heavy spell of rains later in the evening / tonight. The steering winds are expected to be weak which is likely to ensure spells of rains are going to be heavy due to slow movement of thunderstorms.
Yesterday parts of Chennai recorded sudden burst of rains in the afternoon, today & tomorrow once again represents very good chance for most areas of Chennai. Lucky suburbs around Southern areas could see fairly heavy spell of rains.