Northeast monsoon season has started to pick up pace once again under the influence of the disturbance off the coast of Sri Lanka. Satellite images confirm the LPA has become a well marked low now moving in a NW direction along the NE coast of Sri Lanka. From last evening fairly widespread rains have started to happen over the coastal areas of Tamil Nadu between Chennai and Delta districts. As of 5:30 AM the IMD observatories at Chennai Nungambakkam and Meenambakkam has recorded 31.8 mm and 34.4 mm respectively. Similarly other coastal stations also have recorded good rains with Pondicherry recording 31 mm, Cuddalore recording a more heavier 65 mm. The IMD stations in delta districts to recorded moderate rains with Karaikal recording 53 mm and Nagapattinam recording 48 mm.
After the initial wobble among models in terms of the location of the low pressure area due to multiple vortices yesterday a fair bit of alignment was seen among models on the location. Models are fairly consistent on the overall theme of this this disturbance in terms of a WNW movement crossing the Tamil Nadu coast and moving over the interior areas and eventually reaching Arabian Sea. But there appears to be a fair bit of inconsistency among models in terms of the track and intensity for the 24 hours ahead which has lead to diverging rainfall forecasts among various models. On the one hand you have ECMWF which is estimating heavy to very heavy rains over parts of South TN coast between delta districts and Rameswaram while GFS is estimating heavy to very heavy rains over North Tamil Nadu including the interior areas.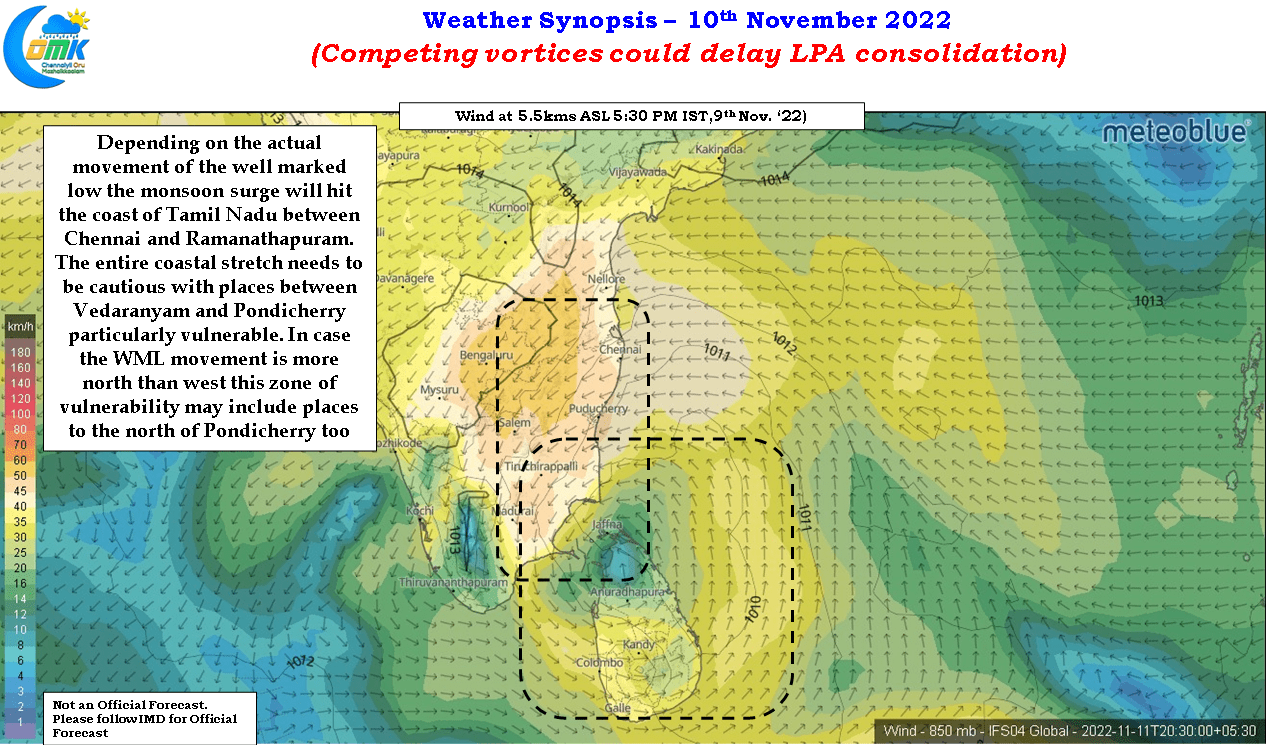 This estimate from GFS possibly owes to the more pronounced northward movement which GFS expects compared to other models like ICON & ECMWF which expects the disturbance to cross TN coast towards south delta or even south of that while GFS expects the low to cross closer to north delta. This slight shift in locations bring about the vast difference in estimated rainfall pattern due to changing locations of the peak monsoon surge on account of the low. Similarly this location also becomes a critical component in terms of the rainfall impact for the interior areas as well as the bulk of the convection is normally to the north of the vortex bringing heaviest rains to this region.
Nevertheless irrespective of the diverging model outputs the coastal stretch of Tamil Nadu between Chennai and Thoothukudi need to be prepared for widespread heavy rains with many places likely to see very heavy spell of rains. The stretch between Vedaranyam and Pondicherry is particularly vulnerable to isolated extreme spell of rains. In the event the vortex jogs more northward than westward we can expect this most vulnerable zone to include places to the north of Pondicherry as well.
For Chennai and suburbs moderate to heavy spell of rains with breaks in between is likely to be the trend for most of today and tomorrow. There is a very high probability of this rainfall episode providing for similar numbers as the previous one between October 31st to November 2nd across most parts of the city. With the trend of storms intensifying closer to Chennai coast seen last evening as well at times some of these spells may be very heavy.