Northeast monsoon 2022 saw its first extreme rainfall episode as parts of Mayiladuthurai and Cuddalore districts recorded relentless rains on Friday night under the influence of the well marked low that stalled off the delta coast for more than 12 hours before deciding to nudge west. While Chidambaram recorded 31 cms for the 24 hours ending yesterday morning neighboring Sirkali in Mayiladuthurai district recorded 44 cms in one of the highest instances of rainfall during NEM times in recent years. In what was certainly a relief for the disaster managers of the area the well marked low weakened into a Low Pressure area yesterday and has gradually tracked west crossing the interior parts of Tamil Nadu.
Currently it is seen straddling parts of GOM, Arabian Sea and the southern parts of peninsular India and is likely to move further pushing into Arabian sea in the next 12 to 24 hours or so. This weakening and moving to west will bring gradually bring about a reduction in rains over Tamil Nadu in the next 24 to 36 hours or so. But before that we could possibly see parts of South Tamil Nadu record fairly widespread rains today with few places along the coast between Ramanathapuram & Thoothukudi along with few places closer to the western ghats districts like Kanyakumari and Tirunelveli recording heavy spells at times as moisture gets trapped in the valleys. Coastal places like Chennai will continue to see moderate spells of rains during the night and morning hours until Tuesday possibly before rains taking a small break.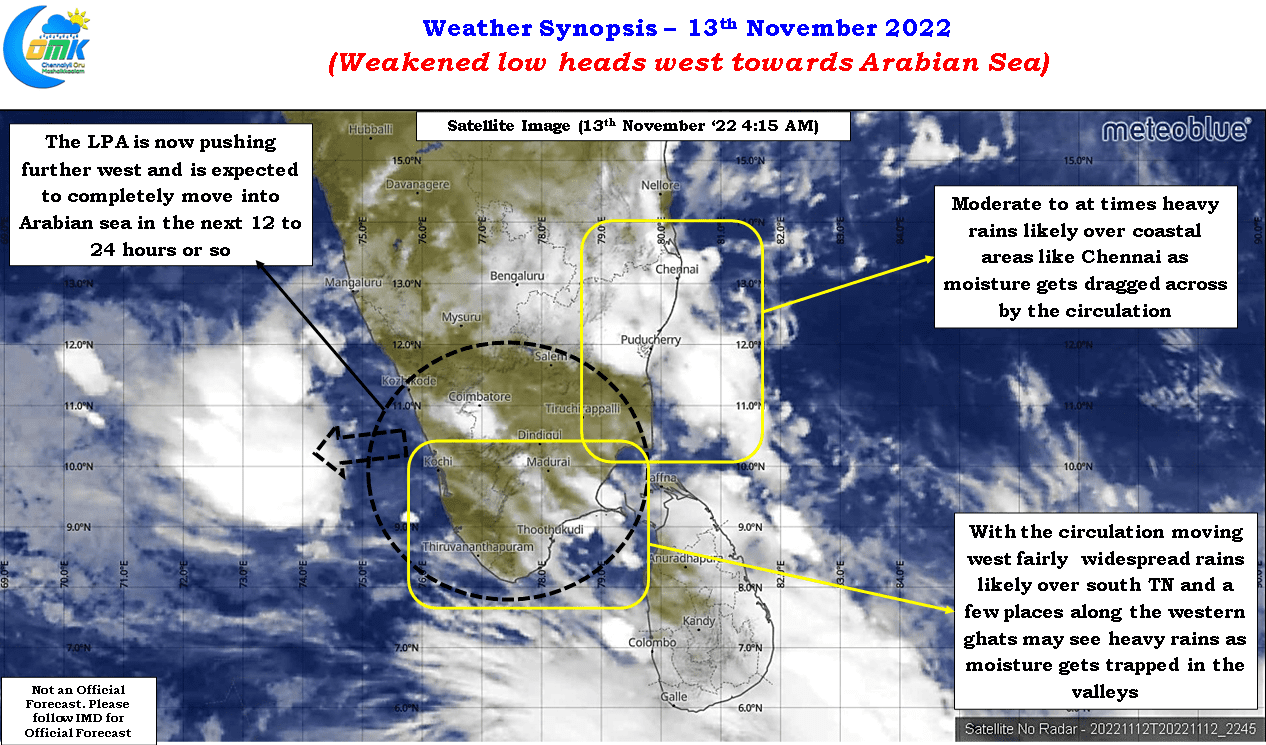 Many from Chennai may have been disappointed over the absence of very heavy rains despite many parts of the city recording nearly 15 cms of rains over the last 3 / 4 days since the LPA started influencing dynamics over coastal Tamil Nadu. But certainly Chennai has dodged a bullet considering the intensity of spells parts of the city & southern suburbs received on Saturday morning. A widespread long lasting evening of similar intensity like that of the Saturday morning spells could have certainly brought the city to its knees in terms of its SWD infrastructure.
With the weather models consistent about the SCS-BOB conveyor belt remaining active for at least the remaining days of November the infrastructure in the coastal areas of Tamil Nadu is likely to come under pressure at least one more time in the next couple of weeks While the upcoming pulse is expected to push into Andaman sea in the next 2 / 3 days or so the influence of MJO over the eastern parts of Indian Ocean and adjoining parts of Maritime continent is likely to prevail for the remaining days of November keeping the SCS-BOB conveyor belt going. Weather models are consistent about the ITCZ staying around 10N latitude during this period potentially ensuring any disturbance that evolves into an LPA / Depression from the pulses coming in from South China Sea have a high probability of influencing the weather dynamics over coastal Tamil Nadu.
A detailed post on the upcoming low will be posted on Tuesday when better clarity may be available on the likely genesis point and intensity which is essential in trying to understand potential movement and impact locations