With back to back Monsoon low taking center stage of weather dynamics thunderstorms have taken back stage over Tamil Nadu with fairly dry conditions prevailing over the state. Time to time under improved monsoon surge while the places along the Ghats have got rains with some of the places getting heavy rains during the devastating spell that hit Kerala & parts of Karnataka. Even though Chennai and surrounding areas got a very good spell of rains on 14th August that continued till the early morning hours of it was not from thunderstorms instead was from a very strong monsoon surge. This spell of rains possibly indicates how powerful this surge was to penetrate across the Western Ghats and provide for a spell of rains in the East coast all the while dumping huge rains over Kerala & South Karnataka Ghats.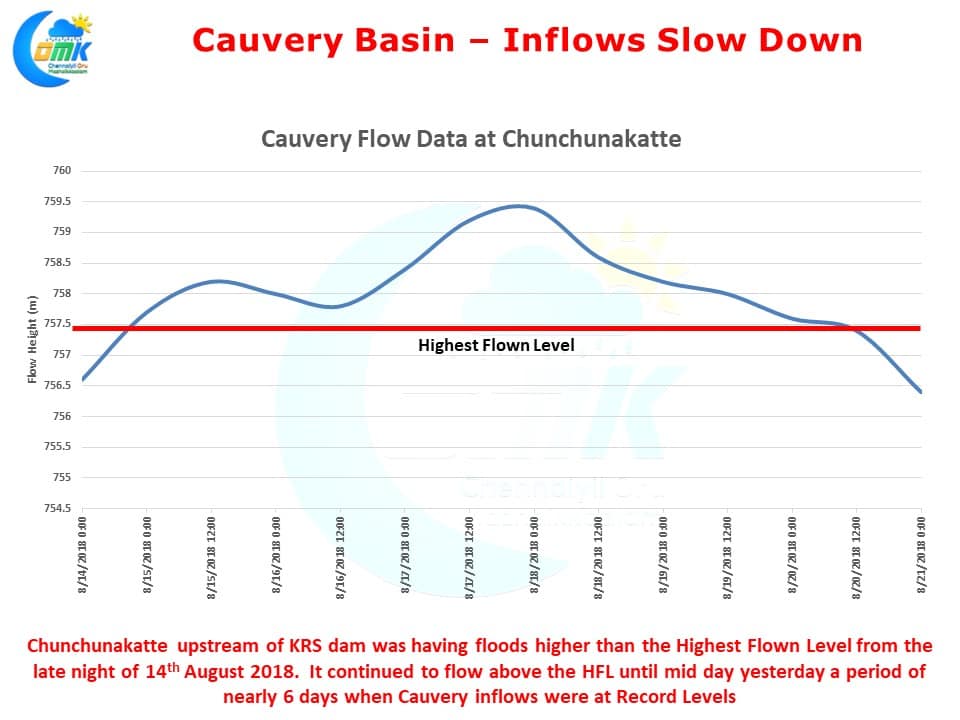 As we had mentioned in our post on 17th August the rains have slowed down over Kerala bringing some cheers to the Relief & Rescue Team that is working against clock to reach out to all those affected by the floods. With rains easing the inflows into Cauvery River Basin dams. After nearly 6 days yesterday saw Cauvery flow below the previous recorded highest flown level at Chunchunakatte, upstream of KRS Dam. The fairly dry spell which is likely to persist over the next week or so will allow the river also to recover from the deluge. Satellite image indicates fair weather over the southern parts of Peninsular India which will make it clearer weather for most of Kerala, South Kerala & across Tamil Nadu.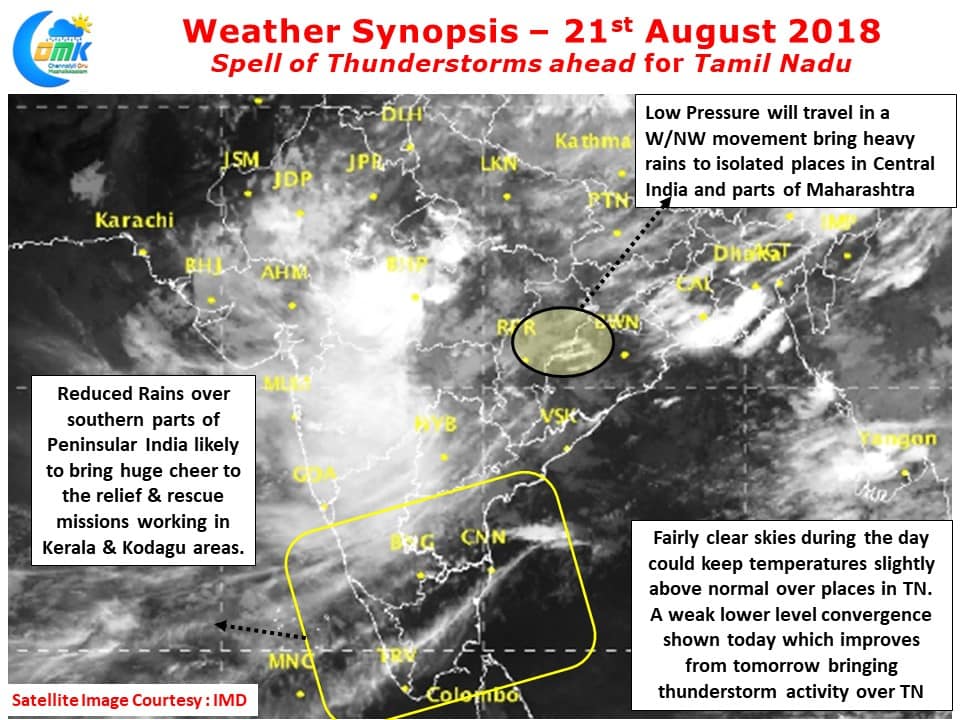 The Low Pressure Area over Odisha is likely to continue in a W/NW direction and possibly bring heavy rains in parts of Central India as it moves across. Weather models indicate a return of low level convergence over Coastal Tamil Nadu in the coming days which will bring back the spell of thunderstorms for the state. While today we could possibly see weak convergence triggering isolated thunderstorms over North TN from tomorrow there is likely to be pronounced convergence improving the prospects of thunderstorms. It appears we could possibly see one fairly active evening of thunderstorm bringing heavy rains during the process along Coastal Tamil Nadu. We will have better clarity on the exact impact location and date possibly by tomorrow morning.