Monsoon (Merriam Webster Dictionary)

1: a periodic wind especially in the Indian Ocean and southern Asia
2: the season of the southwest monsoon in India and adjacent areas that is characterized by very heavy rainfall
3: rainfall that is associated with the monsoon
The word monsoon probably owes its origin to the Arabic word "mawsim" indicating season. Southwest Monsoon, one of the oldest and most anticipated weather phenomenon globally, is knocking on the doors over the South Andaman Sea and adjoining Bay of Bengal. While Monsoon Onset of Kerala (MOK) is a more popular event that gets a larger coverage from mainstream media the onset of Southwest Monsoon over South Andaman Sea, Nicobar Islands (effectively the first land point for monsoon arrival over Geographical India) and adjoining South east Bay of Bengal is a moment that sets the pulse racing in anticiaption for the weather bloggers and watchers.
With strong cross equatorial westerlies seen pushing moisture over the Equatorial Bay we can safely assume it is only a matter of hours rather than days before Southwest Monsoon 2022 checks into the Andaman islands. While MOK has a defined onset criteria the onset of SWM over the Andaman Islands does not have a similarly well established benchmark standards to judge against every season. In this context it becomes important to highlight MOK is roughly 10 days after SWM checks into Southeast Bay.
Yesterday many places in Kerala saw heavy to very heavy rains. Many IMD stations have recorded rains in excess of 10 cms at the time of writing this post. One may wonder if heavy rains have happened over many places in Kerala why is the post talking only about Monsoon Onset over Andaman and Nicobar Islands. A careful scrutiny of the wind charts will highlight the converging winds from NW and West being a crucial part in these rains. The lightning chart will also confirm this through the presence of strong thunderstorms in patches where strong wind convergence is seen. Today once again this wind convergence is likely to trigger rains over Kerala though the rain bands may slighlty shift to North consequent to the strengthening of westerlies.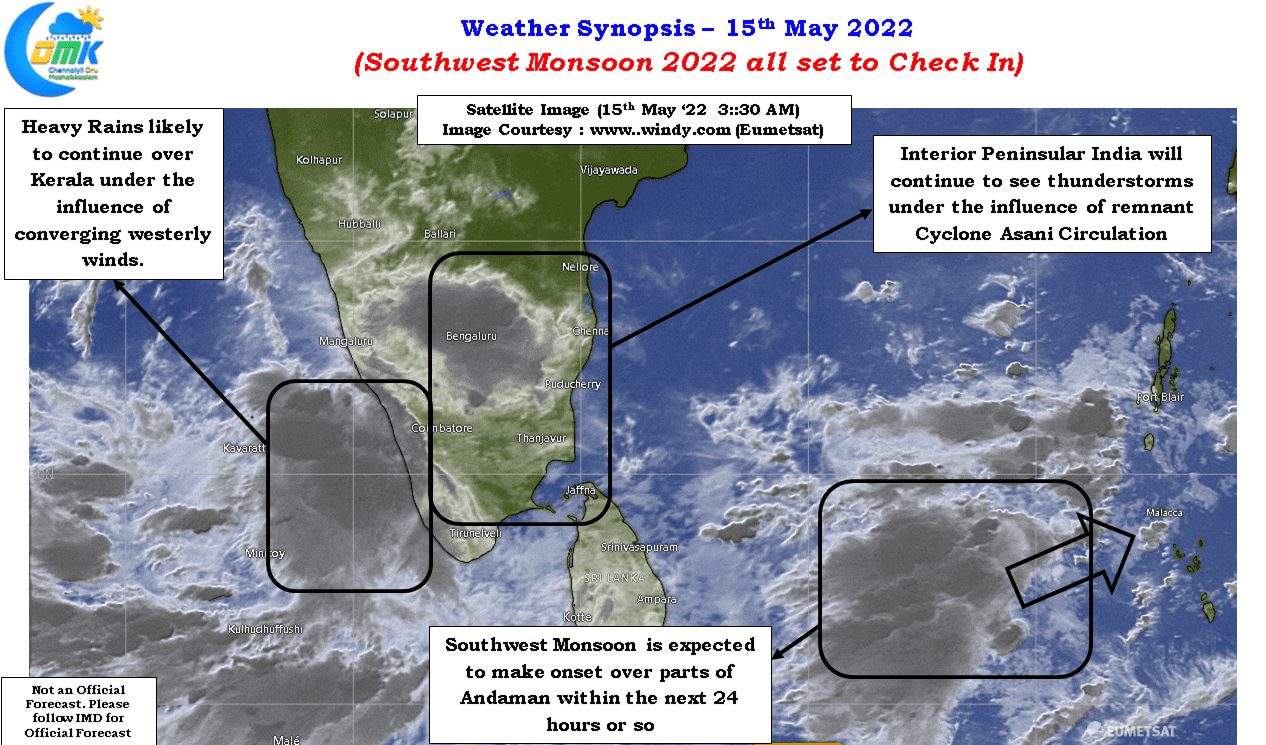 Many parts of Tamil Nadu saw fairly intense thunderstorm activity under the influence of the remnant circulation of Cyclone Asani which is seen persisting as an Upper Air Cyclonic Circulation off the coasts of AP and TN. Even some of the suburbs of Chennai, particularly southern suburbs, came under a spell or two of intense rains as weakening winds created slow steering for the storms. Towards the evening parts of Delta and adjoining places came under intense thunderstorms which once again dumped heavy rains due to poor steering. Similar conditions are seen today as well with chance for Northwest Interior TN, Vellore, Tirupatthur, Tiruvannamalai and Krishnagiri dts, to come under intense thunderstorms that may be slow moving again. The caveat though is fairly clear skies during the early part of the day to allow a little bit of convection build up through rising air particles driven by Sun's energy.
The week steering seen along the coast could mean chance for Chennai and suburbs to catch rains from interior thunderstorms look remote though localized development in isolated pockets like yesterday afternoon may benefit a few areas that may see stand and deliver rains. So dont be surprised if you see a rain shaft at the distance that never seems to move as though stuck by Fevicol.