The Indian Sub Continent is unique in many ways, landmass surrounded by three waterbodies , a mighty mountain range to the North in the form of the Himalayas provides for some interesting weather events that are seldom seen simultaneously in the same country. As the capital and surrounding Northwest India reeled under an intense heatwave that saw parts of the National Capital Region record temperatures in excess of 46ºC on Sunday further east another very important weather phenomenon marked its attendance over the Indian Sub Continent. IMD announced the onset of SWM over A&N Islands yesterday.
Southwest Monsoon made its first port of call over the Indian Sub Continent by making onset over Andaman Islands and surrounding Bay of Bengal region yesterday. While the normal onset window is 22nd May for these areas, this year Southwest Monsoon has made an early check in making onset nearly a week in advance. Here it becomes very pertinent to reiterate the overall performance of the Monsoon season is not directly connected to the onset dates as intraseasonal conditions are the key for the overall monsoon performance.
In the meanwhile Peninsular India continues to see pre monsoon thunderstorms light up the evening skies with once again keen weather observers from Chennai able to witness lovely evening skies to the west due to the presence of intense thunderstorms all the way from about 30 – 50 kms West of Chennai to all the way up to South Interior Karnataka and adjoining parts of Interior TN and Rayalaseema region. While Chennai is expected to remain a spectator today too with interior areas once again likely to benefit from the temporary vortex like feature seen off the coast of Kerala.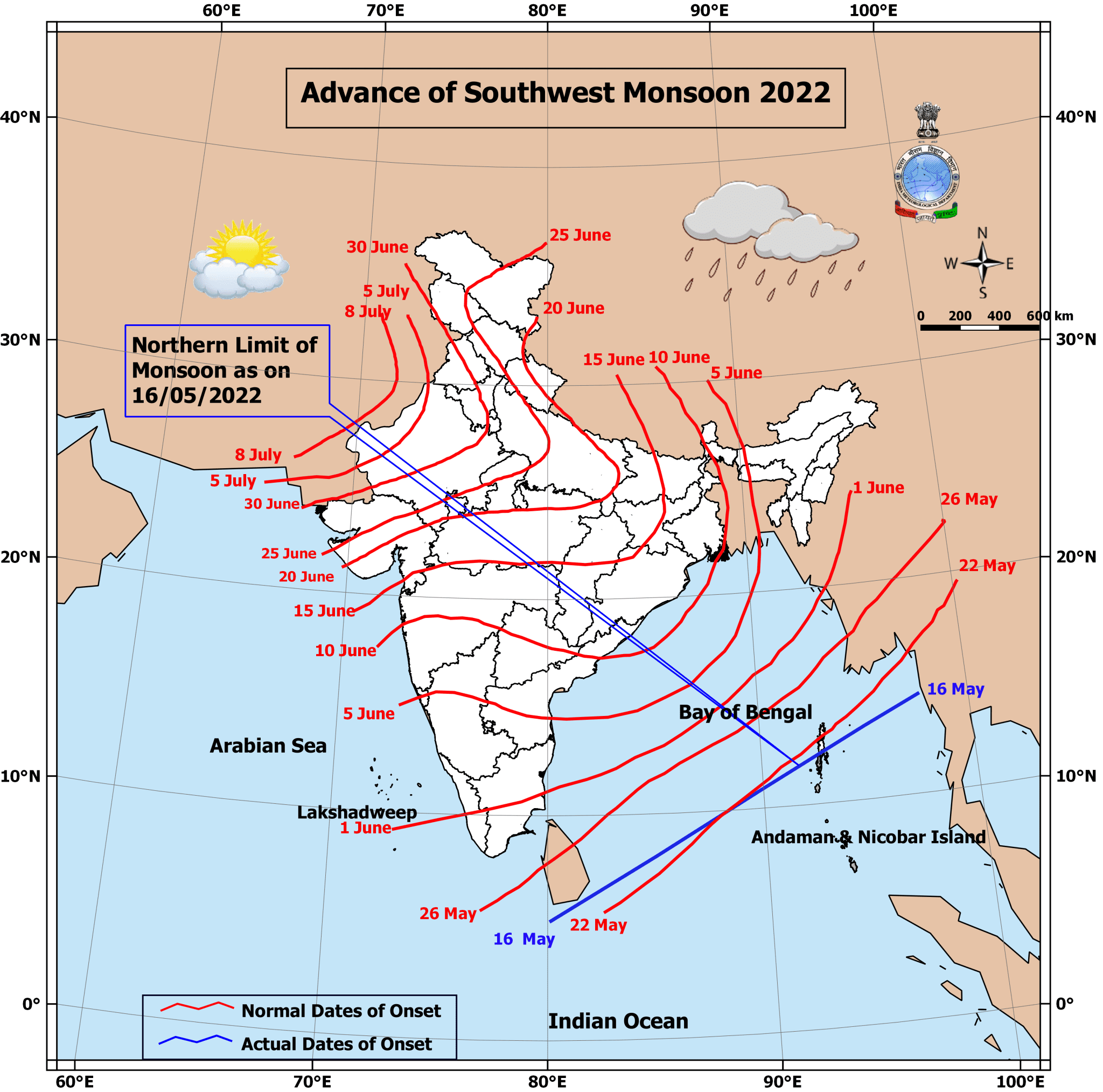 The temporary vortex like feature off the coast of Kerala is creating LPA like conditions along the Kerala / Karnataka coast making conditions conducive for some heavy to very heavy rains over parts of Kerala and South Coastal Karnataka. In particular North Kerala may come under intense spell of rains as the circulation pushes moisture from the Arabian Sea on to the land.
This brings us to another geographical feature from the Indian Sub Continent, the Western Ghats, that will become a key player over the next 4 months or so as Southwest Monsoon season unravels itself. With the circulation pushing the moisture against the ghats we are likely to see some heavy rains along the ghats in a few places over Tamil Nadu and possibly the adjoining areas of Inteiror Tamil Nadu.