For many years now man has always looked for avenues to push the envelope of his understanding but despite all the advancements there is always an area of unknown which keeps the human race going in its efforts towards scientific learning. Weather forecasting is one such area where the envelope has been pushed to a great extent which has resulted in more accurate forecasts over the years. It is interesting to remember the famous poem by the Tamil poet Avvaiyar's whose foresight many centuries ago does not lose significance even today.
கற்றதுகைம் மண்ணளவு கல்லா துலகளவென்(று)
உற்ற கலைமடந்தை ஓதுகிறாள் – மெத்த
வெறும்பந்த யங்கூற வேண்டாம் புலவீர்
எறும்புந்தன் கையாலெண் சாண்

ஒளவையார் தனிப்பாடல்
This year's northeast monsoon in a way symbolizes this unknown factor very well. While during Cyclone Mandous the models picked up the right trend well in advance with IMD predicting the Mahabalipuram landfall from day one. Just about a week letter almost all the model picked up about a potential episode of heavy to very heavy rains over many parts of Tamil Nadu under the influence of mid latitude westerly trough interacting with lower level easterlies. A lot of bloggers including us felt it was necessary to give a head start to those planning their year end vacations.
But a shift in the trapeze act to a slightly different location due to multiple factors has brought about a more drier weather this week compared to what was expected last week. The majority of the models expected the interaction to favor peninsular India but a delay in consolidation of the LPA over South Bay has negated that possibility as the interaction may not happen at all or possibly going to happen at an area which is unlikely to bring heavy rains over peninsular India. As things stand due to shifting dynamics we might be seeing sunny weather with a slight nip in the air rather than an episode of heavy to very heavy rains. A slight shift in the dynamics is resulting in a complete contrast of expected events. It is at this point bringing in "Dasavatharam" a movie written and acted by Kamalhassan in the year 2008 makes a reference to the butterfly effect in chaos theory when the a disaster like Tsunami brings about an unintended benefit in the form of mitigating the effect of the virus during the climax. Butterfly effect has a close connect to how weather models work and a small change in the actual initial conditions could result in a completely different scenario as events in earth never move in a linear fashion.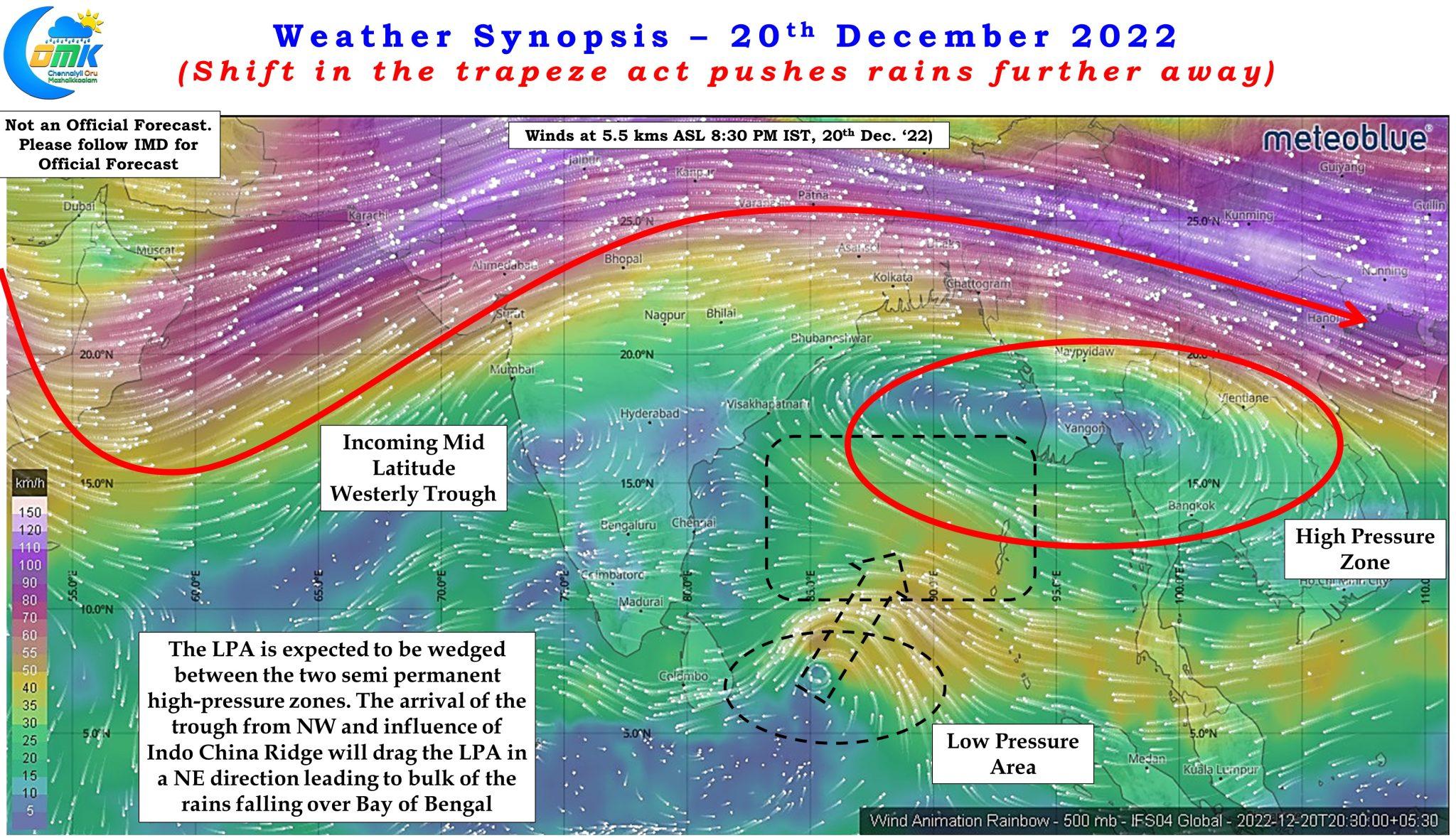 The 500 hPa Relative humidity chart for tomorrow evening based on two different initial conditions will indicate how drastically things have altered over the course of the last few days with drier winds from North influencing weather over larger parts of peninsular India rather than the moist winds from East. While it was not uncommon to see some of the weather models show 24 hours rainfall accumulation of more than 20 cms over some of the places over Tamil Nadu the reality is it would be a surprise if many places indeed receive more than 20 cms of rains accumulated over a week rather than 24 hours.
As of now the coastal stretch between delta districts and South TN may see some rains over the next few days under the influence of weak easterlies which will slow down as the cyclonic circulation currently near the Southeast coast of Sri Lanka gets dragged in a NE direction under the influence of the incoming mid latitude westerly trough and the high pressure zone over Indo China peninsular region. By early next week once the Indo China ridge moves further east influenced by the mid latitude trough and the subsequent eastward movement of the Indo Arabian ridge the weakened circulation may once again start to drift in a Southwest direction towards Sri Lanka bringing rains to places in delta districts and south TN.
While parts of delta and south TN are still seeing below par seasonal rains as things stand only time can answer whether these expected rains are a boon or bane for the farmers. Irrespective of these rains for delta and south TN though it may be prudent not to draw the curtains on NEM 2022 yet for North TN and adjoining areas it may be safe to say the clock is certainly ticking down on NEM 2022 for places like Chennai and suburbs.