With just a week left for this year's statistical Northeast Monsoon season to end NEM 2022 is likely to end as another normal year with the accumulated rainfall at 425.9 mm so far against the long period average of 432.2 mm. While this year is less likely to exceed the overall NEM seasonal average for TN & PDC subdivisions of 449.7 mm it will be the fourth consecutive year of above 425 mm seasonal rains after the three relatively poor years between 2016 and 2018 with 2016 recording as low as 166 mm overall in what was without doubts a very bad Northeast Monsoon season.
The last 24 hours or so was a text book example of what happens when a cyclone gets wedged between two high pressure zones and change in guiding mechanism happens. For the early part of its life the current depression was guided by the Ridge to its NE while the Indo Arabian Ridge gradually pushed into Indian subcontinent moving along with the incoming westerly trough. This pushed the Indo China ridge further east resulting in a period of weak guidance / influence between the two ridges creating a loop for the depression to the NE of Sri Lanka. Now that the loop is completed we can expect the depression to gradually move SW towards Sri Lanka and further onto Comorin sea under the influence of the Indo Arabian Ridge.
This southwest movement across Sri Lanka and further westward movement across Comorin sea gives hope for one final episode of rains for coastal areas of Tamil Nadu during the upcoming 72 hours or so. The depression is expected to gradually weaken as it travels across Sri Lanka but it is expected to bring with it fairly strong lower level Easterlies over Sri Lanka and parts of South TN along with it. From later tonight we could see rains come back over the coastal areas of Tamil Nadu increasing to moderate rains tomorrow with parts of South TN coming under fairly heavy rains on Monday as the circulation reaches Comorin Sea area.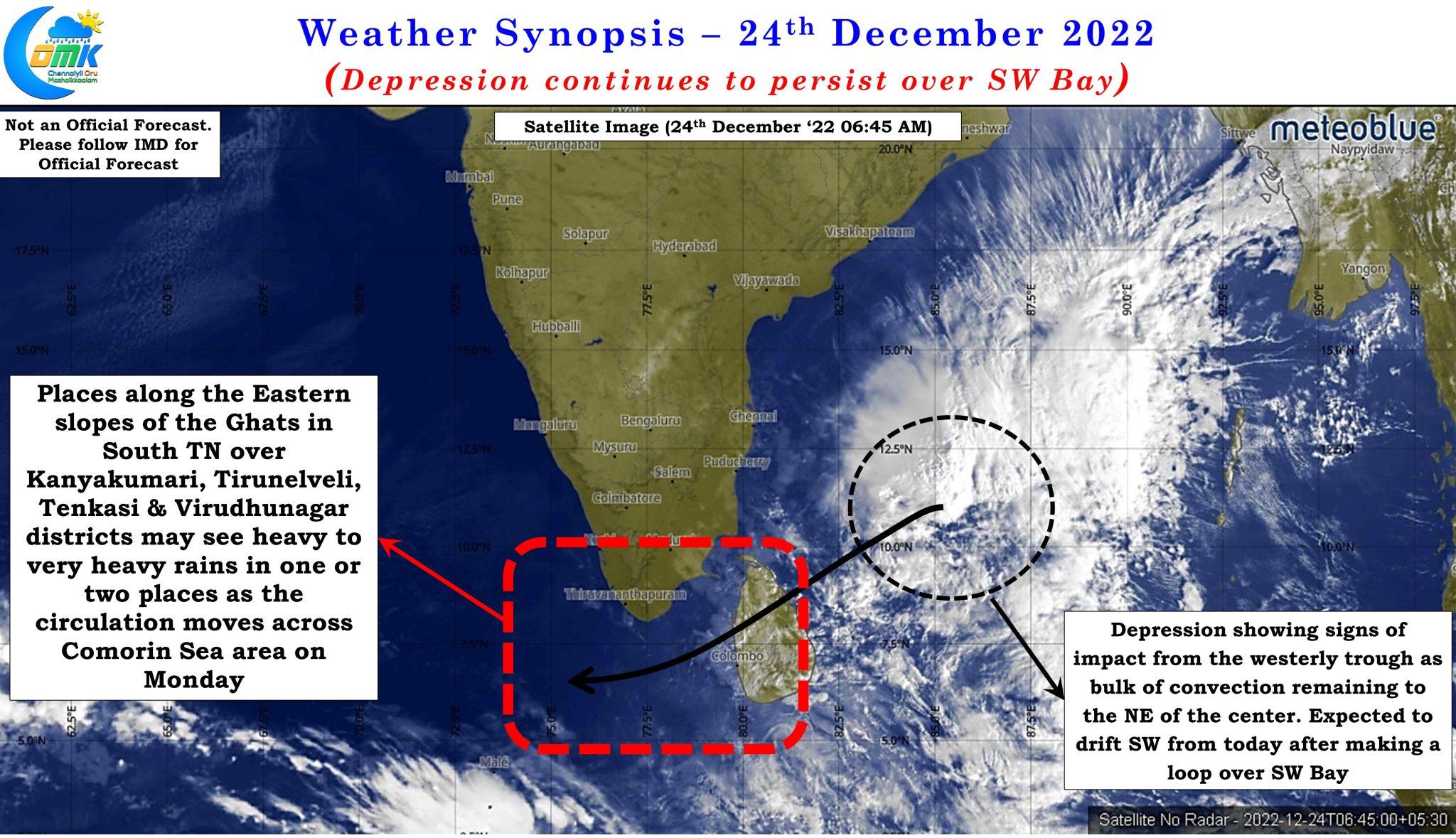 It is at this point the easterlies are expected to be strongest with a fairly strong surge hitting the eastern slopes of the Ghats over South TN potentially triggering heavy rains on Monday over a few places along the eastern slopes across Virudhunagar, Tenkasi, Tirunelveli and Kanyakumari districts before rains reduce from Tuesday onwards as the circulation moves further west onto the open Arabian Sea after crossing Lakadive sea area.
This in effect could be the last episode of rains for the Northeast Monsoons season of 2022 though models indicate potentially light to moderate rains may happen during the early days of January along the coast between south TN & delta under the influence of weak easterly wave. The rains during January would get accounted as winter rains and not part of the NEM 2022 tally. To summarize this episode of rains
Chennai and suburbs may see light to moderate rains on Christmas day with rains reducing from Monday onwards.
Delta coast could see moderate rains on Sunday & Monday with one one two places along the coast seeing heavy spells at times during the late evening / night hours
South Tamil Nadu is likely to see rains between Sunday and Tuesday with Monday expected to be the peak rainfall day when few places along the Ghats could see heavy rains.
West TN may see some rains on Tuesday as the circulation moves west and drags some easterlies along with it though it is mostly expected to be light to moderate rains with one or two places in the Nilgiris Ghats seeing moderate to heavy spell of rains.