As April gave way to May Tamil Nadu which had been relatively better off avoiding the 42 / 43°C which many parts of AP & TS states were seeing for the past one week or so Vellore became the first IMD observatory in the state to cross 42 degrees this summer recording 42.2°C yesterday. Karur Paramathi crossed 41°C for the first this season on Friday while Tiruttani crossed 41°C for the first time yesterday. It is ironical that Tiruttani and Karur Paramathi which normally sits on the Top of the Heat Pile for Tamil Nadu have been slightly subdued so far this season.
With westerlies strengthening on the one hand slowly and on the other hand the dry continental winds from the NW bringing more and more heat from the Rayalaseema region towards the Northern Interior parts of Tamil Nadu the real summer for North Tamil Nadu has just started in what could be harsh couple of weeks ahead for not only the interior parts of North Tamil Nadu but also coastal places like Chennai and suburbs. With weather models getting consistent now about a potential Depression / Cyclone happening in Bay of Bengal later towards the coming week we can safely say the worst is yet to come.
Today possibly we might see suburbs of Chennai record its first 40°C as interior places like Vellore, Ranipet, Tiruvallur etc stay around 41 / 42°C under the influence of WNW winds from neigbouring Rayalaseema region. The gradual strengthening of Westerlies would mean west interior Tamil Nadu could heave a sigh of relief from the heat in a few days time as cool winds through Palakkad pass will bring about a reduction in day time temperatures.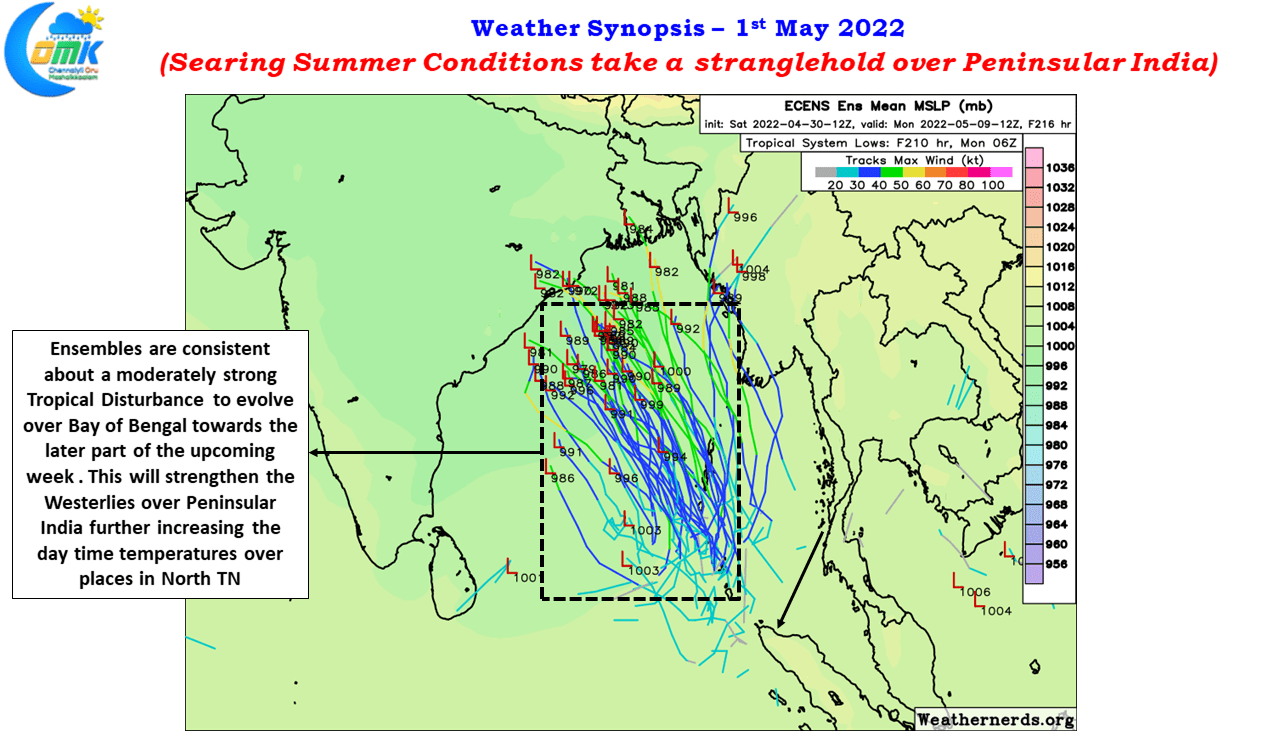 The one good thing despite summer taking control of the situation is the return of the thunderstorms as winds gradually make the seasonal change from Easterlies to Westerlies as a precursor to the arrival of Southwest Monsoon towards the end of this month. This changing wind pattern provides for Line of Wind discontinuity type of instability along the Western Ghats and some places in the interiors of Peninsular India providing for late afternoon / evening thunderstorms which are created by the intense day time heating while the wind instabilities allow the thunderstorms to intensify and sustain for a few hours.