For the past couple of days large swathes of the Indian Sub Continent has been reeling under heat wave conditions as many places in Central and North India started seeing day time maximum temperatures exceeed 44 / 45°C. Places like Brahmapuri in Vidharba, Rajgarh & Jhansi in Madhya Pradesh has recorded more than 45°C consecutively for the past two days. While Tamil Nadu has been seeing relatively better conditions with only yesterday two stations, Vellore and Tiruchirappalli, touching 40°C even though slightly to our North parts of Rayalaseema has been seeing maximum temperatures touch more than 43°C in places like Kurnool.
All this is likely to change as wind charts indicate the slow but gradual penetration of the dry arid continental winds from North and Central India creeping into the southern parts of Peninsular India. This is likely to increase the heat quotient over interior parts of Tamil Nadu over the next few days with weather models increasingly consistent of most parts of the state starting to see day time maximum temperatures stay 2 to 4 degrees above normal for this time of the year.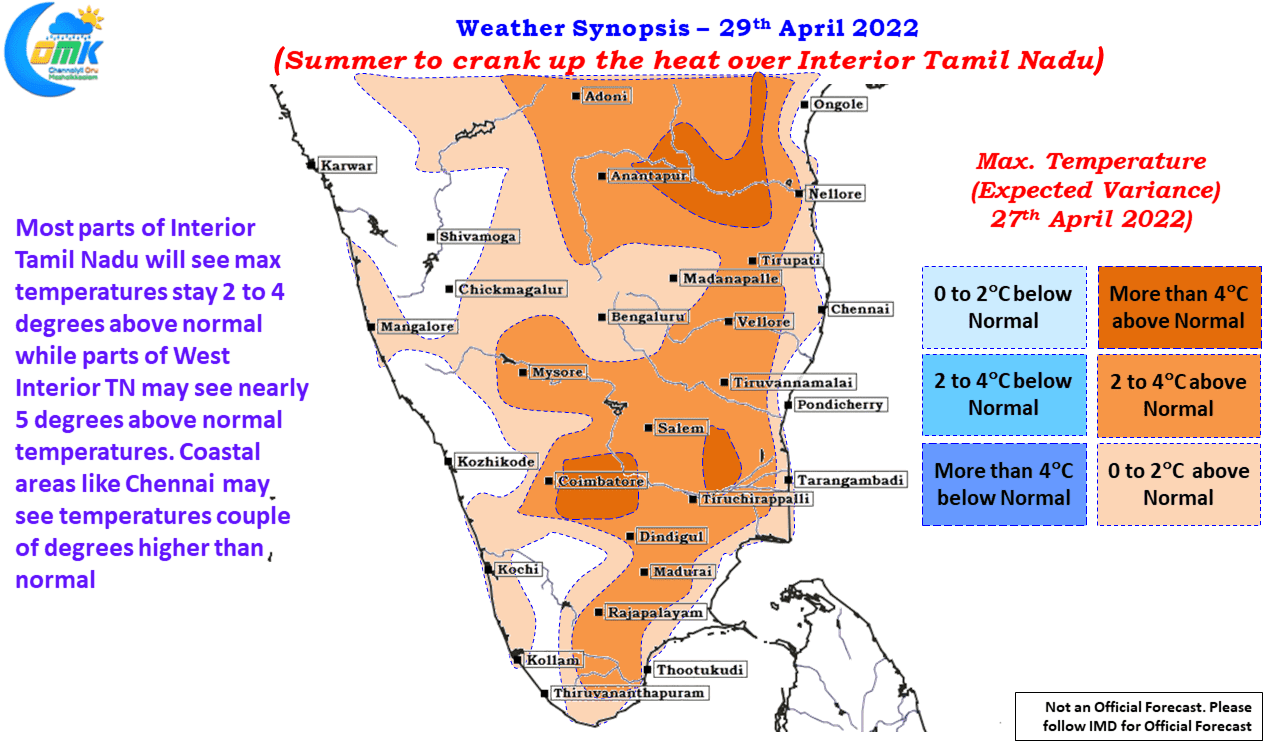 Few parts of Central and adjoining areas of West interior Tamil Nadu like Erode, Karur, Tiruchirappalli, Ariyalur, Perambalur along with parts of Madurai district may see maximum temperature climb up to 40°C today. Similarly under the influence of increasing heat in the Rayalaseema region places in Vellore, Tiruvallur, Ranipet and Tiruppathur dts also will start seeing temperatures increase from today. While city areas of Chennai may see the maximum temperature settle around 36 / 37°C the few of the suburbs may inch closer to 38 / 39°C with temperatures expected to further increase as we get to the weekend and the early days of next week.