For weather watchers across the globe one of the events that sets butterflies in the stomach is the arrival of Southwest Monsoon over the Indian Sub Continent. But just like Tamil Proverb goes, "யானை வரும் பின்னே மணி ஓசை வரும் முன்னே" events not only indicate the progress of sequence of Southwest Monsoon onset but also create a sense of anticipation and excitement among the weather watchers as an imaginary check list in the mind is ticked off with each passing day as they evolve.
Today we look at a couple of events which indicate the arrival of Southwest Monsoon over the Indian Sub Continent (not the mainland as Monsoon onset over Kerala is called) is not very far away. The Cross Equatorial Westerlies are one of the key drivers of the Monsoon Train bringing the moisture across Arabian Sea onto onto Peninsular India, Sri Lanka and Andaman & Nicobar Islands. Similarly the movement of Inter Tropical Convergence Zone (ITCZ) crossing the Equator is another key milestone in this Monsoon Onset Sequence.
Satellite images indicate not only Cross Equatorial Westerlies strengthening but the ITCZ is seen straddling the Equator just about waiting to cross over into Northern Hemisphere. It is here the role of a pre Monsoon disturbance becomes a critical. Pre Monsoon disturbances often are not only the catalysts for seasonal wind changes but they also play a crucial role in dragging the ITCZ north of Equator setting the stage for the arrival of Southwest Monsoon with a couple of weeks lag.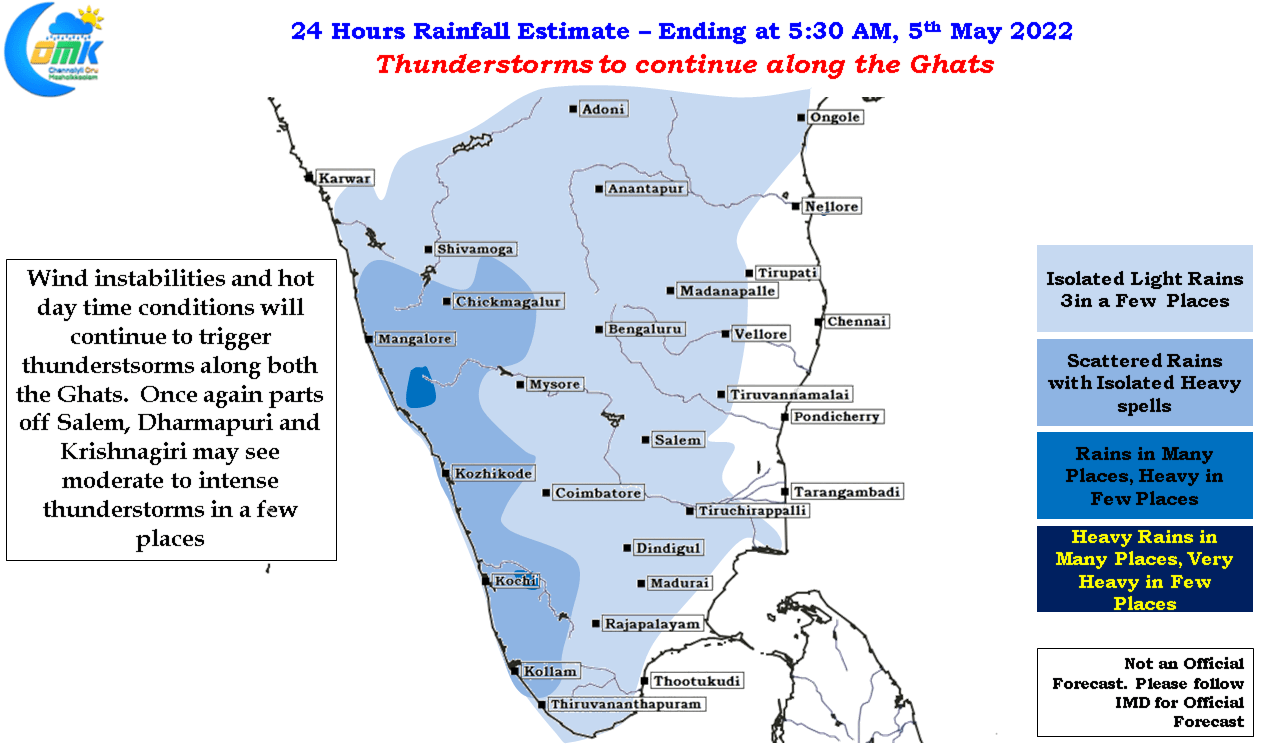 Weather models are now consistent about a potential disturbance in Bay of Bengal evolving out of the interaction between the Westerly surge created by the Cross Equatorial Westerlies and the arrival of a remnant pulse from South China Sea into the warm waters of South Bay. Models are also fairly consistent on this disturbance possibly evolving into a Tropical Cyclone (Deep Depression) though we need to keep in mind pre monsoon cyclones are notorious for intensifying much stronger than original model estimates. Even as recently as Amphan we have seen this while Fani is an example 3 years back. Bay of Bengal continues to remain one of the wamest ocean bodies in the world so there's a lot that will happen in the days to come.
In the meanwhile it is business as usual both on heat and thunderstorm front. Interior TN staying around 40°C while late evening thunderstorms will continue to pop up along the Eastern Ghats & Western Ghats after another hot day.