Cyclones during Southwest Monsoon do not occur due to the presence of Tropical Easterly Jet, upper level jet winds from the East, that creates consistent wind shear preventing any intensification of tropical disturbances between the period June to September. Overall during the Southwest Monsoon period about 191 cyclones have formed between June and September with 151 forming in Bay of Bengal and only about 40 forming over the Arabian Sea. Though Arabian Sea churns out lesser number of cyclones overall during Monsoon period nearly 2/3rd of those happens during June. Interestingly 9 out of the 27 June cyclones over Arabian Sea has happened in the past 30 years while the previous 100 years contributed to about 18 cyclones. A one in 5 year event is now happening roughly once in 3 years.
IMD today confirmed the development of a depression over Southeast Arabian Sea and expects it to intensify into a cyclonic storm in the next 24 hours or so. In 2020 we saw Severe cyclonic storm Nisarga during the month of June though it had genesis on 31st of May. Nanauk, Ashobaa and Vayu were recent cyclones that formed towards the end of the first week of June and completed its life cycle by the second week. Super Cyclonic storm Gonu, in the year 2007, which is the strongest cyclone over Arabian Sea happened during the month of June. While the current depression expected to be named Biparjoy, name provide by Bangladesh, may not reach the levels of Gonu there is fair consistency among Ensembles for this one to reach Very Severe Cyclonic Storm though expected to weaken before landfall as it reaches North Arabian Sea.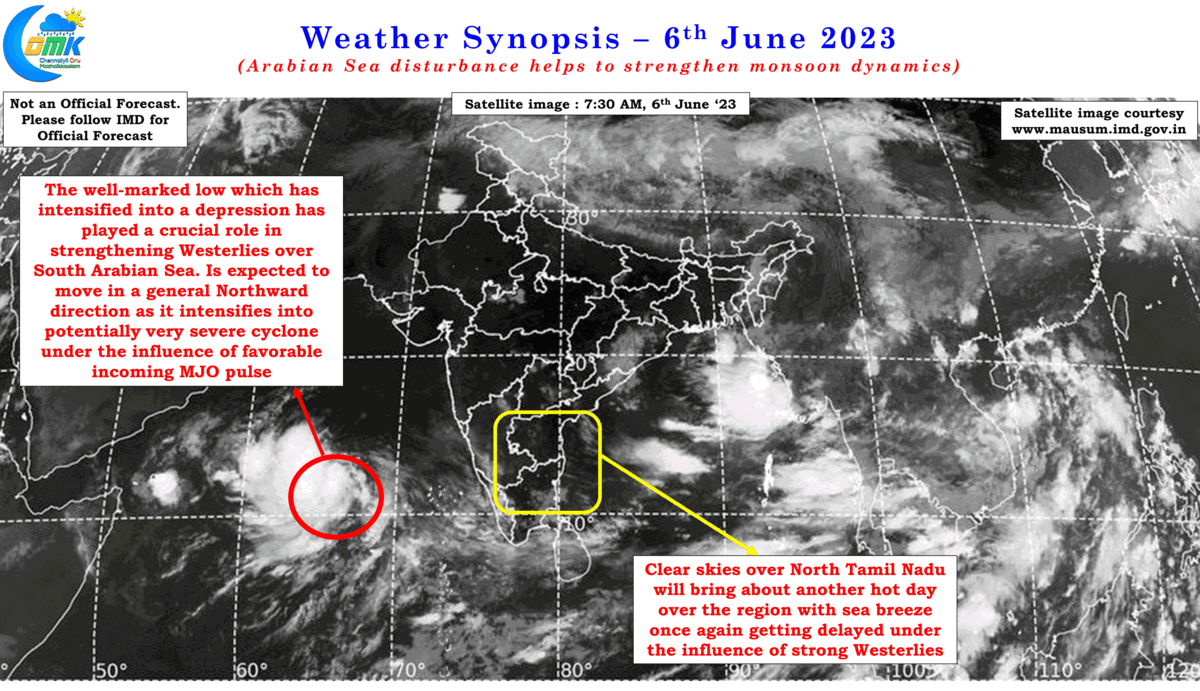 In the meanwhile the wait for Monsoon onset over Kerala continues with the original IMD onset window of 4th June also passed. A look at the charts do indicate the depth of westerlies, the strength of lower level westerlies have increased while the OLR charts indicate the INSAT derived OLR value is below 200 wm-2 in the box confined by Lat. 5-10ºN and Long. 70-75ºE. But the question that will remain is whether IMD will announce onset in the current conditions or wait for the Depression to complete its life cycle before announcing onset. In the past Northeast Monsoon onset announcements have been delayed when Bay of Bengal hosted a cyclone though winds were Easterlies over Peninsular India.
Back home yesterday thunderstorms due to wind instabilities over many parts of Tamil Nadu, particularly closer to the coast brought a huge relief to people reeling under the scorching summer sun. While Chennai city did not get widespread rains many suburbs enjoyed a very good spell of rains during the late afternoon hours. This spell of rains is unlikely to bring about a substantial reduction in temperatures though as moistures at lower levels brought in by winds from the west continue to remain low. Today once again we may see temperatures climb up marginally over Chennai and suburbs. Weather models are fairly consistent about most of the remaining days of this week seeing a max temperature of around 40 / 41°C for Chennai and suburbs.
Starting from today as westerlies strengthen further the arrival of sea breeze will gradually get delayed leading to prolonged hours of hot weather conditions with temperatures staying around 39 / 40°C for multiple hours. Some of the western suburbs could see temperatures stay around 41 / 42°C for a couple of hours before some reduction happens. This is likely to be the pattern for the remaining days of the week before the increase in lower level moisture from the west brings about some reduction in temperatures later next week along with streamlined monsoon dynamics over the West coast. But before that upcoming Cyclone Biparjoy has to complete its life cycle.