Last couple of days have seen fairly dry weather prevail across Tamil Nadu after a relatively active spell the previous week bringing some good rains over parts of South TN in particular. Chennai & suburbs also recorded moderate rains with places along the coast line benefitting from the higher spells.
With Northerlies influencing the weather over the past couple of days it was dry spell as hinted by the weather models consistently for the past few days. The Easterly trough was also placed much further to the East of Tamil Nadu coastline over the Bay reducing the rainfall prospects. A look at the satellite image indicates a possible Equatorial Rossby wave influence over the Indian Ocean which could be a precursor to the possible arrival of MJO from the west which holds the key to the prospects of NEM for the remaining few weeks.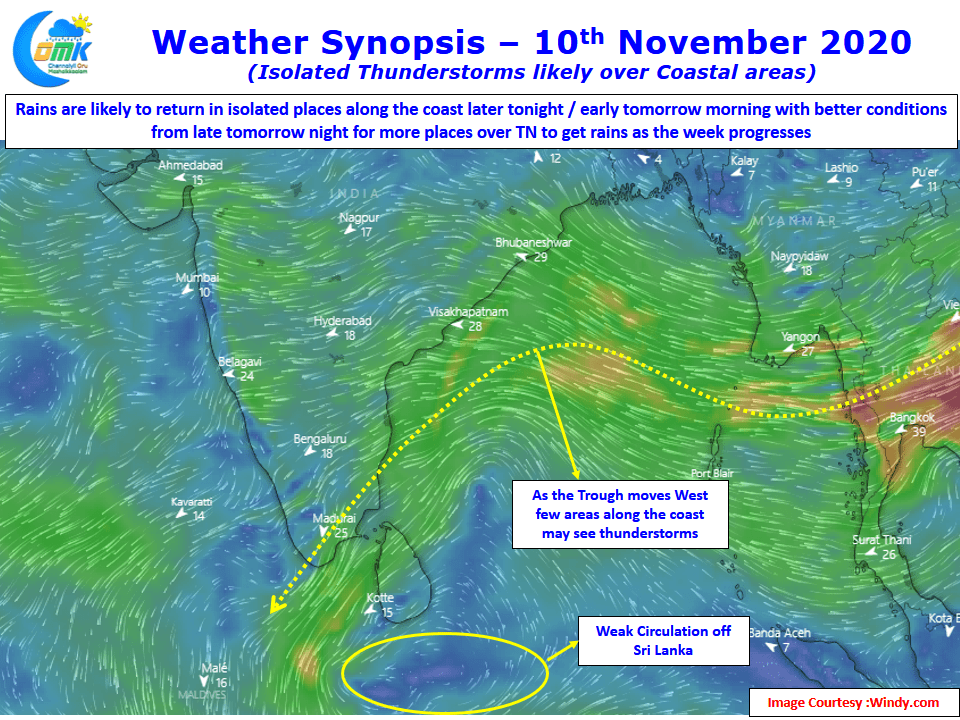 In the meanwhile influenced by the weak circulation off Sri Lankan coast the Easterly trough is likely to move West closer to the TN coastline starting from later tonight / early tomorrow morning reviving the rainfall prospects along with it. While isolated thunderstorms may happen along the coastal areas tonight / tomorrow morning rainfall chances improve from later tomorrow night with a wet spell ahead likely for the rest of the week.