Yesterday the expected Pre Monsoon Disturbance started its life cycle as a Low Pressure Area near Andaman Islands. Under favorable conditions in the form of strong Cross Equatorial Westerlies and a counter circulating twin across the Equator it has picked up in intensity to become a Well Marked Low. Over the next 24 hours or so these set of factors will allow the Bay disturbance to intensify into a Depression and then subsequently a Deep Depression all the while making slow progress in terms of movement as the twin circulations on either side of the equator try to free themselves from the clutches of each other.
From tomorrow onwards the strengthening disturbance is expected to initially move NW towards the Indian Coast intensifying possibly into a Cyclonic Storm as it heads close to Andhra Pradesh / Odisha coast. While models continue to diverge on the potential way ahead from this point, there is some sort of consensus emerging in terms of a possible recurve around this time taking the cyclone in a Northeastward direction brusing along the East Coast of India weakening as it heads towards North Bay.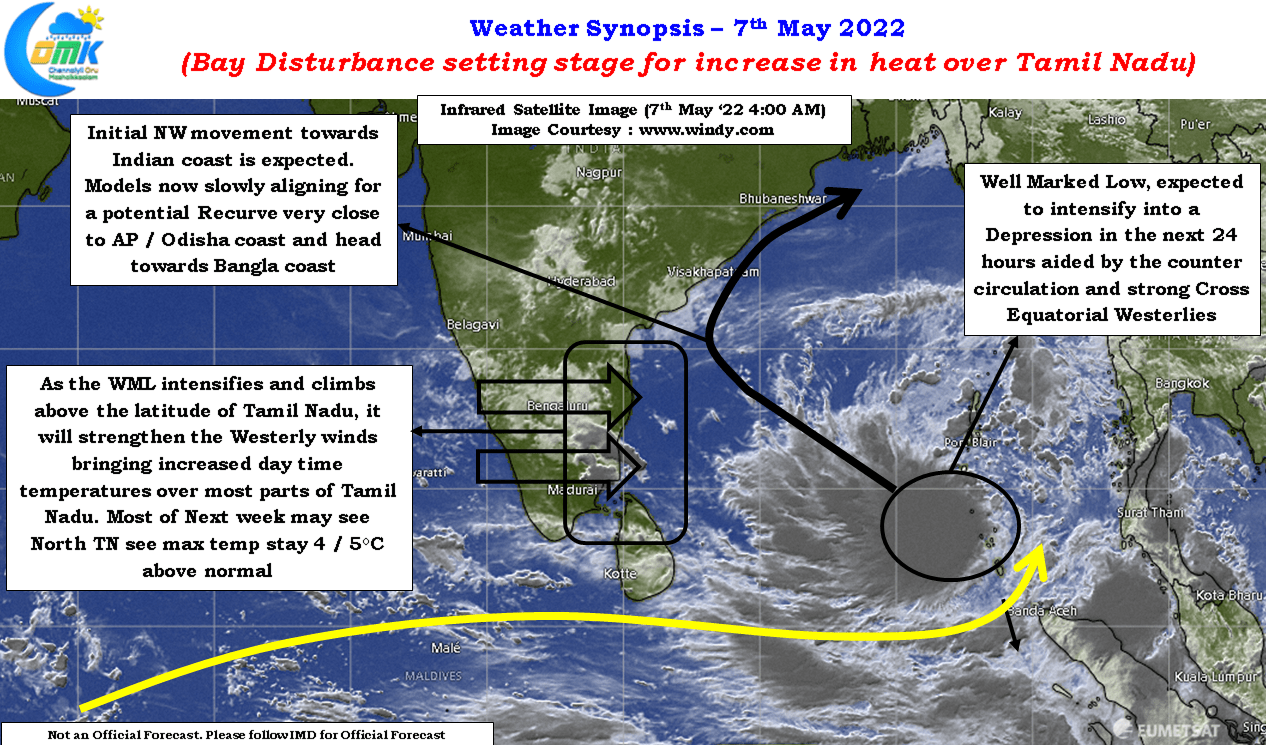 While the direct impact from the cyclone in terms of rains may be less for Tamil Nadu, though wind convergence during the early stages of the disturbance is likely to trigger thunderstorms in the interior areas, temperatures are expected to increase from today as the westerlies stengthen influenced by the intensifying Bay Disturbance. This is likely to bring a situation where most of next week may see many places in North Tamil Nadu including Chennai record afternoon temperatures that may be 4 / 5°C above normal.
With westerlies expected to strengthen seasonally on account of this disturbance finally we can see Chennai join the heat bandwagon with sea breeze starting a daily battle against strong Westerlies.