Cyclone Asani once again has confirmed the age old adage among the Weather Bloggers of Chennai "Bay of Bengal is a Model Graveyard". While models continue to churn at times divergent solutions which many a times complicates inferences, particularly by amateur weather enthusiasts, the Bay has a mind of its own and churns around Cyclones as it feels triggering potential real life situations not anticipated by models or many a times the Bloggers too.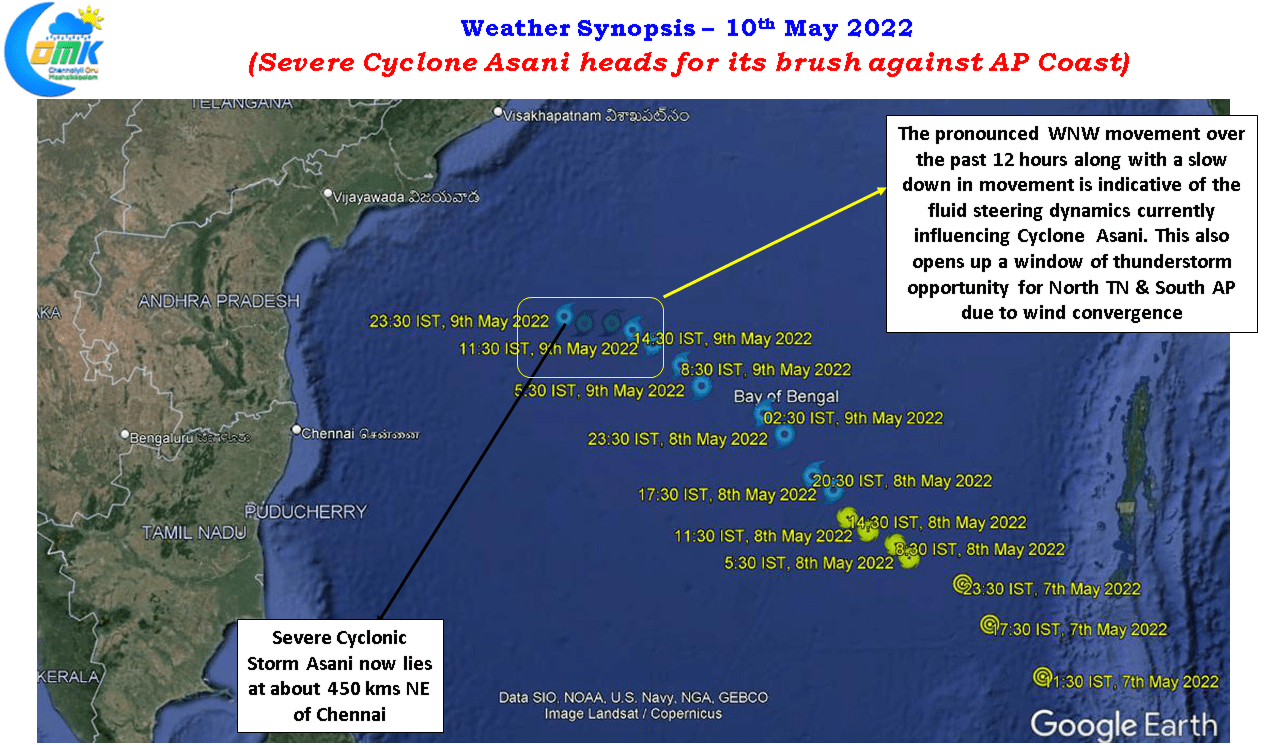 After a fairly robust run in a NW direction for more than 24 hours, intensifying rapidly as well, during that time Cyclone Asani headed into rough weather in the form of an increasing Wind Shear that brought about a halt to the conducive conditions Cyclone Asani has started to slow down over the last 12 hours or so making a more pronounced WNW movement bringing it closer to Chennai than ever before. While it still remains about 450 kms to the Northeast of Chennai, this pronounced WNW movement not only brought in a fair bit of clouding yesterday giving respite from the heat but also midnight thunderstorms around the suburbs of Chennai.
The IMD AWS at KVK Kattupakkam near Potheri to the south of Chennai recorded nearly 3 cms of rainfall from the thunderstorms that brushed the coast of Chennai as it headed in the Southeast direction influenced by the circulation created by Cyclone Asani. The wind convergence created by Cyclone Asani earlier in the day brought intense thunderstorms around parts of Interior Karnataka and adjoining areas of Rayalaseema region. As the evening progressed the storms slided down along the Karnataka / AP border pushing into Interior Tamil Nadu bringing rains into North Interior TN with the storms eventually ending the journey near Delta dts.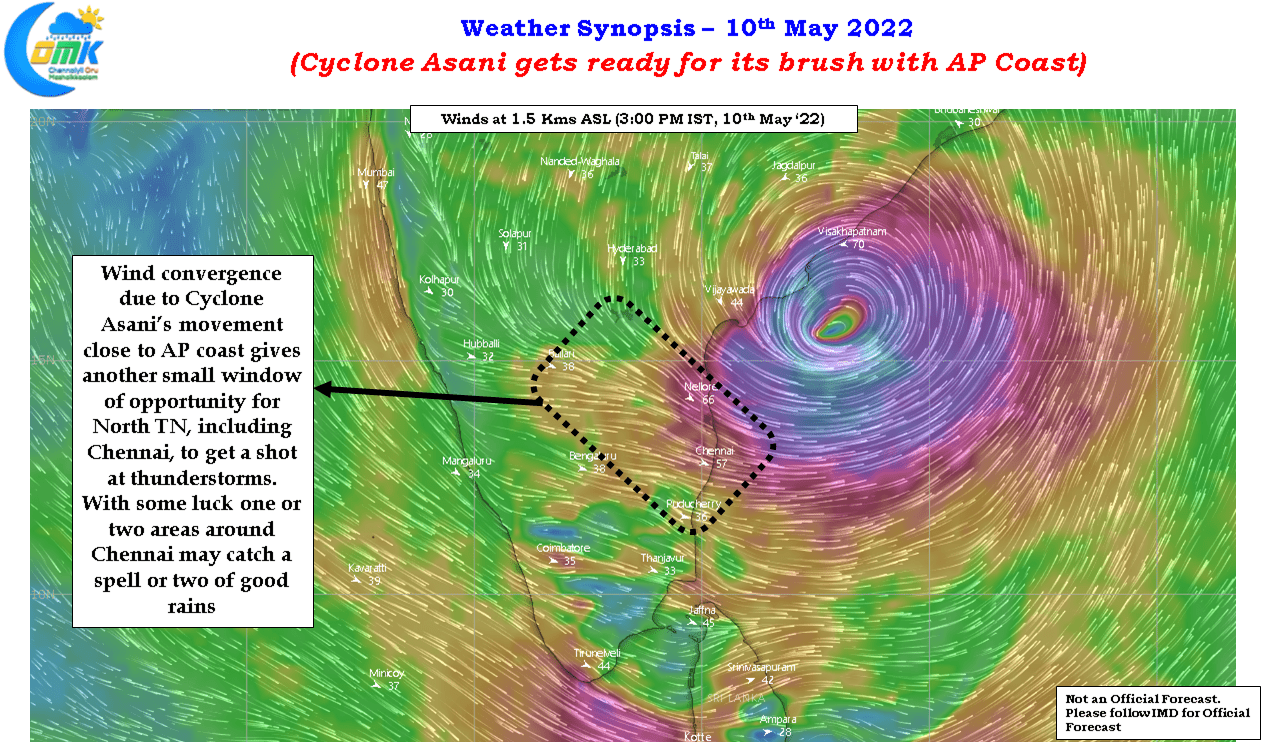 The slow WNW movement and a potential stall scenario to the NE of Chennai may provide for another window of thunderstorm opportunity for North Tamil Nadu and adjoining areas of South AP though most models are not enthusiastic of rains for this region. This gives a slight chance for Chennai and suburbs to catch another spell or two of rains while Cyclone Asani slows down and plans its brush against the AP coast between Machilipatnam and Vishakapatnam.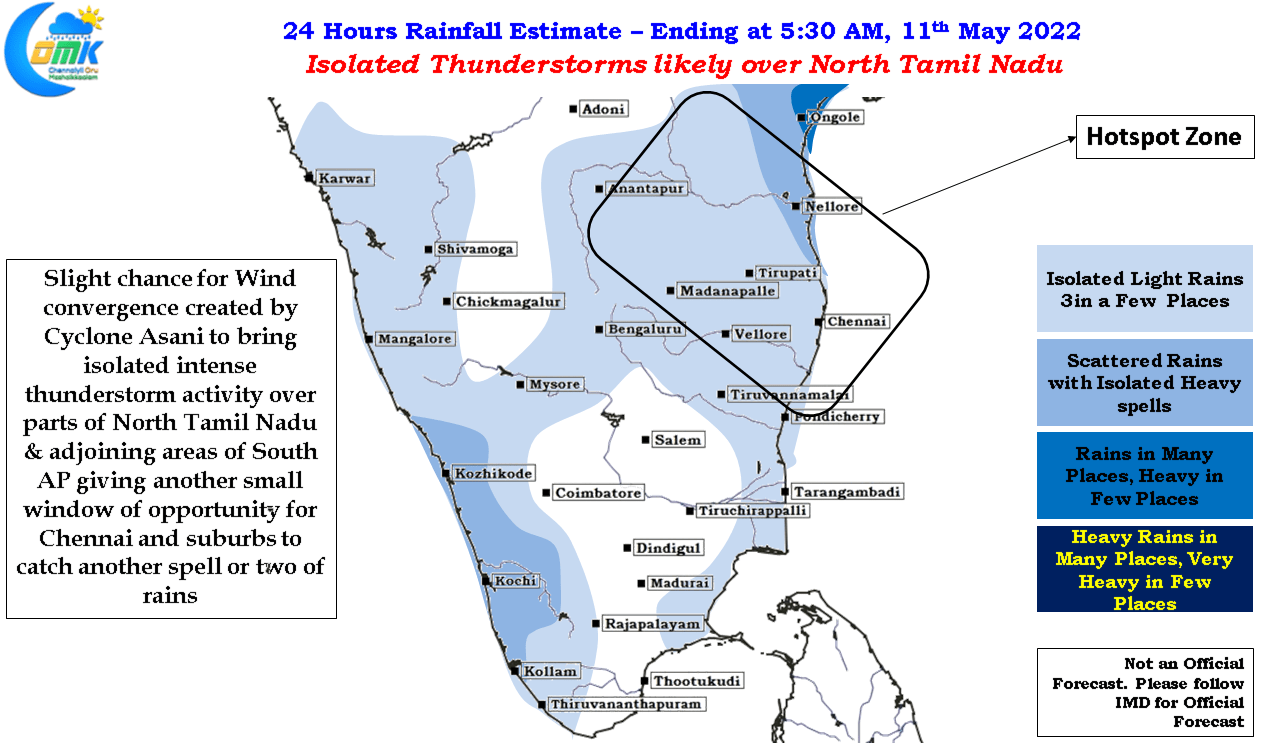 Weather models continue to diverge on the future course of action for Cyclone Asani or its remnant with Ensembles of ECMWF divided between dissipation after a potential landfall near Vishakapatnam and a Northeast Recurve along the Eastern Coast of India. The slowing down and stalling scenario does potentially indicate a change in direction may be on the cards, the upcoming 6 to 12 hours will confirm if indeed Cyclone Asani has made its mind yet or not. Whatever be the case this cyclone has reached its peak and unless a rare set of circumstances happen it is difficult for Cyclone Asani to once again pick up in intensity irrespective of its eventual destination.