Like a pendulum swinging back and forth Thunderstorms & Monsoon dynamics have been having their own mini battle for the past couple of days with yesterday seeing fairly active west coast though most of it was not proper monsoon dynamics but influenced by the Upper Air Cyclonic Circulation moving across Peninsular India towards the West Coast. After a rainy morning across most parts of Tamil Nadu yesterday things slowed down from late morning / noon hours. In the meanwhile from the wee hours many parts of Kerala saw active thunderstorms as few places in the ghats recorded heavy spells of rains.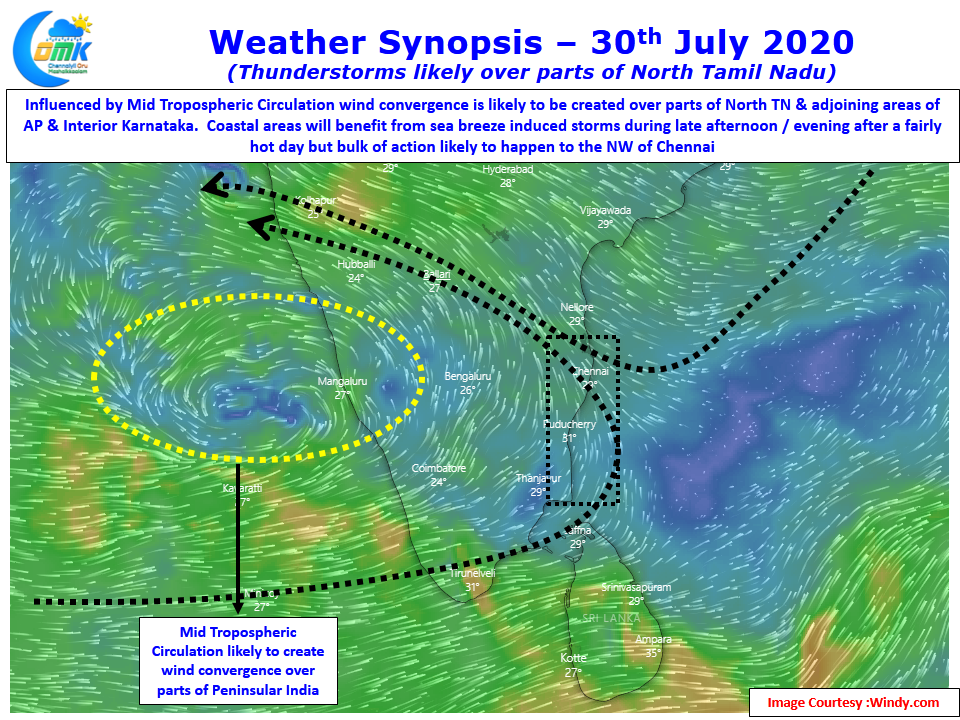 Weather models indicate the Circulation which has been tilting towards SW in height is seen over the West Coast at Mid Tropospheric Levels. This is likely to create wind convergence over parts of Peninsular India. With satellite images indicating a much more clearer day compared to yesterday convective development of thunder cells due to rising air particles may be more prevalent today compared to yesterday. With multiple factors in play it will surely be an interesting day for weather watchers.
With thermal gradient likely to establish we may see an active sea breeze front evolve today over the coastal places bringing over head development of thunderstorms which will be sharp spell of showers over coastal places like Chennai. On the other hand districts like Villuppuram Tiruvannamalai Salem Cuddalore & Kallakurichi may benefit from wind convergence from the west at 1.5 kms ASL through the work of Western Ghats. This will trigger a fairly active day of thunderstorms in this belt with the incoming storms from west interplaying with prevailing sea breeze front over the coastal areas.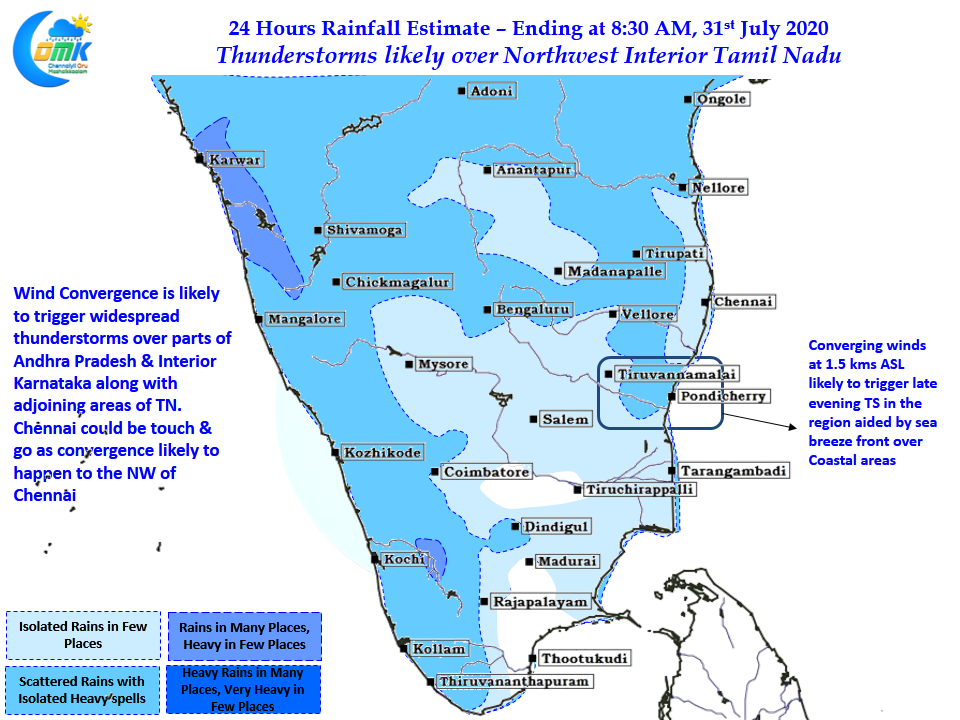 Slightly further up over North Interior Tamil Nadu and adjoining parts of AP & Interior Karnataka the wind convergence at mid troposphere is likely to trigger late evening / night thunderstorms. These thunderstorms are likely to move further interior towards Karnataka from North TN / Rayalaseema region. This would mean 50:50 chance for Chennai in terms of high intensity thunderstorm action.
Nevertheless the multiple factors will make it an interesting day in what is likely to be a complex day of thunderstorms. If you are a serious weather watcher treat any spell of rains at your place as a bonus during the process of understanding weather patterns you will then start appreciating weather more