While mostly dry weather has been prevailing over Tamil Nadu parts of delta districts have been getting some rains since midnight under the influence of the Trough of Low Pressure near Sri Lanka.  Though the Trough of Low Pressure does indeed persists it has not been able to develop into meaningful as we had been explaining for the last couple of days.  Slowly as it moves further west it will fade away in its influence over Tamil Nadu as well.
In the meanwhile today we could see parts of South Tamil Nadu get some moderate to heavy spells of rains particularly around the region adjoining the Western Ghats as the wind pattern brings the moisture from East to West over the Kanyakumari & Tirunelveli districts.  Consequent to this some parts will end up being on the windward side of this moisture drag bringing moderate to heavy spells of rains in places abutting the Western Ghats.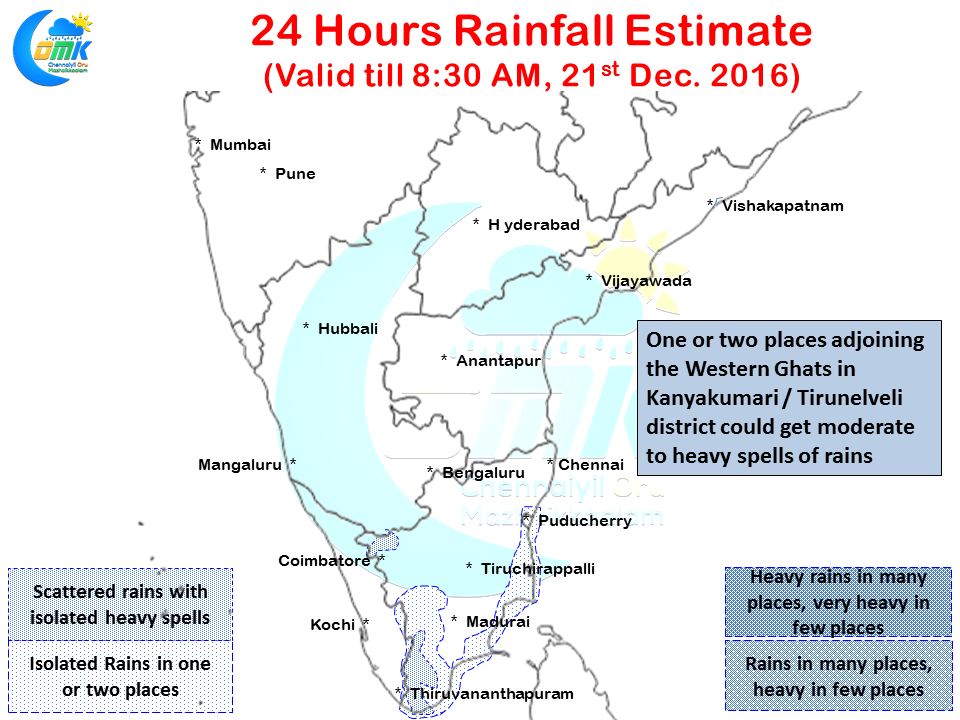 Rest of Tamil Nadu is more or less likely to see fairly dry conditions prevail with a more winter type weather prevailing in the interior regions of the state.  The coastal areas will continue to see slightly humid weather thanks to the weak Easterlies prevailing but as things stand places to the North of Pondicherry are likely to see suppressed weather conditions with South TN and delta districts likely to  benefit from this Easterly aided rains.
Chennai is likely to see calm conditions prevail with day time temperature settling around 30°C while the early morning  minimum could be around 21 / 22 making  it a pleasant day in all.
Powered by WPeMatico