The delta districts along with parts of South Tamil Nadu received some rains even though it is the proverbial "யானை பசிக்கு சோளப்பொறி". Places like Adirampattinam, Thalaignyayiru & Pudukottai recorded moderate rains. Many places in Thanjavur, Dindigul, Pudukottai, Tirunelveli, Sivaganga, Nagappattinam and Virudhunagar districts recorded light rains. These rains were aided by the Trough of Low Pressure that now lies off the coast of Sri Lanka along the Equatorial Indian Ocean.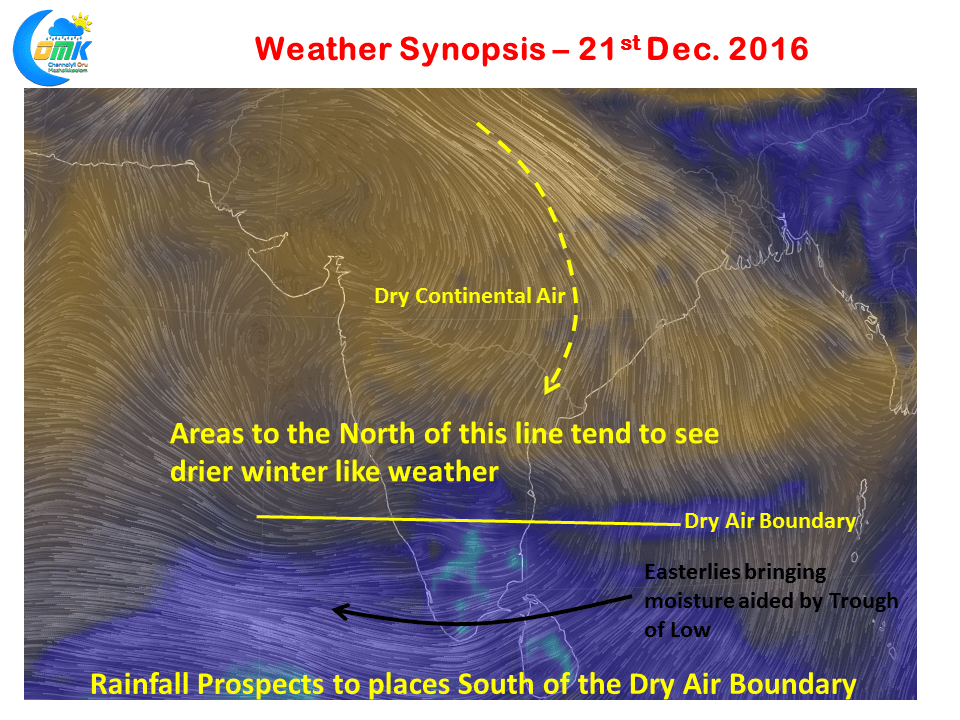 As one can see from the attached chart places to the North of Pondicherry are possibly under the influence of Dry Continental Air while the places to the South, aided by the trough, are getting a more Easterly trade winds which bring in moisture  from the Bay. This has created a case of two halves for the state of Tamil Nadu.  The "haves" who get a probable shot at some rains lie to the south of 12N while the "havenots" to the North of 12N who have to be satisfied with a more winter like weather and an overall dry outlook to the conditions.
Things look though we could possibly see the statistical Northeast Monsoon wind up without much addition to the total.  As things stand 2016 in all probability will avoid the "Poorest Northeast Monsoon Year" in the last 150 years needing only 2 mm in the next 10 days to record more than the 163.5 mm recorded during 1876.  With the next poorest year, 1892 recording 182.2 mm, a fair distance away 2016 is all set to become the 2nd poorest NEM in 150 years.
Powered by WPeMatico