withdrawal syndrome

a spectrum of physical and behavioral symptoms following cessation from the continuous use of an addictive drug, the character and severity of the symptoms depending upon the particular drug and the daily dose.
In the recently released Malayalam film Kooman where the protagonist, a policeman taking help from a thief to stage manage robbery around the town, is warned stealing will become an addiction even before he realizes. For the weather bloggers of Chennai and rest of Tamil Nadu Northeast Monsoon is an addiction that is there to stay and every one of them go through withdrawal syndrome as we get to the last few days of December. While the entire world celebrates the arrival of a new year there will be a bunch of people who will be looking at the blue skies / crystal clear radar images / multiple weather model outputs wondering if Northeast Monsoon will against odds continue to give rains well into January.
The satellite image indicates not only Peninsula India but also large areas over Bay of Bengal is also bereft of any active convection. As a matter of fact except for the remnant convection from the LPA that weakened over Arabian sea there is not much seen across North of Equator over the Indian Ocean though earlier today morning there was some rains over parts of extreme South TN and adjoining areas of the Ghats in Kerala. While rains are not going to completely stop the satellite image certainly is an indication on what to expect on the monsoon dynamics.
The lower level wind charts and the long term tropical disturbance probability forecast also indicate monsoon dynamics is expected to weaken with an anti cyclone establishing itself over parts of Peninsular India at 1.5 kms above sea level. The moisture availability at this altitude also indicates an overall dryness in the atmosphere further confirming monsoon dynamics is expected to remain suppressed for the coming days.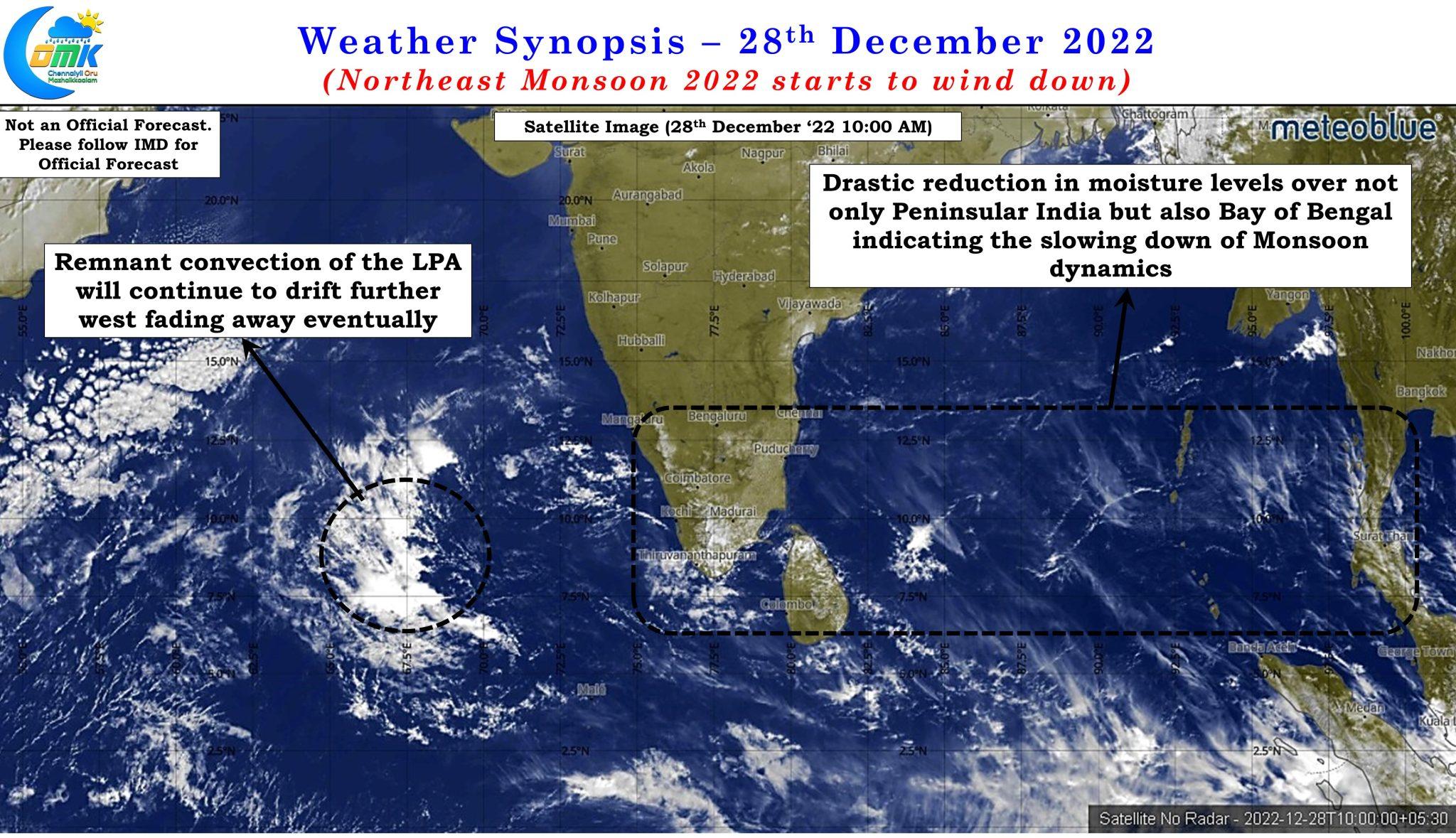 Looking at the tropical disturbance probability forecast there is nothing showing up for the next week to 10 days except for a possible weak easterly wave after 1st week of January which could be the next rainfall episode for the coastal areas of Tamil Nadu. We need to wait and see if it translates into a meaningful rainfall episode or possibly be some isolated rains over parts of Delta and South TN. Hopefully it does not turn out to a heavy rainfall episode when most of delta will be having their paddy crops in the last phase awaiting imminent harvest.
With just a couple of days left for the statistical season to end on 31st December this year's northeast monsoon will go into history books as a normal year with the accumulated rainfall standing at 441.2 mm and requiring another 8.4 mm in the remaining four days left before the season ends on 31st December to reach 449.6 mm which is the long period average for Tamil Nadu and Pondicherry sub division between 1st October and 31st December. Even though it may be a normal year one cannot ignore the fact it has been an erratic and inconsistent season punctuated by periods of suppressed rainfall activity and almost all the coastal districts from Villupuram to Ramanathapuram seeing below normal rainfall in addition to the districts of Tirunelveli, Thoothukudi and Tenkasi in South Tamil Nadu.