While the wait for NEM onset continues  a lot of anxiety and worries has started creeping up among people about the delay in onset. The early morning misty conditions and the sudden drop in night time temperatures have increased the worry quotient.
Did the flooding / cyclone rumours a couple of weeks back from a few "Weather Enthusiasts" play a role in the sudden worry and anxiety among people when things don't go as part expected script? The missed onset windows, announced early by IMD, during early October and last week possibly expectations too.
In this scenario as a responsible weather Blog we at COMK feel we are duty bound to explain the prevailing weather conditions and what could be expected in the near time especially in the context of onset.
One of the reasons for possibly the onset window announcement by IMD was the outlook by few models which aggressively expected heavy rains over Tamil Nadu.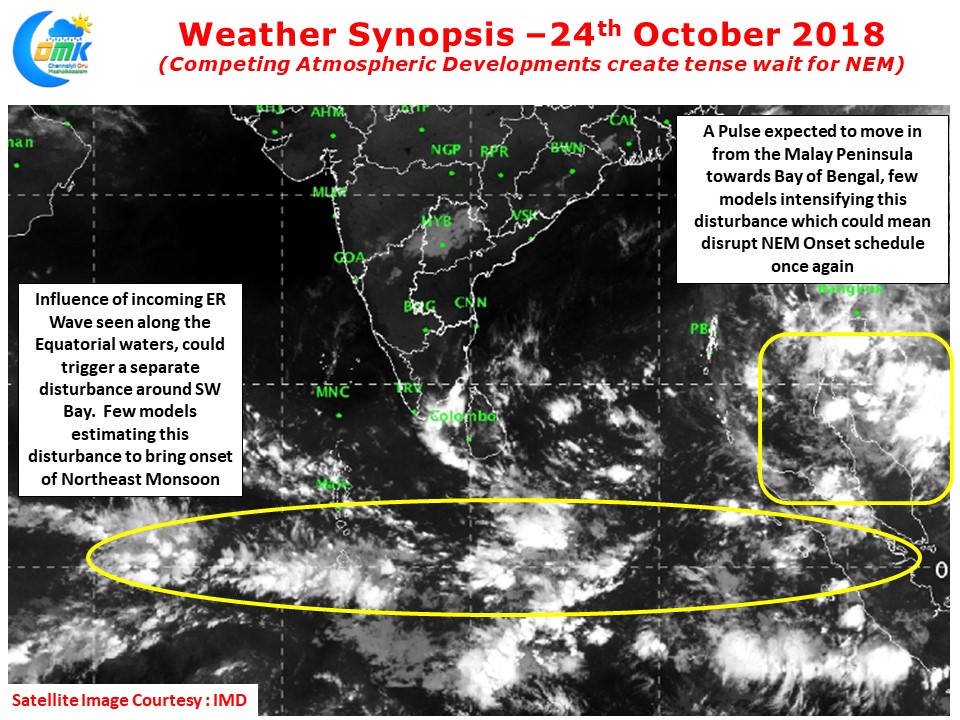 For the past couple of weeks Bay of Bengal has been witnessing multiple atmospheric developments which could influence weather in drastically different ways and models have struggled to pick the right event. Currently we are seeing one such phase where two competing developments.A possible pulse coming into Bay of Bengal from South China sea and a possible disturbance along the Equatorial waters off Sri Lanka under the influence of incoming Equatorial Rossby Wave.
The first scenario will help with Easterly surge from South China Sea as it moves West but models estimate this one too move NW resulting in lesser rainfall over TN while in the second scenario under ideal conditions we can see good rains over TN as the circulation comes closer to Sri Lanka and a possible NEM onset. The divergent approaches by different models is an indication of the very fluid atmospheric dynamics prevailing now.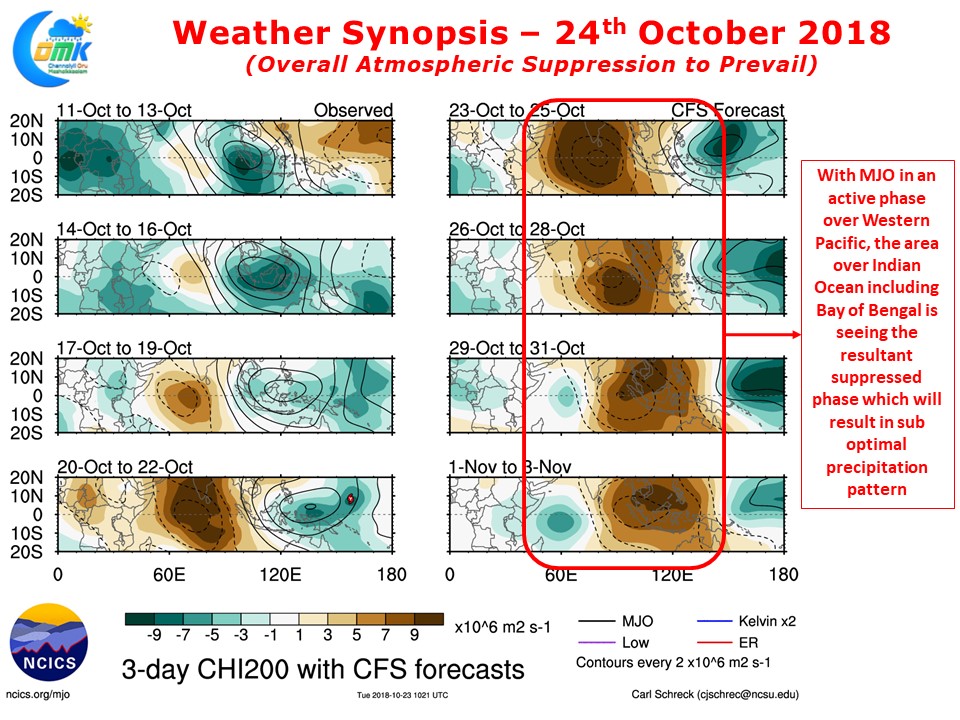 But irrespective of the divergent approaches by models what one would have to keep in mind is the influence of MJO. At COMK we believe MJO as possibly the most crucial influencer of NEM performance. Currently it is prevailing over the Western Pacific areas in an enhanced phase resulting in a suppressed phase over the Indian Ocean basin. It may be prudent to keep expectations tempered even if models show extreme precipitation event during suppressed MJO phase which is likely to continue for another week or so.