Most of last week saw a precursor to Northeast Monsoon show up over peninsular India with Easterlies running the show across the region instead of the seasonal westerlies that is the halmark of Southwest Monsoon. The temporary Easterlies under the influence of the circulation in South Bay area though has now given way to the returning Westerlies. Weather models indicate the lower level winds have turned back to westerlies while winds at slightly lower altitude compared to the Mid Tropospheric levels are expected to turn back to westerlies later tonight or tomorrow morning.
With westerlies returning back we can also look forward to Veppasalanam or convective thunderstorms increasing over interior areas. The next few days will see large parts of Peninsular India, particularly South interior Karnataka, adjoining areas of Rayalaseema and Northwest interior Tamil Nadu come under fairly widespread thunderstorm activity with intense spell of rains at times during the late evening / night hours. As the wind instablity / convergence zone moves around various parts of Peninsular India depending on the strength of westerlies and also the emergence of a fresh circulation in Bay of Bengal this zone of thundertorms also will move around as well.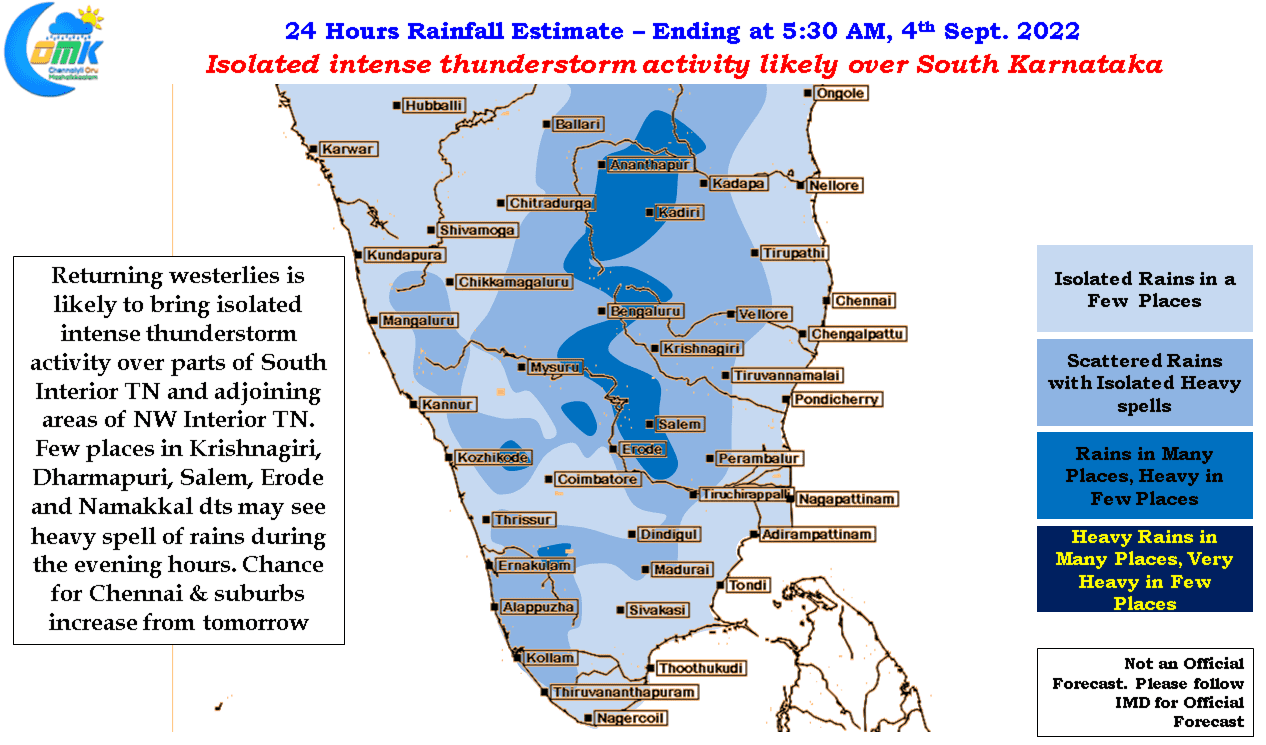 This is likely to bring some of the catchment areas of rivers like Shimsha, Pennar, Thenpennai and Palar along with the traditional Southwest Monsoon rivers like Cauvery, Bhavani etc come under good rains providing with some heavy inflows over the coming week. It may not be a surprise if Cauvery sees inflows exceed 1.5 lakh cusecs once again with less support from upstream KRS and Kabini rivers. Similarly we may in all probability see Thenpennai run like a perennial river for the next few weeks as Southwest Monsoon gradually shifts phase to Northeast Monsoon.
While today we are likely to see intense thunderstorm activity around South interior Karnataka, adjoining regions of Rayalaseema and NW interior TN the upper level winds are not yet favorable for these storms to reach coastal places like Chennai which will see its chance increase from tomorrow. Places like Ramanagara which came under localized flooding last week is under risk once again this week with models indicate the hotspot for thunderstorms around that region today and tomorrow.