Any rainfall spell be it monsoon or thunderstorms need to provide for breaks in between in order to maintain the balance. The last few days saw pretty much a very active spell of thunderstorms over large parts of Peninsular India with many places in South interior Karnataka like Ramanagara, Bengaluru witnessing localized flooding. Similarly many rivers like Shimsha, Arkavathy, Then Pennai, Pennar etc witnessed fairly high inflows due to good rains all over the catchment areas.
It is not often one gets to see inflows into Mettur touch nearly 2 lakh cusecs with less than 75000 cusecs contributed by Cauvery from upstream of KRS and Kabini rivers cumulatively. The Southwest monsoon seasonal tally for Tamil Nadu and Puduchery sub division has crossed 40 cms as of yesterday. Since 2000 this is only the 6th time Southwest Monsoon has crossed 400 mm for the season. To give a perspective the current seasonal Southwest Monsoon average for Tamil Nadu and Puducherry is 336.1 mm.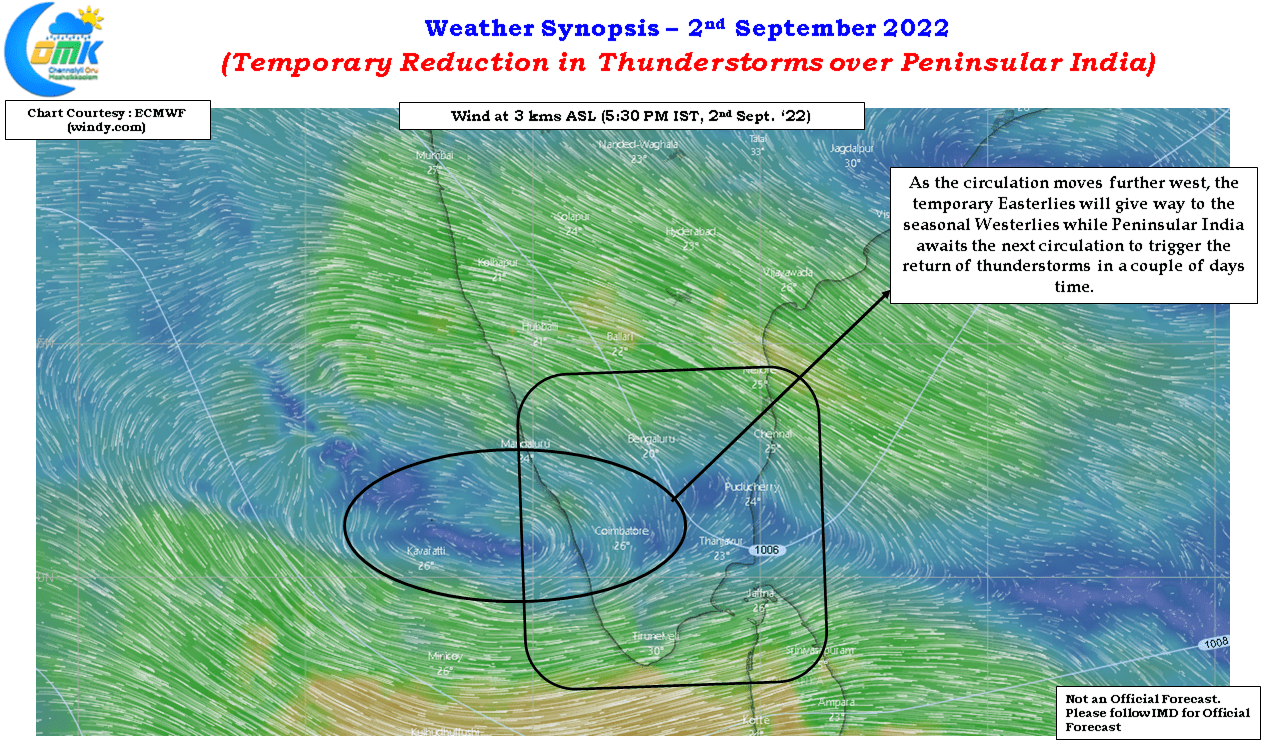 While monsoon trough has pushed closer to the foothills of the Himalayas bringing break in monsoon conditions it is also important to note that temporary Easterlies created by the circulation in south bay also played a very crucial role in creating conducive conditions. Additionally the presence of supportive factors in the form of favorable BSISO ensure thunderstorms were violent and intense over the interior parts of Peninsular India. With BSISO expected to further move North an expected circulation in Central Bay may allow for a revival of monoon dynamics once again early next week. But before that we will have another small phase of thunderstorms over Peninsular India from possibly Sunday as the Westerlies return back bringing with it the associated convective thunderstorms.
For the next day or two though it might be subdued thunderstorm activity over most of Tamil Nadu except the ghats which could see moderate rains in a few places. Coastal places like Chennai also will see a reduction in rains on Friday and Saturday.