While weather is a perfect example of the butterfly effect in chaos theory one can also say the larger scale dynamics works in patterns which largely prevail the same under similar conditions. This is the basis of how impacts of global factors like ENSO, Indian Ocean Dipole or for that matter even global oscillations behave and the associated impacts are judged. Many a times through careful observation one can look for cues as well from past years on possible shape of things to come even though no two monsoon years are the same.
With 2022 expected to become the final leg of a multi year Nina episode past such episodes could provide for some cues. 1955, 1975 to some extent 1985 and 2000 are similar such episodes in the past. If one were to look at the September rainfall for Gujarat and Saurashtra & Kutch sub divisions most of the years that have recorded very high rains during this month coincides with strong LaNina conditions though it is important to point out not all strong LaNina years have brought late season Monsoon flourish.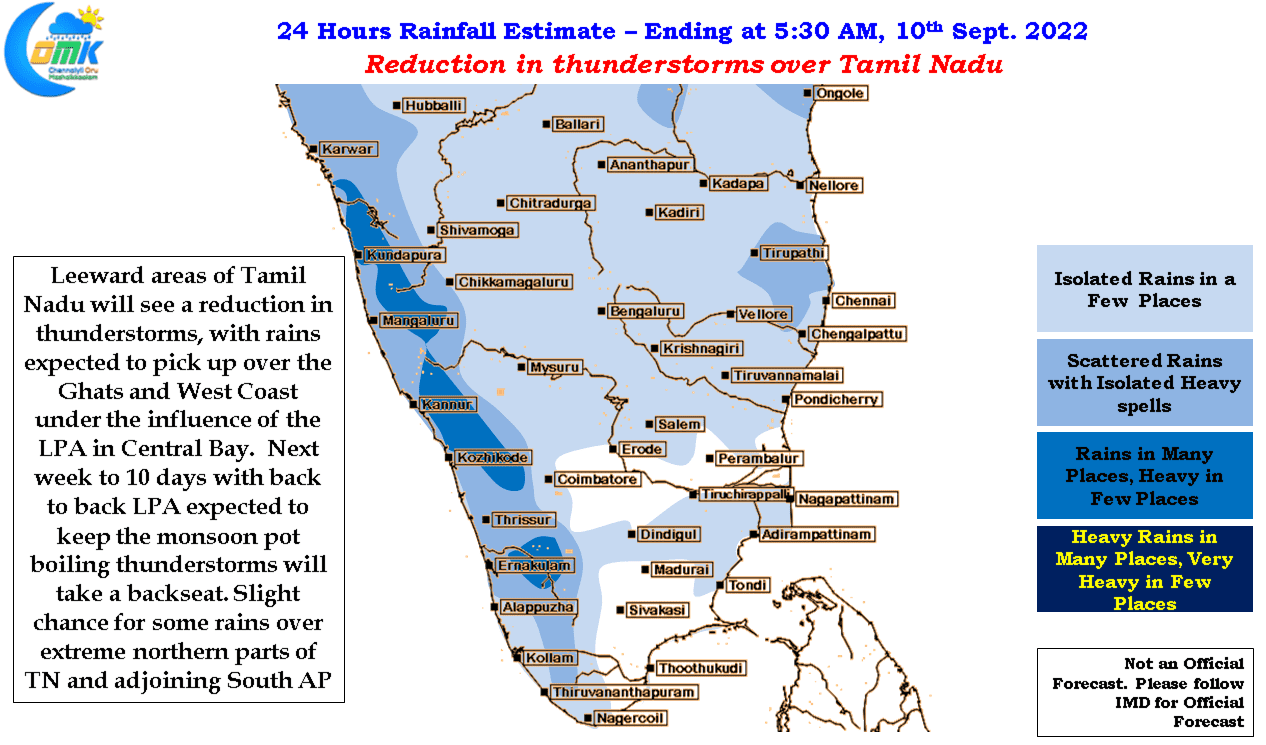 With IMD announcing the formation of a Low Pressure area over Central Bay off the coast of Andhra Pradesh along with a possible low to follow once the current one completes its life cycle 2022 could once again see late season monsoon dynamics flourish over extreme western parts of India. Additionally we can expect the usual suspects along the West Coast and Western Ghats also to see increased rainfall activity. The worry though is Central India which has already been reeling under the impact of train of lows until a couple of weeks back will once again come under heavy rains when traditional wisdom would be suggesting to the farming community to look forward to the end game of Southwest Monsoon.
Staying on the farming community the last spell of active thunderstorms over the leeward areas of Tamil Nadu has meant a stop of some the activities like sowing, harvesting etc over many pockets of Tamil Nadu on account of the near daily rains accompanied by thunderstorms. These areas can now look forward to a few dry days for them to complete these activities which were put on hold on account of the squally weather.
The next couple of weeks are going to be fairly subdued over Peninsular India, particularly the leeward areas, though we can possibly see one or two days of thunderstorms in between when the Low comes above the longitude over Tamil Nadu and during the intervening period when the first low completes its cycle and a fresh pulse evolves into a Low in Bay. Extreme North TN and adjoining areas of South AP may see thunderstorms in a few places later in the night though it may happen the convergence may fall over the sea like the wee hours of today morning which resulted in the rains happening to the East of Chennai.