The last few days have seen a drastic reduction in thunderstorms over most of Tamil Nadu with rains sticking to the Ghats of Nilgiris & Coimbatore districts. Even the Ghats of Kanyakumari has bee mostly out of sync with rains except for one or two days. The Southwest Monsoon seasonal tally for TN & PDC subdivision stands at 455.8 mm as on date against the LPA of 255.5 mm. 2022 is now close to becoming the 3rd best Southwest Monsoon season since 1901. With overall suppressed phase of thunderstorms expected to largely prevail for the remaining part of September it looks a tough ask for 2022 to become the best Southwest Monsoon season ever.
Currently both MJO and MISO / BSISO has been favoring parts of South China Sea adjoining areas of Bay of Bengal and Central India bringing an enhanced phase of rains for these areas. While the current well marked low continues to persist over parts of MP and adjoining areas weather models indicate another fresh low pressure area to surface over Central Bay under the influence of a pulse moving in from Indo China Peninsula towards the end of this week. This would mean the current trend of active monsoon conditions over Central India and parts of West Coast is likely to continue for the next week to 10 days.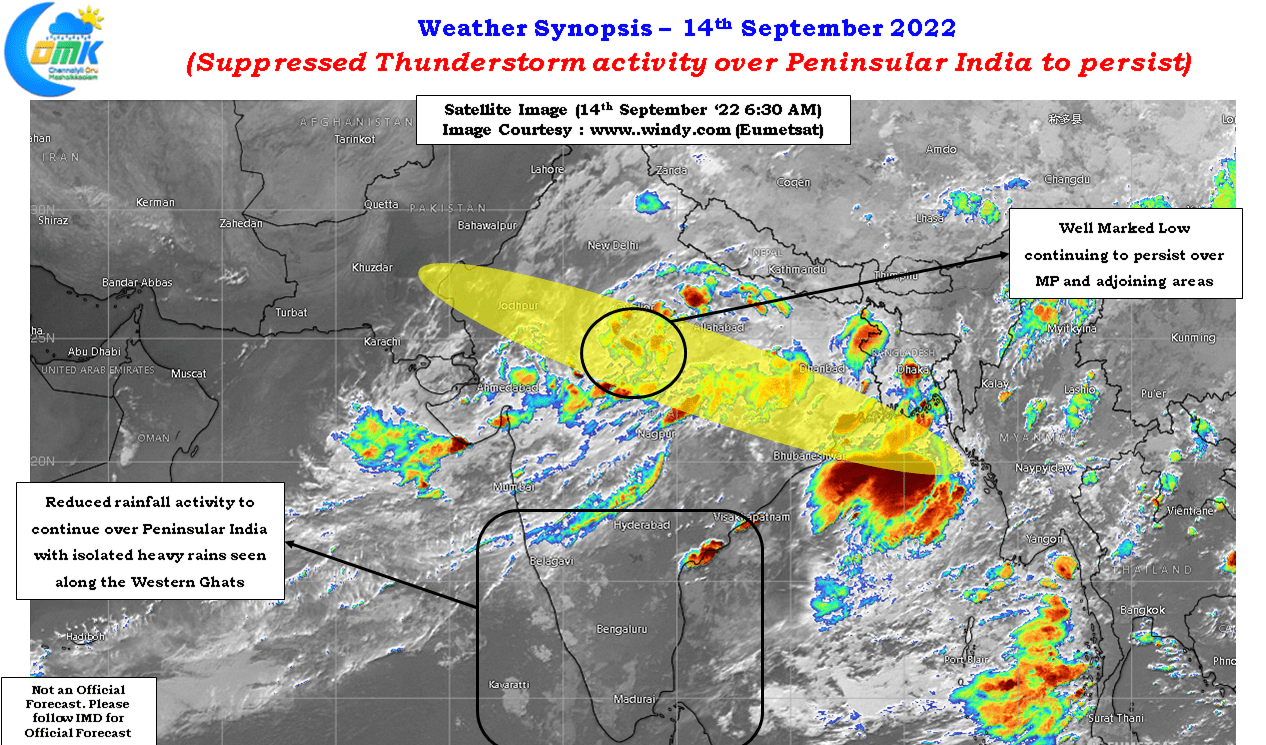 Subsequently we may see an overall suppressed phase over Indian Sub Continent as MJO moves further East towards West Pacific. This phase of suppressed conditionss is likely to be the trigger for the monsoon withdrawal process to kickstart. Further withdrawal though will completely depend on how the winds reverse and possible assistance by transition disturbance so there is still a long way to go in terms of Southwest Monsoon 2022 season.
In the meanwhile due to weak wind convergence we could see some isolated thunderstorms over parts of North TN and adjoining areas of South AP. Yesterday saw the intrusion of a fairly robust sea breeze along the coast of North TN, today also a similar trend is expected and this sea breeze intrusion could trigger some late evening / night thunderstorms around a few suburbs of Chennai.