Life Cycle is a phrase which we normally associate with living things, sometimes we associate it with products too in the corporate world too. Similarly Monsoons also go through life cycle with clear onset, peak & retreat phases. In the case of Southwest Monsoon these phases are well defined by IMD and also easy to follow due to established weather events that indicate each of these phases over the years.
Northeast Monsoon being a smaller sibling with a much shorter period tends to see many a year a flurry of events making it difficult to associate a clear. For Northeast Monsoon many years the final stages of seasonal cycle is swift and sudden due to the fact that NEM as such is part of the seasonal shift of Monsoon from Northern Hemisphere to Southern Hemisphere.
But with close observation we can identify indicators for the curtains to fall on Northeast Monsoon. Currently it appears things are falling in place for the curtains to fall for NEM2019 in a few days time. Though satellite images indicate we are potentially going to see one more Low Pressure Area form under the influence of MJO over Equatorial waters of Indian Ocean in a day or two the genesis could be at an area which is slightly South of the optimal location for Tamil Nadu to receive meaningful episode of rainfall.
But as the LPA moves West towards Arabian Sea we could see a moderate rainfall episode for Tamil Nadu later this week. In all probability this could be the last worthwhile rainfall episode of NEM 2019 as MJO is likely to move over to influence of MJO over to Maritime Continent & further East bringing a suppressed phase of atmospheric conditions over Indian Ocean.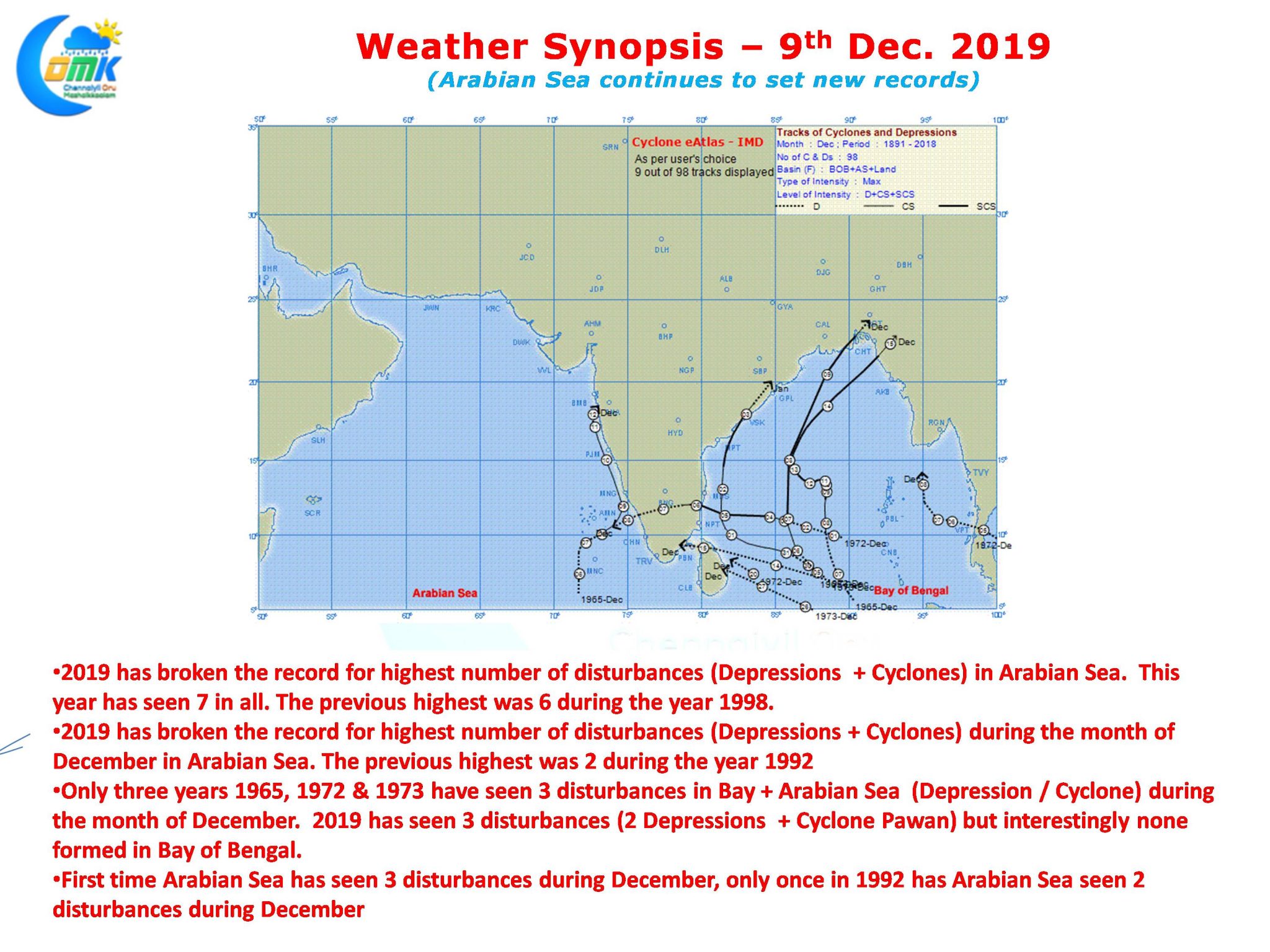 With Arabian Sea currently hosting a depression over the Central Parts making it the 3rd disturbance (Depressions + Cyclones) of the month 2019 continues to set new records. With the current depression 2019 has become the year with the highest number of disturbances over Arabian Sea during a calendar year breaking the record set in 1998 which saw 6 disturbances in all. Similarly the month of December has never ever seen 3 disturbances over Arabian Sea with 2019 being the first instance. All in All the hyper active Arabian Sea has ensured NEM 2019 remains unique for many reasons.