கெடுப்பதூஉம் கெட்டார்க்குச் சார்வாய்மற் றாங்கே
எடுப்பதூஉம் எல்லாம் மழை.

வான்சிறப்பு
The above Thirukural is one of the more famous couplets that gets quoted while talking about how Rains have the ability to play tantrums with the lives of people but in the same manner can bring back life by arriving at Hour of Need as well. In a way it also signifies Rains as a neutral phenomenon which does not have a bias of its own and treats everyone the same. The farmers of delta districts may disagree with the concept of rains being neutral considering how the past couple of days have been and the below par Northeast Monsoon that happened earlier over many places in the region. The rains never happened when it was supposed to happen and came when it was not necessary.
While nothing much could be done over what has happened over the past couple of days though we had clearly indicated about the risk Delta might face from this spell of rains the good news though is the rains are greatly expected to reduce today with dry weather set to return over Tamil Nadu from tomorrow. Large scale dynamics indicate not only dry weather is expected to return over peninsular India from tomorrow but the next couple of weeks will bring clear skies with warm afternoons that will go a long way in drying the wet paddy fields allowing to salvage a major portion of the harvest that is currently affected by rains.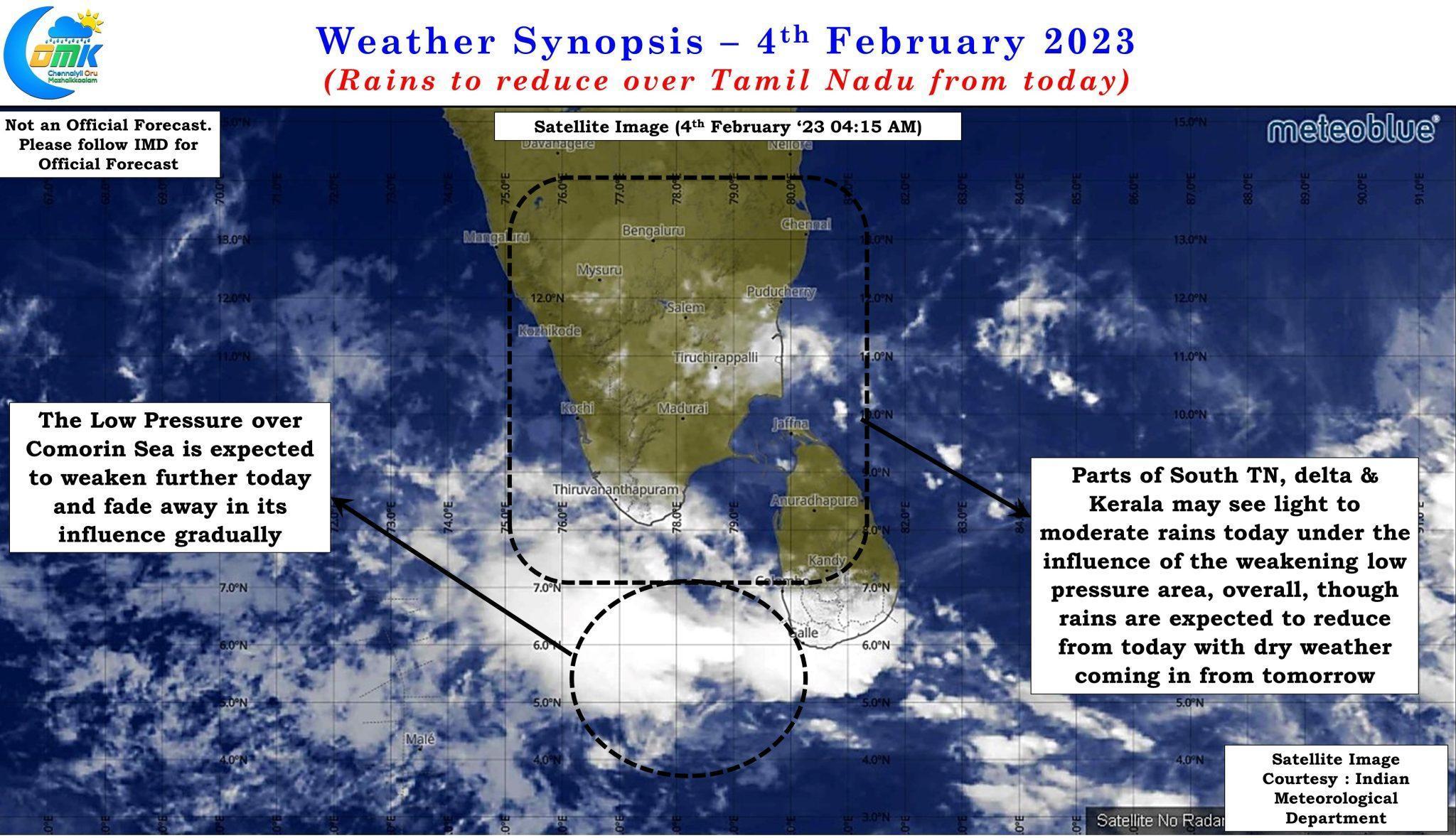 The rare February depression that created havoc over delta districts has weakened drastically after crossing Sri Lanka coast on 2nd of February now lies as a Low Pressure area over the Comorin sea and is expected to weaken further and fade away in its influence over peninsular India. While today we could see some rains over delta districts and south TN along with parts of Kerala the rains may be mostly light to moderate with isolated places coming under heavy spells at times along the Western Ghats. But overall rains are expected to greatly reduce today with mostly dry weather kicking in from tomorrow due to the arrival of dry continental winds from the North.
Not only the arrival of dry winds from the North weather models also indicate North Indian Ocean to remain subdued for the next 2 / 3 weeks in terms of tropical disturbance with bulk of the activity seen over Southern Indian Ocean. In this context it also becomes essential to realize the trailing edge of MJO will fall over the Indian Sub continent as it moves further East bringing about a fairly suppressed phase of atmospheric dynamics during most of February.
This suppressed phase of atmospheric dynamics is also likely to bring about the last active phase of winter conditions as well around middle of February resulting in night time minimum temperatures over most parts of Peninsular India staying 2 to 4 degrees below normal.