One of the biggest challenges faced by farmers all across the Indian sub continent is vagaries of weather. While over the past couple of decades due to advancement in weather forecasting and observation tools it has improved to a great extent there still exists a lot of vulnerability from not only large scale weather disasters like cyclone / flooding etc but also crop damages due to unseasonal rains at the time of harvesting of the crops. The traditional cropping cycle continues to be the guiding thoughts for most farmers though we have seen changes in large scale atmospheric dynamics could alter monsoon conditions to a great extent resulting in being caught out by "Unseasonal Rains"
The previous post had talked about how last week of January could see rains over parts of Tamil Nadu due to the interaction of a weak easterly wave and mid level westerly trough. With a couple of more days of observation there appears to be more consensus among models about this potential rainfall episode and why delta farmers need to be wary about the rains next week. The ensembles are fairly consistent about potentially an easterly wave with an embedded circulation drifting close to the coast of Sri Lanka towards the second half of next week which could bring in moist easterlies over coastal Tamil Nadu. Yesterday morning the light rains few areas of Chennai and suburbs received is an indication of how some bit of moisture push by the easterlies is enough to trigger rains along the coast of TN though we are inching towards the last week of January.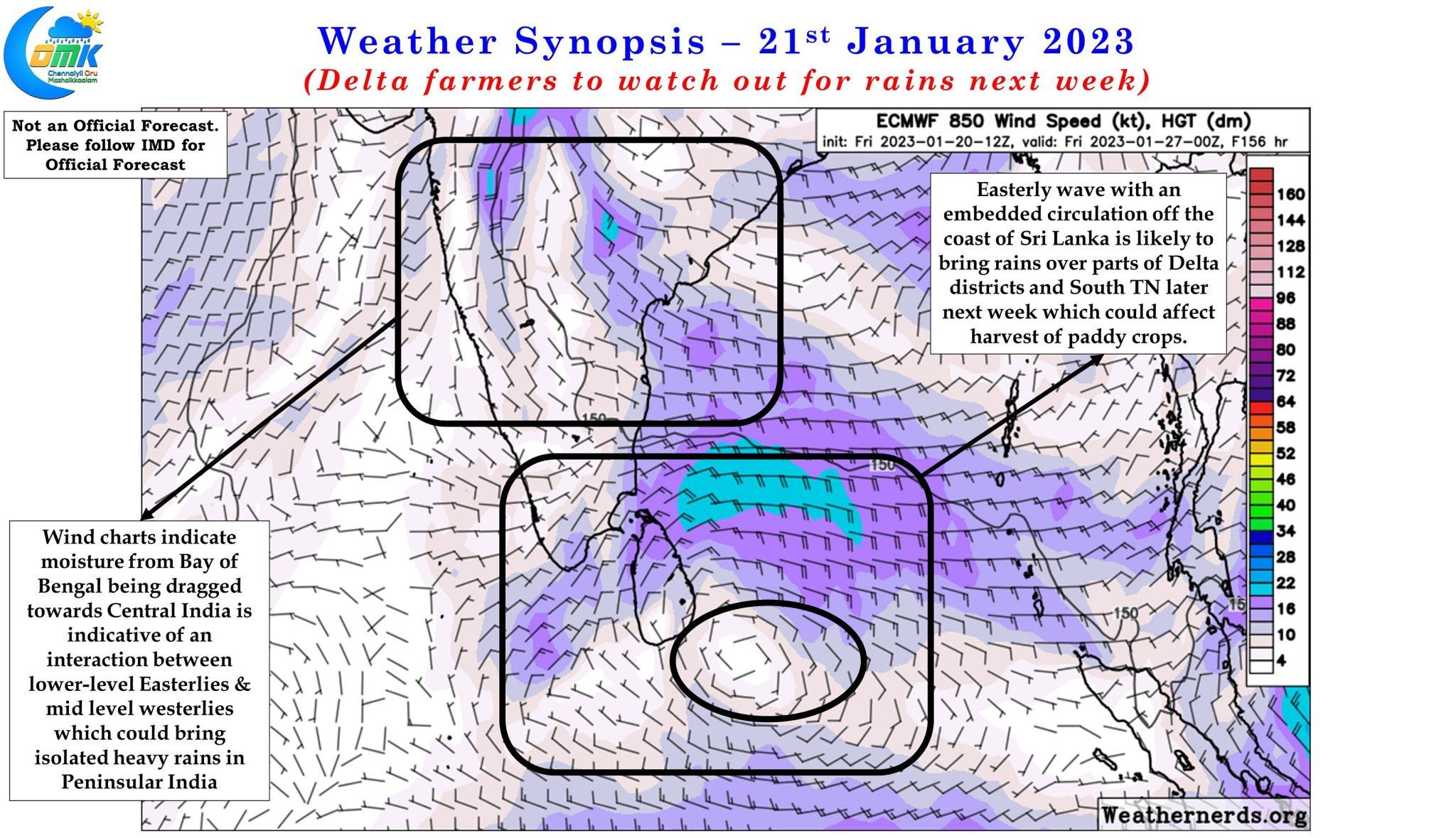 Additionally the wind charts also confirm there could be some interaction between the incoming mid level westerly trough and the lower level easterlies. The dragging of moist winds from Bay of Bengal towards Central India as shown by weather models in a way indicates this interaction. Any such interaction could potentially bring heavy rains over Peninsular India at isolated places though the exact interaction may or may not happen over land and is difficult to predict in advance and a fair bit of now casting may be the best way forward.
But in order to mitigate the risk associated with rainfall damage what we could possibly do is to be aware, prepared and in cases where it is possible advance the crop harvest and safeguard the harvested crops from rainfall damage. It is in this context today we have created a Rainfall damage vulnerability estimate chart to give an idea to those in the areas that are the most vulnerable as indicated by weather models to be prepared and take action appropriately rather than be caught off guard by unseasonal rains. This chart is not indicative of the quantum of rains alone but also based on areas with higher probability of heavier spell of rains in order to give a better assessment of how things could evolve.
As always with COMK the updates are provided primarily keeping in mind "Disaster preparedness does not come at the flick of a switch and it is better to be safe than sorry."