The Monsoon Depression currently lying just along the shores of North Odisha / West Bengal is likely to bring some of the Mojo back into Southwest Monsoon after a spell of weak Monsoon dynamics since the turn of August. Yesterday morning saw heavy rains lash coastal Odisha under the influence of this disturbance with Puri recording nearly 40 cms rains for the 24 hours ending at 8:30 AM, 7th August 2018.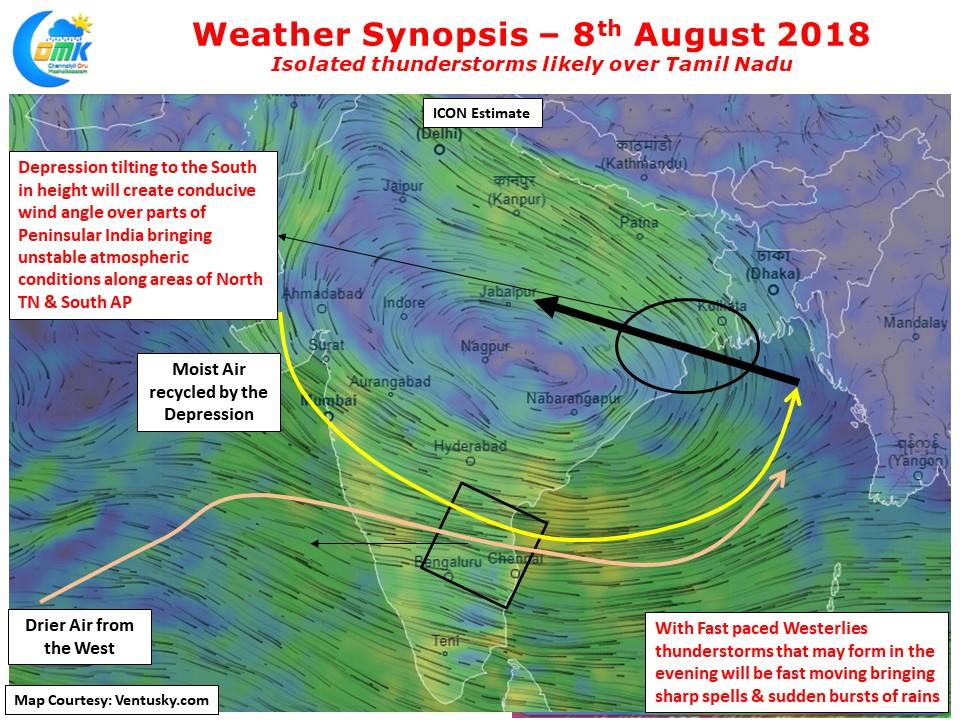 The Monsoon Depression has already dragged the Monsoon Trough southward from the position near foothills last week. As it moves further inland in a W/NW direction it is likely to pull down the Monsoon trough further. Over the course of next day or two parts of Odisha, Jharkhand, West Bengal, Chhattisgarh & Madhya Pradesh could see heavy rains in many places. In the same context as always the case when there is a disturbance in North Bay the Arabian Sea makes its own move in the form of developing an off shore trough along the West Coast. Yesterday places along the Western Ghats have seen isolated moderate to heavy rains which augurs well for the catchment areas and revival of good inflows into the Cauvery & other dams in the Western Ghats.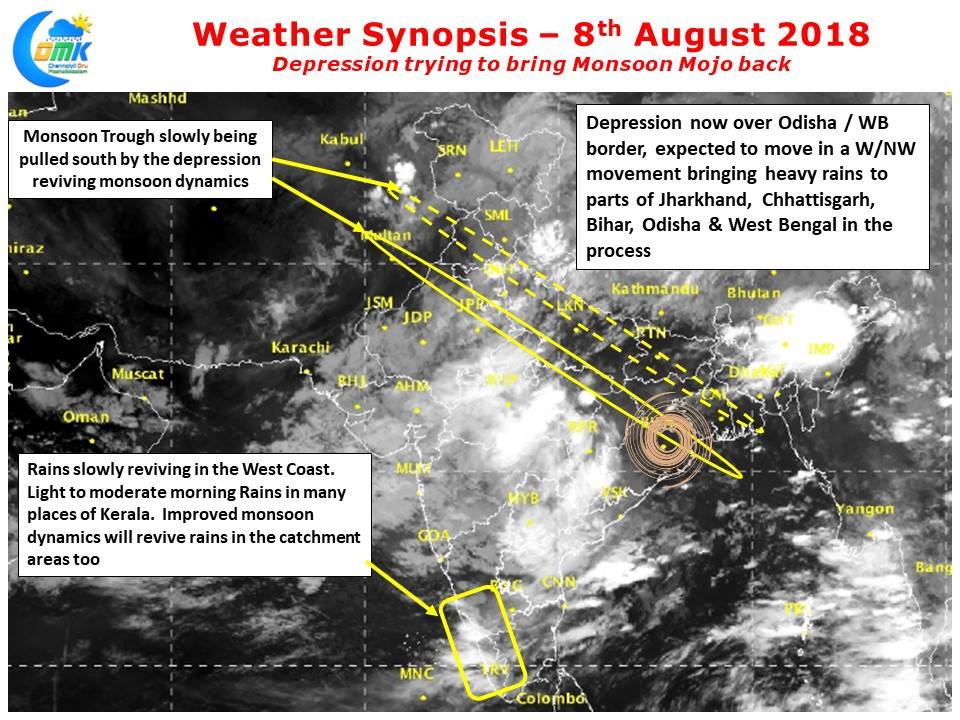 Often we repeat when the Monsoon is strong thunderstorm possibilities are very less over places like Chennai. This pattern has two exceptions on most years, when the Low Pressure is in development stage over the Bay & when the Disturbance moves inland and the circulation lies along similar longitude to Chennai when the wind angles create a certain instability triggering thunderstorms during the process. Today weather models indicate a possibly thunderstorm opportunity for North TN & South AP region. While it is difficult to say whether Chennai will benefit from these thunderstorms but good chance exists for Chennai along with rest of North TN. Thunderstorms could possibly form late evening around or after 9 PM in these areas.