இடியுடைப் பெருமழை எய்தா ஏகப்பிழையா விளையுள் பெருவளம் சுரப்பமழைபிணித்(து) ஆண்ட மன்னன் – சிலப்பதிகாரம் (மதுரை காண்டம்). முறையாகப் பெய்யும் மழை நீரை, ஏரி, குளங்களில் சேமித்து, மழையில்லாக் காலங்களில், தக்க முறையில் பயன்படுத்தி, நாட்டை வளம் பெறச் செய்பவனே திறமையான மன்னன் என அன்றே கோடிட்டு காட்டினார் இளங்கோ அடிகள்
The above quote becomes even more relevant in the modern day context when the monsoons become erratic & cycles do not follow the traditional time frames which most of us have been used to. The current NEM 2020 is a perfect example of that with the traditional ஐப்பசி known for அடை மழை seeing long dry spells. Though it was not completely unexpected by people following weather actively, for the common people particularly the farming community they are used to seeing good rains by this time and there is a sense of fear creeping in due to the poor rains so far.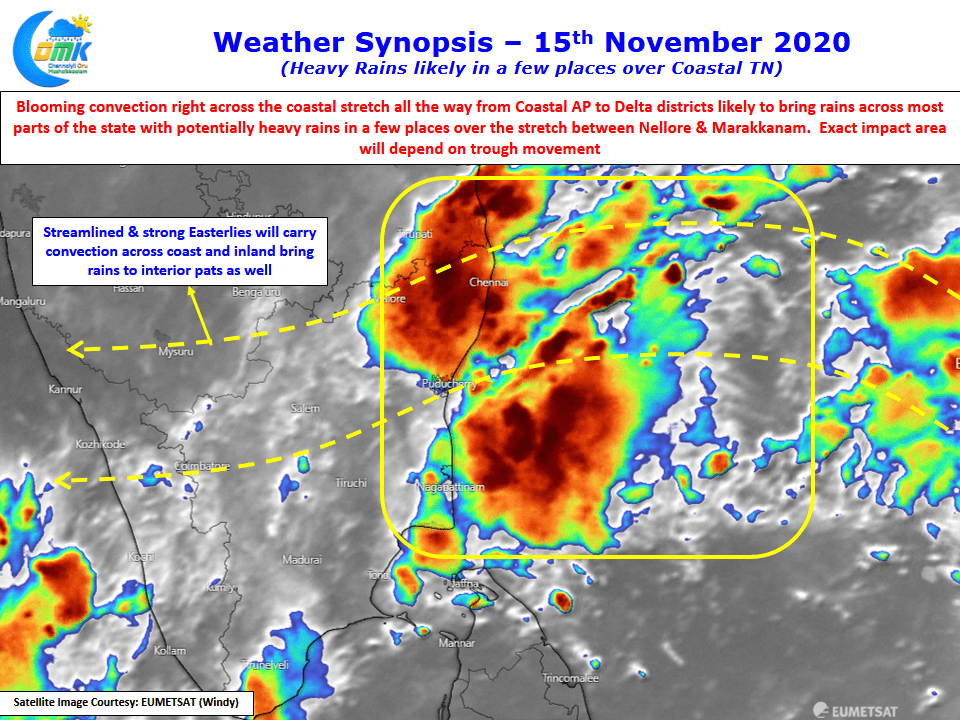 Hopefully the days ahead will alleviate some of the fear about a possible drought season. But the larger worry though is short duration bursts of heavy rains may pretty much help only the averages and become counter productive to the farmers. Nevertheless while we cannot chose the cards to be dealt for us a little bit of advance planning may help us to be better prepared for this bursts of rainfall as MJO influence has started to be visible over the Indian Ocean.
The Satellite image indicates fairly active convection build all along the East coast right from South AP to delta districts. With a fairly streamlined Easterly that has picked up in strength over the next couple of days the worry about rain bands staying off the coastline may not be an issue. Similarly interior places that have been missing on rains due to weak steering will also see the storms move inland providing some much needed rains.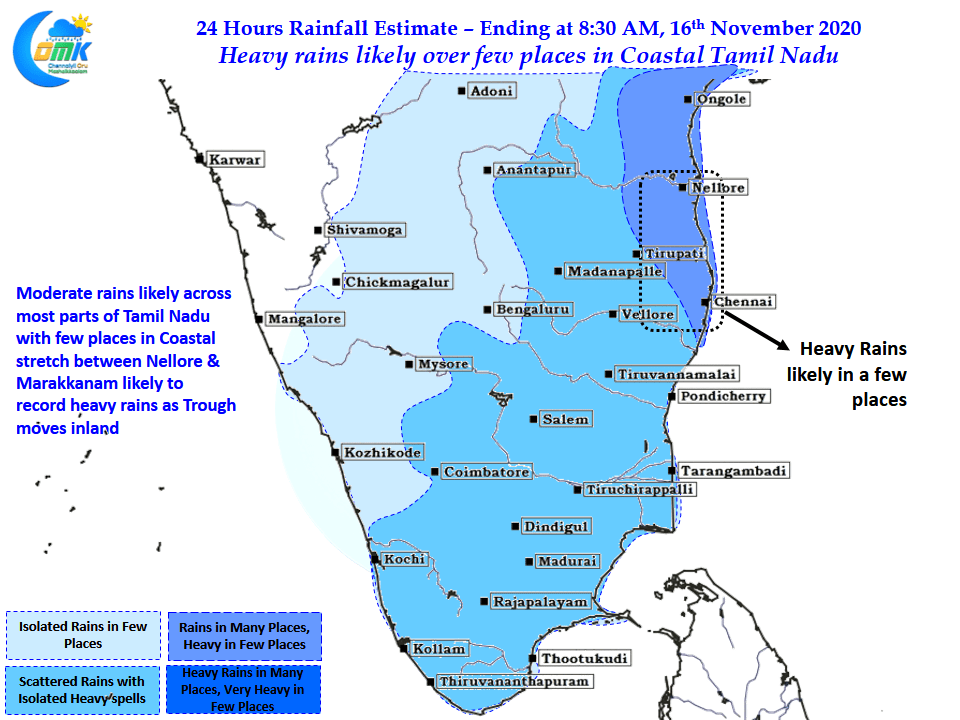 Weather models indicate the heaviest rainfall zone to be likely above 50 to 75 kms to the North of Chennai though going by the real time movement of trough there is a chance this could move up or down bringing potentially one or two places around Chennai & suburbs under the heavy rainfall window. All in All its going to be a Sunday that you can enjoy watching the rains come & go through spells of various intensities with some breaks in between to. Grab your favorite book & enjoy the show of classic Northeast Monsoon at its best.