After a reasonably comfortable couple of months where most parts of Peninsular India escaped from scorching summer conditions while the rest of the Indian Sub Continent, particularly the Northwest & Central Indian regions saw a very early onset of summer and associated increase in temperatures even as early as second fortnight of March when places in Rajasthan & Vidharba regions started touching 42 / 43°C on a regular basis. On 7th April Kandla Aerodrome became the first observatory to record 45°C in India for the year 2022 while the next day five observatories across the country recorded 45°C or more.
While that spell of heatwave was seen over patches of Northwest India, weather models are now consistent about a fairly widespread heat spell in the upcoming few days that is likely to be seen across a large swathe of Indian Sub Continent landmass including a major portion of Peninsular India. So far Tamil Nadu has been relatively better off so far this summer with only Karur Paramathi and Madurai being the only observatories to reach 40°C so far though we are now into the 4th week of April.
But the next few days will change all that with weather models consistent on day time maximum temperatures increasing by a few degrees across most parts of Tamil Nadu including the coast. One of the biggest reasons for this is the advent of dry continental winds from Northwest which is expected to push in the heat from Central and North India. While Sun does indeed play a crucial role in modulating temperatures one should not ignore the role of surface winds which are a bigger factor when Heatwaves / Coldwaves happen as they aggravate heat / cold conditions creating these waves.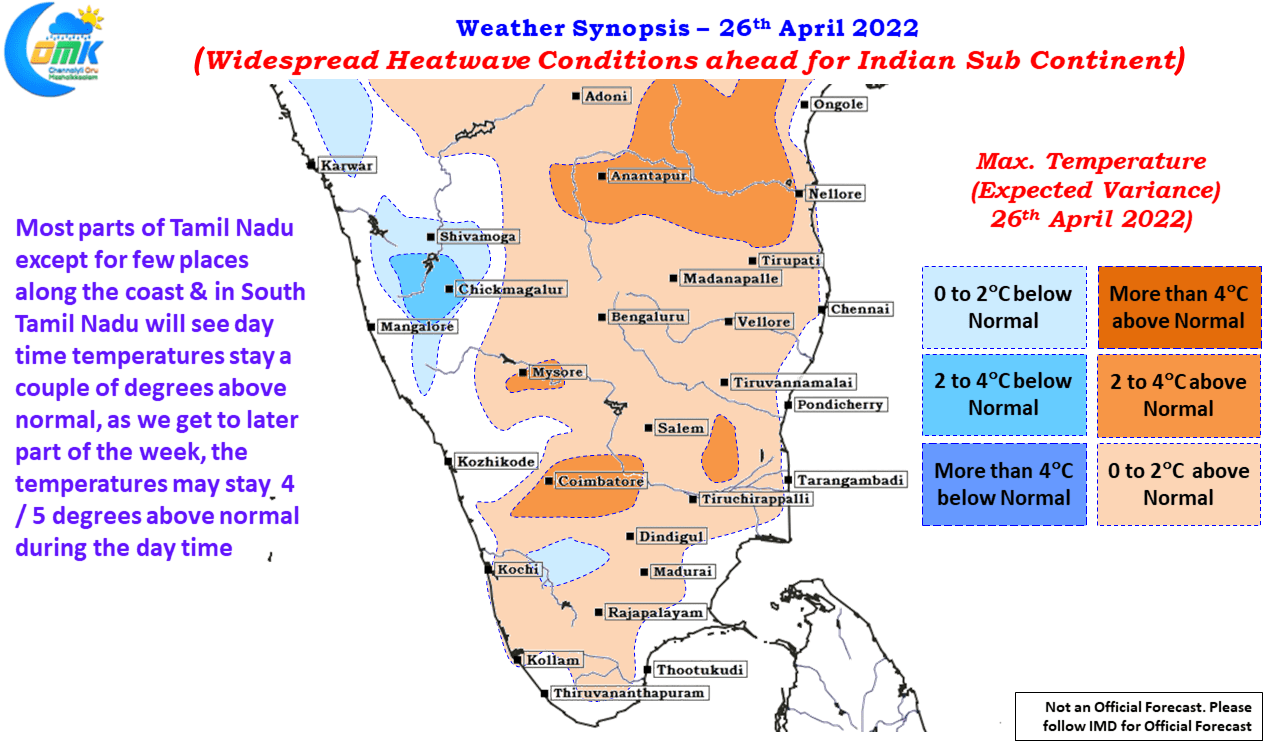 The dry arid winds seen over Northwest and Central India is expected to push into Peninsular India, particularly over the AP & TS States which is extended to influence day time temperatures over most parts fo Peninsular India except for the narrow patch of coastal areas insulated by the Western Ghats. This is expected to be the pattern until the first week of May atleast, it remains to be seen if there could be any respite after for the East coast due to a seasonal development being hinted by weather models.
Ensemble weather models indicate a potential tropical disturbance heading towards North Bay during the 1st / 2nd week of May which could mean the next few days even though may see few degrees above normal for Tamil Nadu may end up being the trailer for a potentially stronger heat wave conditions during the time the tropical disturbance climbs latitude in Bay of Bengal.