In what is possibly a much needed spell places in Interior Tamil Nadu has been recording rains that will play a crucial role in improving soil mositure levels and possibly add a bit to the ground water levels as well.  Yesterday saw parts of South Interior Karnataka including Bangalore get in what could be called the first proper thunderstorm of the year 2017.  Fairly wide spread rains occurred over most parts of the city with the IMD observatory near Vidhan Soudha recording 36 mm while the HAL Airport observatory recorded 38 mm rains which also had a fair bit of sound light show accompanied with it.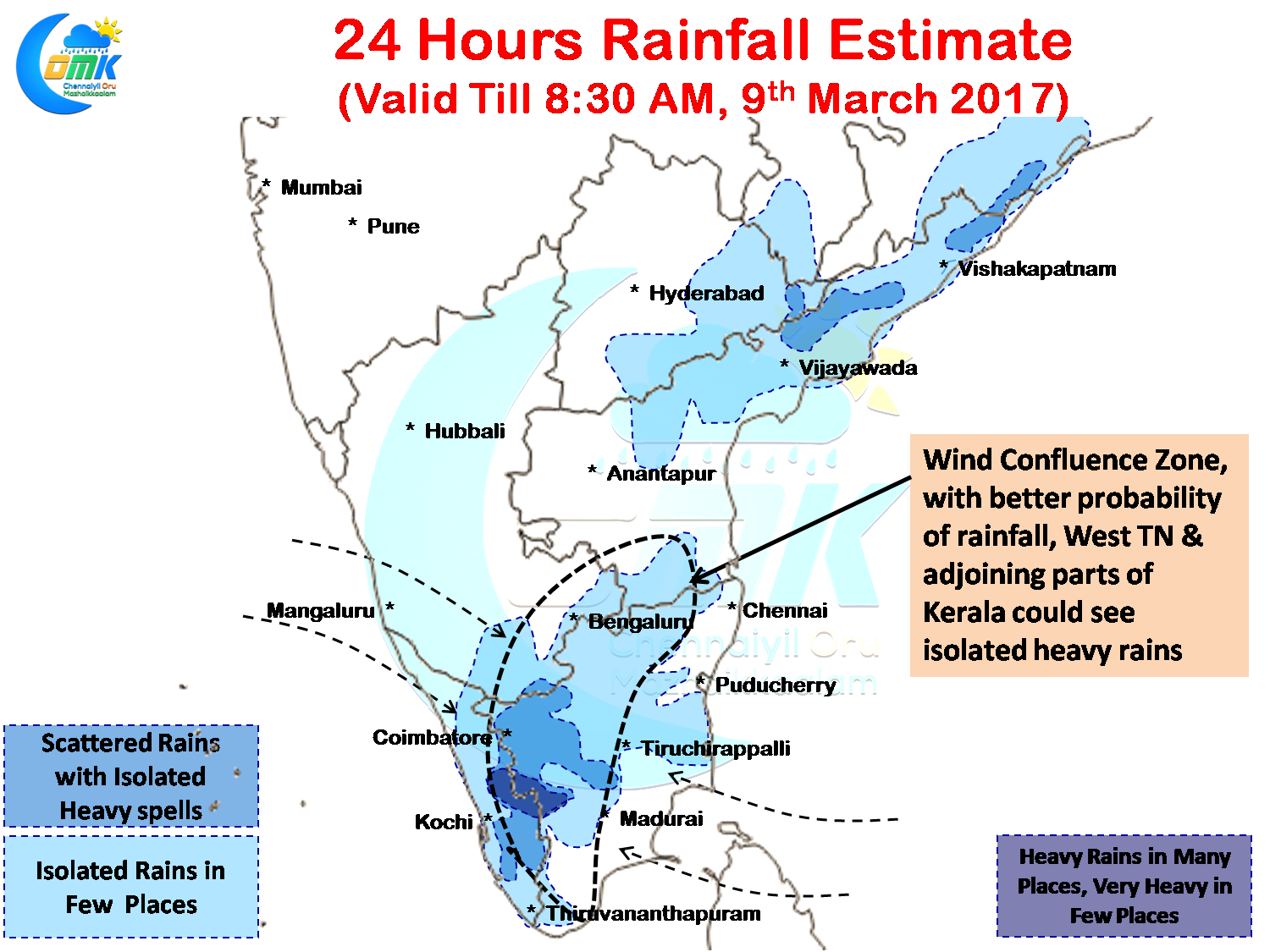 The mean sea level trough that existed over the low latitudes of Bay has become less relevant along with the mean sea level trough that was running along from the southern parts of Peninsular India up to North Interior Karnataka.  Nevertheless models indicate a fair possibility of a wind confluence zone developing at 1.5 kms above mean sea level which could play a role in triggering the thunderstorms over West Interior Tamil Nadu and the adjoining parts of Kerala.
Going by model outputs there is a fair possibility of one or two places in Dindigul, Theni, Coimbatore & Erode district record heavy spells of rains later in the evening.  Similarly models also indicate some bit of rains for the coastal areas as well along the delta region later in the night though this could be at best light spells of rains.
Chennai will see cloudy skies in the morning with some possibility of light passing showers in a few areas.  With each passing day the city is getting closer to the wind confluence zone which indicates possibly the next spell of rain for Chennai, though not very heavy, is not far away.
Powered by WPeMatico