One of the often repeated phrases by meteorologists is how difficult it is to give weather forecasts for Tropical Areas.  Bay of Bengal possibly signifies this best in the current context.  The models are so inconsistent in their outputs due to ever changing dynamics that we are seeing outputs as crazy as very severe cyclones  hitting in less than 5 days time from now while some models predict absolutely nothing for most of Tamil Nadu during the same period.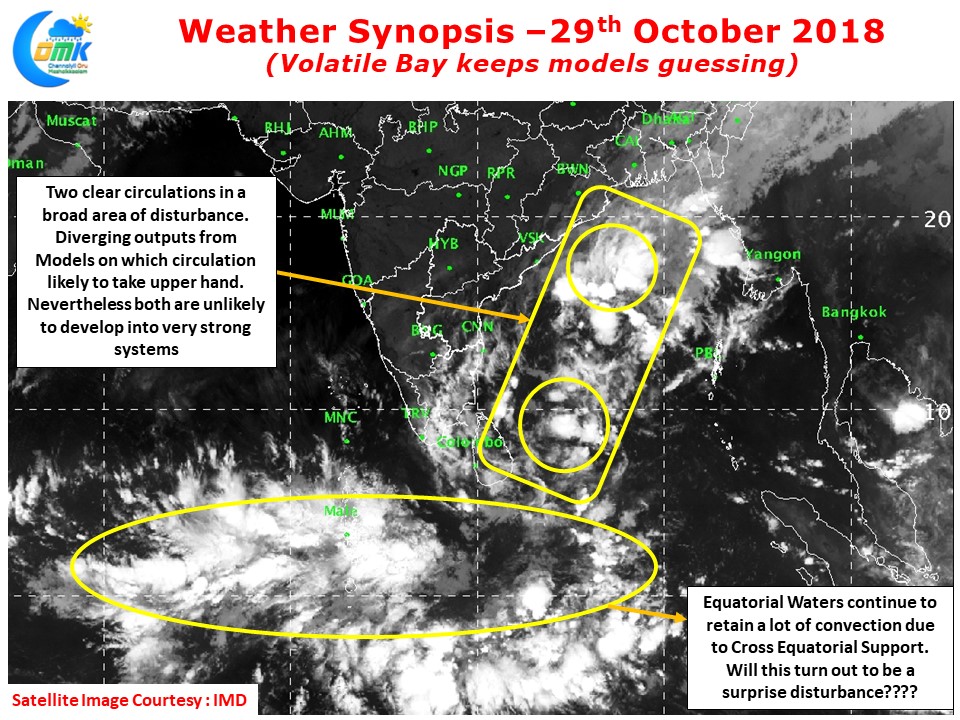 Today's morning Satellite image confirms how dynamics keep changing every few hours.  A broad circulation continues to persist over Bay of Bengal with two distinct circulations, one off Sri Lanka & the other off AP coast.  The interplay between these two and battle to finish is likely to decide the rainfall pattern & also possible Norhteast Monsoon onset over the next few days. Only one of the two circulations will survive by possibly tomorrow morning whiche one will  be the winner is a difficult question.  Add to the mix is a seperate area of disturbance in the Equatorial waters thats feeding on Cross Equatorial support will it be a surprise package and a possible joker among the pack. Cant discount the possibility.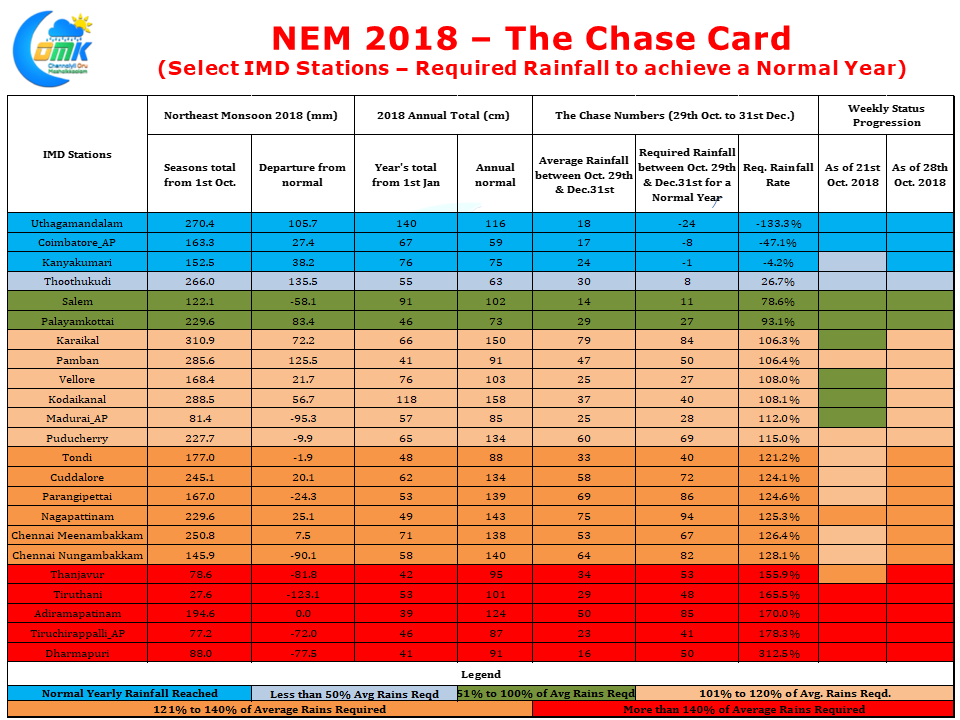 While all this is happening the overall scene has changed slightly to the worse for most IMD stations of Tamil Nadu & Puducherry as far as the Monsoon chase card goes.  Last Monday we published the 1st score card of the season, today when we run the second card of the season only Thoothukudi has made progress on the back of heavy rains last week.  Of the 23 stations being tracked 11 of them need more than 120% rains during the rest of the year to receive their normal quota of rains for the year.
Five stations, Thanjavur, Tiruttani, Tiruchirappalli AP, Dharmapuri & Adirampattinam need 50% excess rains to achieve normal status.  Both Chennai observatories are sliding as far as the chase goes with Chennai Nungambakkam now standing at 9 cms deficit for the NEM 2018 season tally as of yesterday.  With each passing day without rains the numbers will stack up more with favorable disturbances the only  hope to catch up.