The last couple of days instead of Rains & Northeast Monsoon most of Chennai has been speaking about pollution. While it may be a matter of debate on the hows & wheres in terms of how the pollution happened over Chennai one cannot dispute the fact things have take a turn for the worse from yesterday morning.
East Coast of South India continues to remain under non existent Easterlies due to which not only the rains have gone missing but also increased pollution has showed its presence not only in Chennai but over many places of Tamil Nadu. For second straight day the Air Quality Index across Chennai has been showing unhealthy levels. Weather models indicate better part of this week will see similar conditions to persist. Ironically if the models get their estimates right in a day or two Delta districts might see the worst conditions in the state.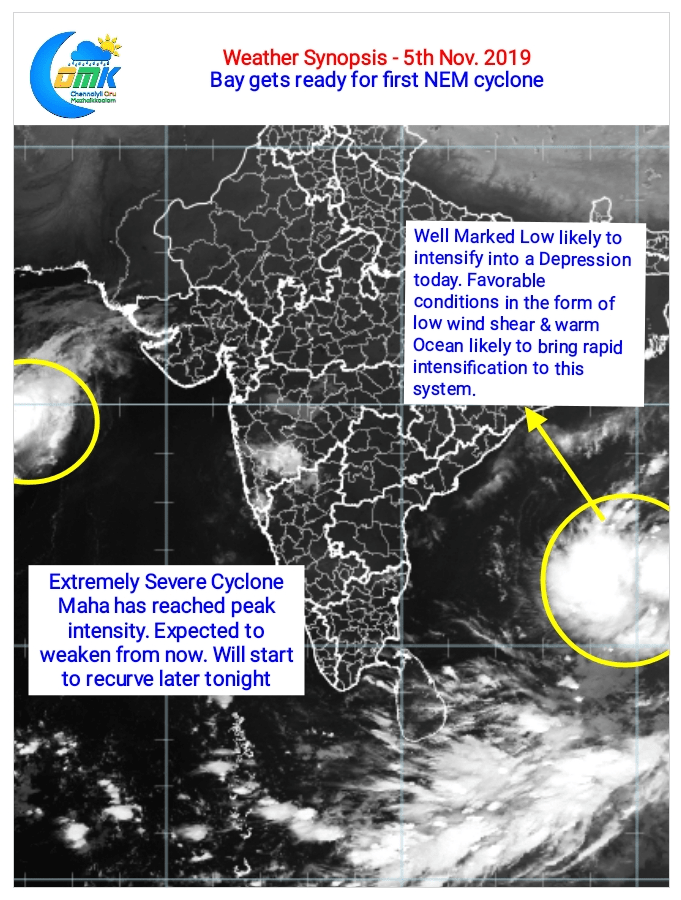 In the meanwhile after playing second fiddle to Arabian Sea for nearly three weeks now Bay of Bengal has got its first opportunity to get back its " Boss of Bays" title. A Well Marked Low is now currently lying over the Andaman Sea area and is already showing signs of being a depression. With very warm Ocean waters setting it up nicely and low wind shear prevailing over most parts of Bay we can expect a bout of Rapid Intensification which will officially bring is Cyclone Bulbul in all probability which the models as of now are taking up North.
While we wait for the disturbance in Bay to evolve we advice all children and those spending a lot of time in the outdoors to use appropriate masks to stay gaurded.