As twin cyclones, Cyclone Titli & Cyclone Luban, continue on their respective journeys we at COMK were very curious on how often did this happen.  Before we get to this study a quick update on current prevailing weather.
Very Severe Cyclone Titli is on the verge of making landfall over North AP / Odisha coasts as we make this post. Currently lying to the South / Southeast of Gopalpur the eye of the cyclone is less than 20 kms off the coast to the East of Palasa in extreme North Andhra Pradesh coast.  Post landfall the system is expected to take a Northeast Recurve travelling along the Odisha / West Bengal Coast dumping rains along the way.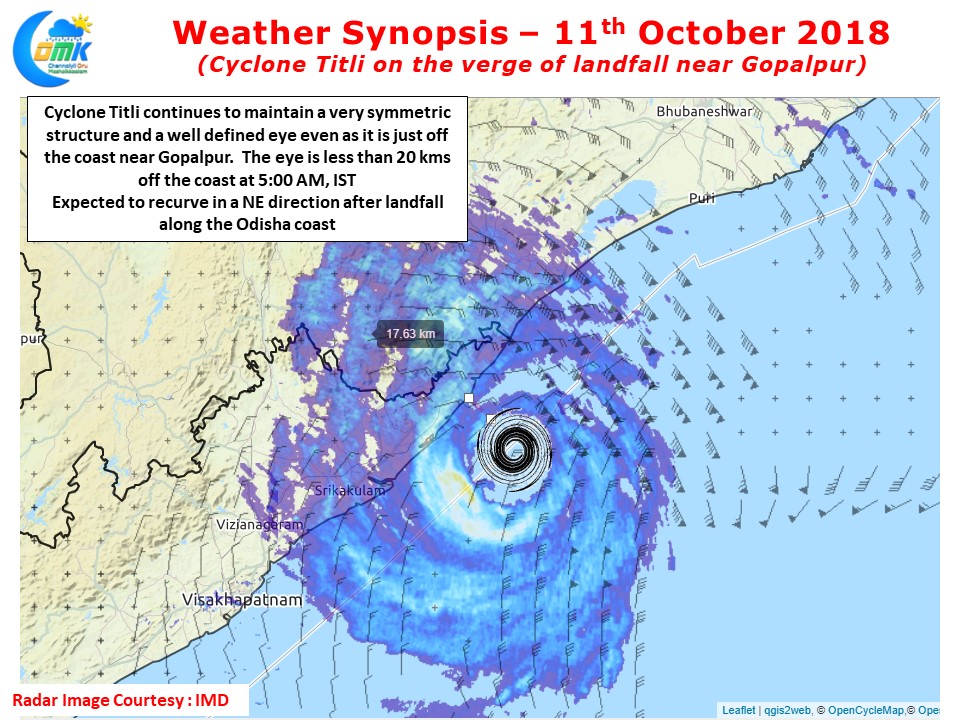 If Cyclone Titli was a Duronto Express on the other side of the Indian Sub Continent Very Severe Cyclone Luban resembles Alleppey Dhanbad express travelling at its own pace slowly chugging along in a West / Northwesterly direction towards the coast of Oman / Yemen.  Luban is expected to linger around for another 3 / 4 days making its nearly 10 days at the time of landfall after having genesis near Lakshadweep Islands.  To the contrary Titli will possibly complete landfall in about 4 days from the time of genesis.
Weather in Tamil Nadu will remain hot and dry over the next couple of days until the influence of Cyclone Titli wanes away from Peninsular India and we get back our Easterlies.
Now to the COMK study on Twin Cyclones. While 1977 was the last known instance of twin cyclones over North Indian Ocean was there more or is it indeed a once in a generation event was a question that was intriguing enough to go through more than 125 years of data and more than 1500 tropical disturbances maintained in the Cyclone E Atlas by Regional Meteorological Centre, Chennai.
We have accounted only those cyclones which had simultaneous existence at the same time and not just overlapping timelines.  So at times when there were two disturbances one could have been a cyclone while the other could have been a depression.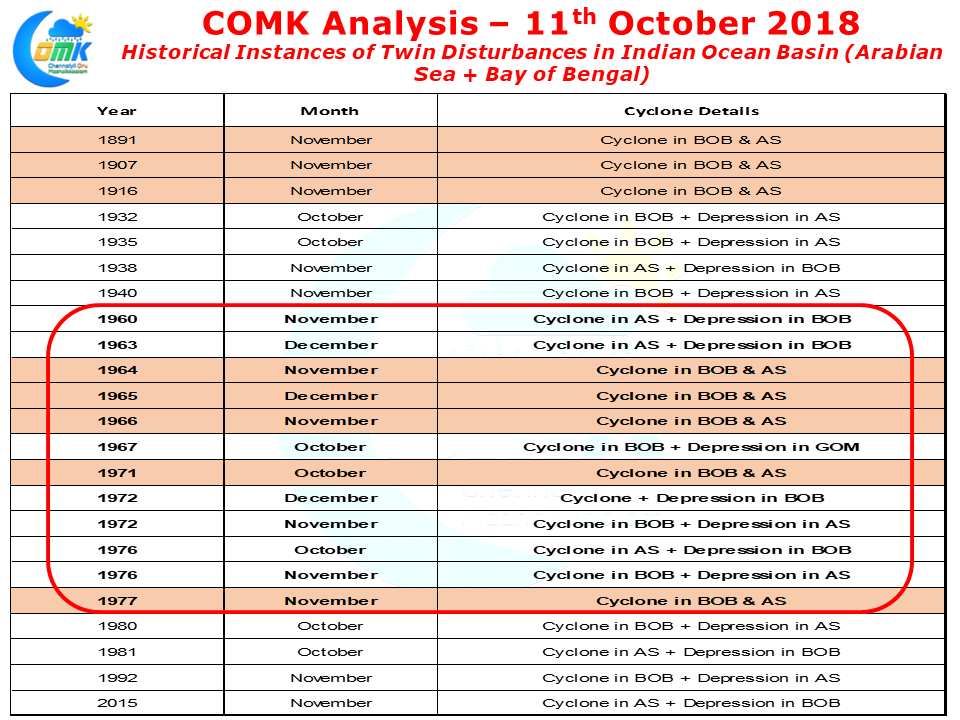 Cyclone Titli & Cyclone Luban are the 10th instance of Cyclone Pairs over North Indian Ocean Basin in about 125 years. Interestingly the 1960s & 1970s saw 5 out of the 9 past instances indicating possibly the peak cyclonic period for North Indian Ocean Basin.  Subsequently there has been not only a reduction in Monsoon Depression but overall cyclonic activity has been subdued in Bay of Bengal.  Is this part of a long term change or a decadal oscillation needs to be investigate.
If one were to look at the cyclone tracks of these instances of dual cyclones many a time they have gone through similar track even if they had formed on either side of the Indian Sub Continent indicating a possible role for semi permanent steering structures.  November seems to be the favorite month for dual cyclones with 6 out of the 9 instances happening in the past during this month.