Way back in 2005 Rajnikanth acted in a film called Chandramukhi which saw Vaigai Puyal Vadivelu at his peak matching the aura of the superstar in the comedy scenes right through the film. One of the scenes had the super star, acting as a Dr. trying to answer Vadivelu's question on whether ghosts exist?
Many might be wondering why we are talking about Chandramukhi, Rajinikanth, Vadivelu and Ghosts. A similar question has now come up among weather bloggers on whether Southwest Monsoon 2022 has made onset over the Peninsular India or not. While IMD has announced monsoon onset over Bay of Bengal and adjoining Andaman sea areas, precipitation pattern, wind pattern etc suggest most bloggers who claim Monsoon has made an onset over Peninsular India are not very off in their assessment.
IMD's daily Monsoon outlook though does not refer about possible monsoon onset over Peninsular India for the next couple of days at least. Rajinikanth in the film Chandramukhi does not exactly answer the question whether Ghosts exist or not so similarly the question on whether Southwwest Monsoon onset has mad onset or not over Peninsular India will remain a mystery atleast for the next few days.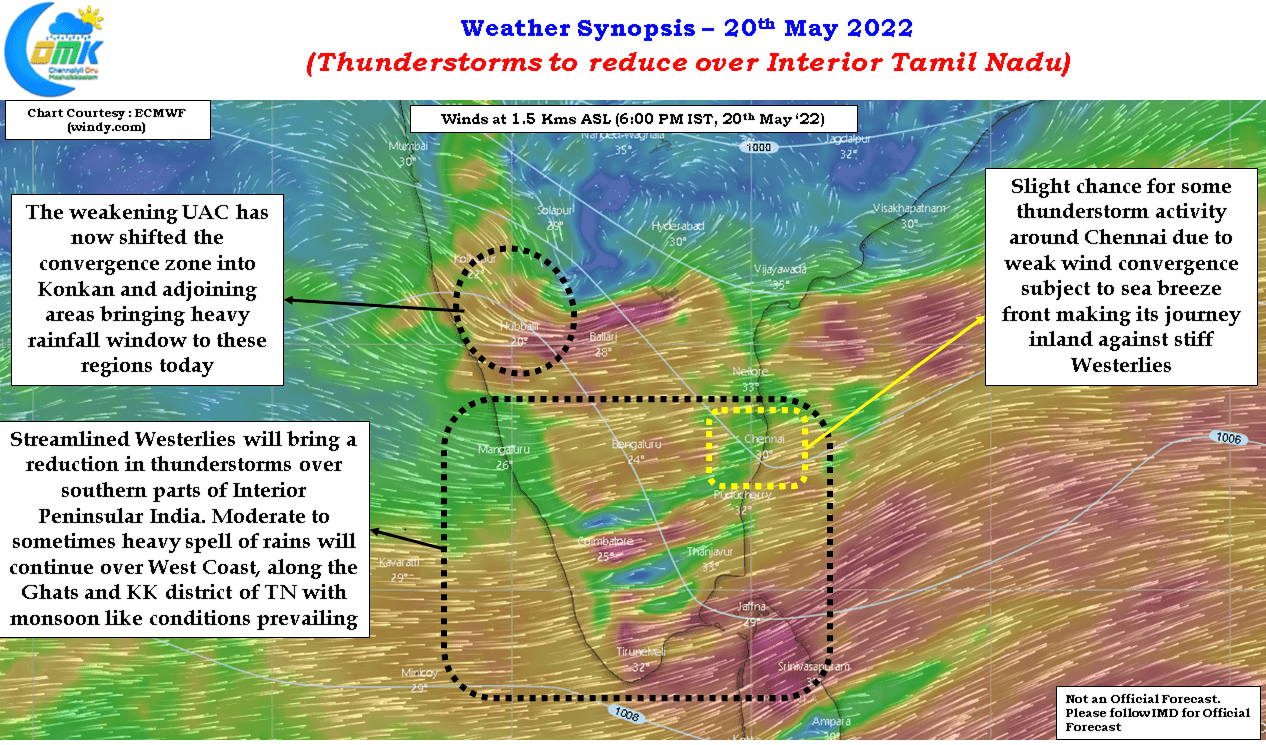 In the meanwhile the offshore vortex off the west coast that gave heavy rains along the coast of Kerala and Karnataka as it climbed North is now seen over the Konkan and Goa region which is likely to bring heavy rains to these areas while the rains in the coastal areas of Kerala and South Karnataka will reduce in intensity. A look at the wind charts indicate the westerlies have clearly streamlined over Peninsular India at the least over the Southern parts of Peninsular India like Tamil Nadu. The presence of an Low Pressure Area off the Myanmar Coast is possibly the reason for the Westerlies strengthening and streamlining over the southern parts of Peninsular India.
The consequence of the strengthening Westerlies is a possible reduction of thunderstorms over Interior Tamil Nadu where wind instabilities have now faded away. Rains are expected over the West Coast and along the Ghats like a typical monsoon day though heavy rains look unlikely along the coast. Few places in the Ghats though could get heavy spell of rains. Kanyakumari district may see light to moderate rains just like how a Southwest Monsoon day may pan out.
There is a very slight chance of some thunderstorms over North Coastal Tamil Nadu, around Chennai and suburbs due to weak wind convergence effect seen. This is subject to sea breeze making its journey inland against stiff westerlies.