Thunderstorms over Tamil Nadu continued yesterday as well with parts of Cuddalore, Villupuram, Thanjavur, Madurai districts. Unlike the past few days rains around Chennai were less spread spatially though city areas like Nungambakkam, Kilpauk, Mylapore recorded light to moderate spells just before midnight.
The mid level circulation off the coast of Tamil Nadu / Andhra Pradesh is influencing the weather conditions over Peninsular India. Yesterday saw slightly cloudy conditions over places like Chennai during the morning hours, similarly could see cloudy skies today as well. Interestingly regular whether watchers would observe despite a lack of clear skies thunderstorms developed over many parts of Tamilnadu yesterday. This is because of the mid level support by the circulation thunderstorms do not need active ground radiation for the trigger.
Monsoon dynamics continue to remain week over the West Coast with only light to moderate rates seen across Kerala at coastal Karnataka. the current upper air circulation of Tamil Nadu coast is likely to evolve into a low pressure area in Bay of Bengal. Could this revive Southwest monsoon fingers crossed we cannot ignore the fact Indian ocean basin is under the suppressed phase of MJO.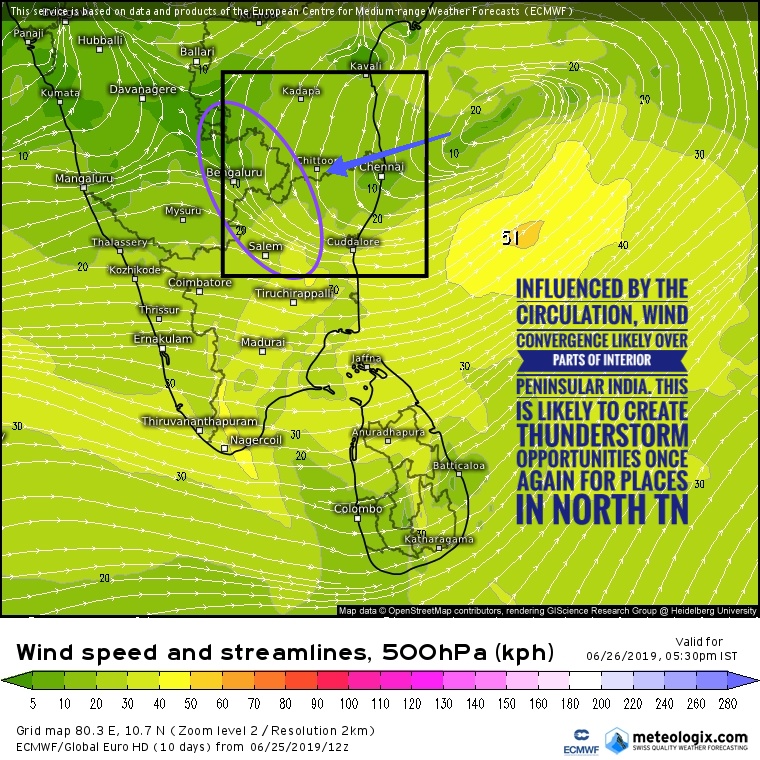 Weather models indicate the circulation to move slightly to the north compared to yesterday. This could mean a slide North word shift of the thunderstorm areas as well. Critically e large parts of Peninsular India is coming under the convergence zone at mid level of atmosphere due to the circulation. this is likely to create another day of thunderstorms over parts of Andhra Pradesh Karnataka and interior Tamilnadu.
Though the rainfall estimates by weather models to not indicate any rain spell around Chennai there is a fair chance of some late night the bus stops once again in Chennai and suburbs.