As we complete the first week of June yesterday's evening satellite image would have possibly resembled a late May evening than an early June evening with thunderstorms lighting up the evening skies over many parts of interior Peninsular India, including Tamil Nadu. The rainfall numbers around Trichy is possibly a firm indicator on how weak "Monsoon Conditions" are at the moment. During normal Monsoon time the strong Westerlies on account of Palghat Gap being almost dead west of Trichy the chance of thunderstorms is mostly next to negligible leaving the city and its surroundings to be a spectator on most days.
The IMD monsoon onset map in a way indicates the current status of Southwest Monsoon with the onset stalled over the same area for the past week or so. Normally by 5th of June Tamil Nadu would have been fully under Southwest Monsoon conditions though this year monsoon onset has stalled just short of the delta areas since 31st of May 2022. Similarly if one were to look at the Monsoon Index it is clear the monsoon dynamics have weakened considerably since IMD announced the onset and continues to remain sub par for the past few days.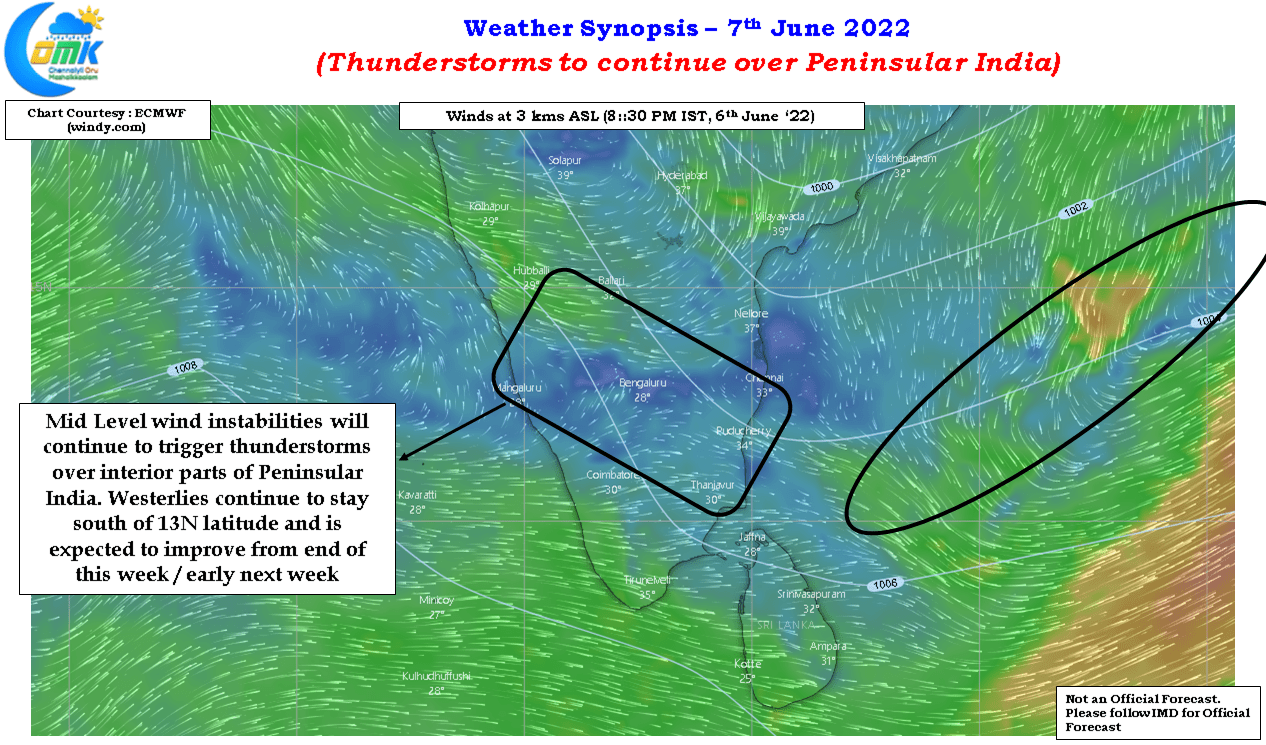 The wind charts also confirm the reason for the thunderstorms over the interior parts of Peninsular India with a shear zone type condition seen over parts Tamil Nadu, South Karnataka and adjoining areas of AP. Additionally a weak circulation like feature in Bay of Bengal also has added to the overall atmospheric instability providing conducive conditions for thunderstorms to sustain and intensify. Possibly this weak circulation like feature which may persist over the next few days could eventually provide a bit of momentum for Westerlies to pick up over Peninular India improving the monsoon dynamics towards the end of this week.
Today once again interior areas of Tamil Nadu may benefit from evening thunderstorms with Tiruvallur, Kanchipuram, Ranipet, Vellore, Tiruvannamalai, Tirupatthur districts likely to see moderate to intense thunderstorms in one or two places. Could be a touch and go day for Chennai suburbs with winds continuing to be unfavorable for interior storms to push towards the coast, though certainly the cloudy skies will keep the temperatures once again under check