With less than a fortnight left for 2016 to complete its journey, what has been the annual rainfall status for Tamil Nadu.  The recent memory of most people of Chennai could possibly be of Cyclone Vardah and its accompanying rains. But if we step a little out the chorus from rest of Tamil Nadu could sing of the petty much stop & start Northeast Monsoon 2016.  Dig a little Deeper we will end up realizing not just Northeast Monsoon 2016 but the entire 2016 possibly is going to be a watershed year in terms of rainfall accumulation.
Out of 22 IMD stations that are part of this feature only 2 stations, Chennai Meenambakkam & Vellore, could end the year within the normal window classified by IMD (-19% to 19%)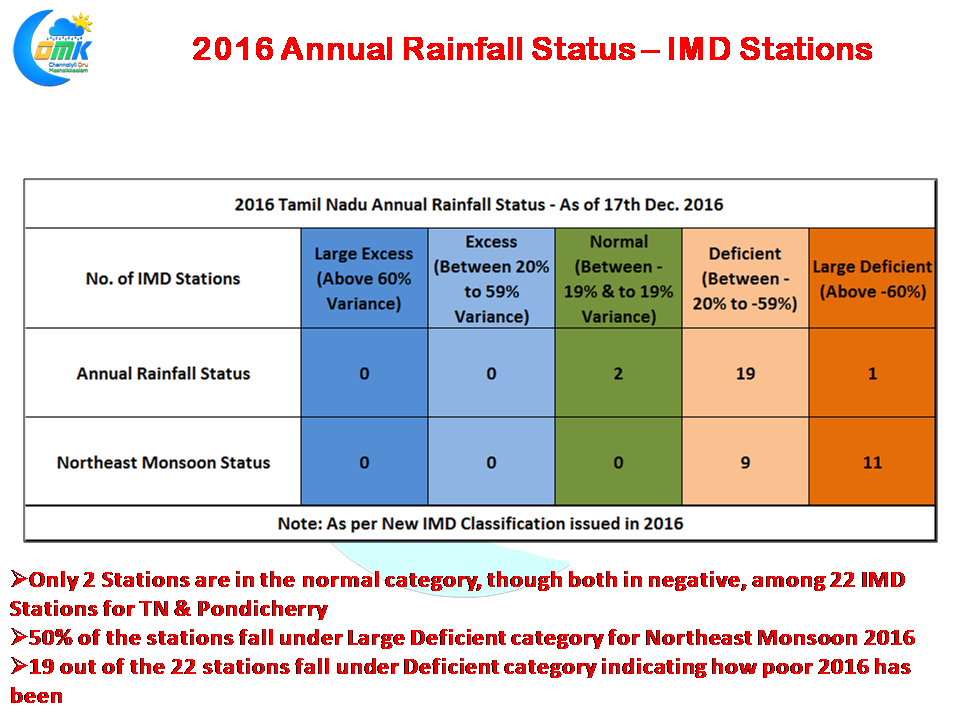 In an indication of how bad Northeast Monsoon has been 50% of the IMD stations studied fall under Large Deficient, the erstwhile Scanty, category with no station in Tamil Nadu getting into the normal category as far as Northeast Monsoon goes. The two normal cateogry stations, Vellore & Chennai Airport possibly owes its normal status to the unseasonal rains in May due to Cyclone Roanu and a fairly robust thunderstorm season during the Southwest Monsoon.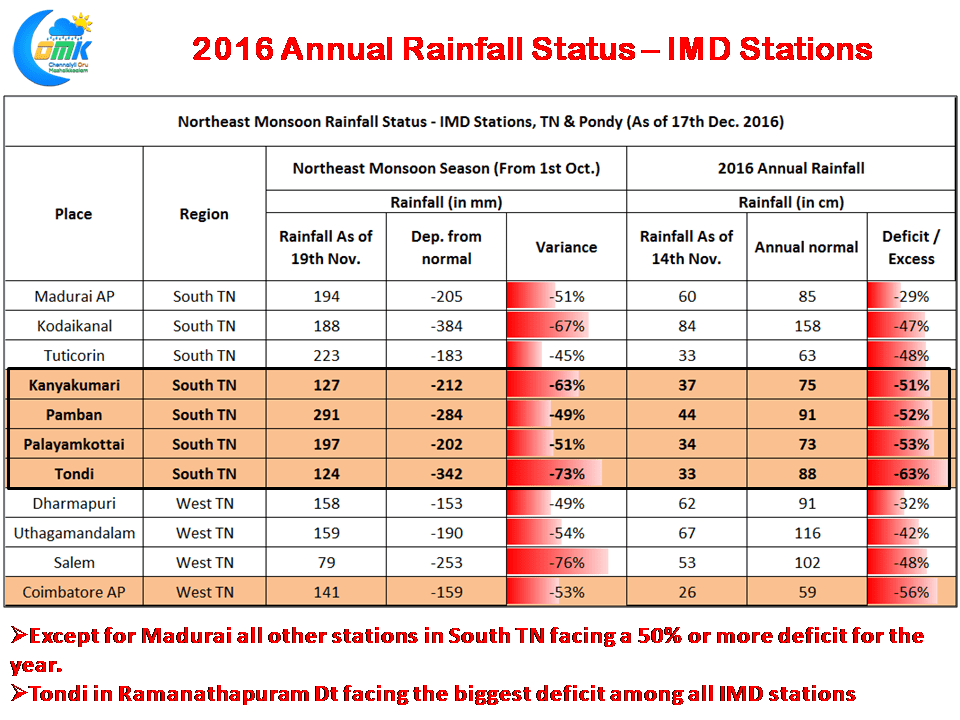 South Tamil Nadu pretty much got a raw deal this year with only Madurai not anywhere close to facing a 50% deficit for the year.  Almost all other stations are around the halfway mark as far as annual rains go. Tondi in Ramanathapuram district is facing a 73% deficit for Northeast Monsoon with possibly the upcoming Easterly rainfall the only hope as things stand.  No such news for Salem which has seen an even worse NEM at -76% though one can always argue the interior places do not depend on NEM as much as coastal places.  Coimbatore is in for a very harsh summer with only 26 cm rainfall recorded so far in 2016 with less than a fortnight left.  Not much hope available with even the Nilgiris biosphere facing similar situation where Ooty is also on half of normal rainfall for the year.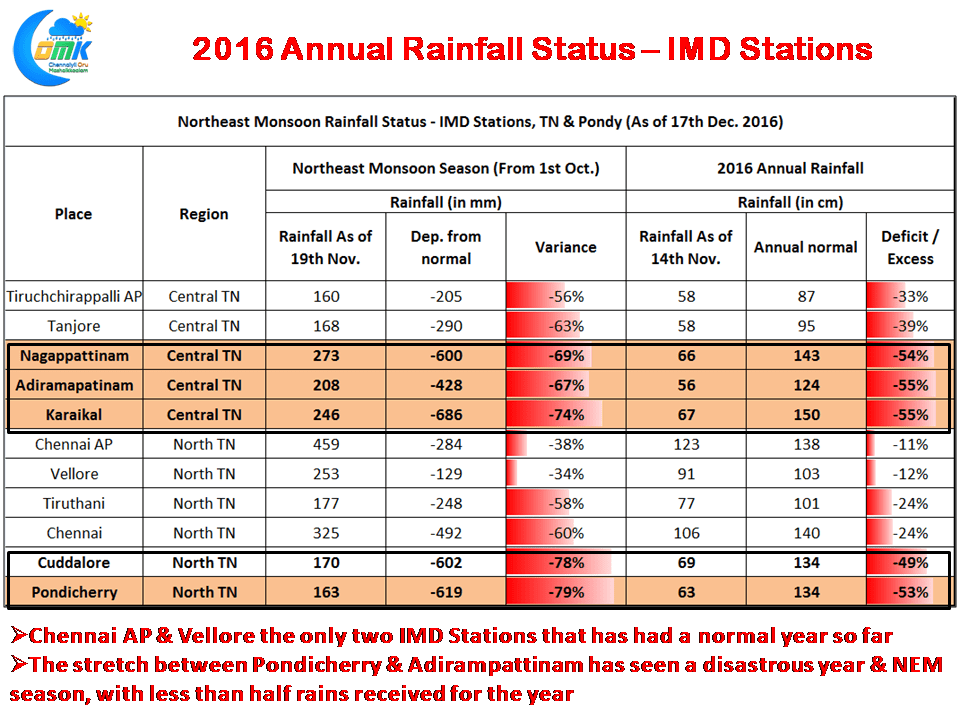 The stretch between Pondicherry & Adirampattinam has been possibly the worst affected by this year's NEM with all the places recording only 1/3rd or worse of normal rainfall during this season.  The five IMD stations in this stretch are all at 50% of the annual rainfall giving the prospect of a very harsh summer ahead for the delta region.  Extreme North Tamil Nadu owes a lot to the thunderstorms of Southwest Monsoon Season, Veppa Salanam rains, as Dr. Ramanan had very passionately called them.  Without them and Cyclone Roanu in May things could have been as bad as rest of the state.
Time for Drought Management to be put in place for Tamil Nadu irrespective of what happens between now and possibly end of NEM, extended or otherwise, a Harsh Summer is ahead of almost all of us
Powered by WPeMatico