Northeast Monsoon has been off to a fairly subdued start during the month of November despite making an onset on the 1st day of the Month.  While the overall rainfall statistics for the Northeast Monsoon season stands at -15% since 1st of October the November numbers are at a slightly more alarming -28.9%.
The chase numbers for Tamil Nadu & Puducherry Sub division (as of 6th Nov. 2018) 
Total Rainfall So far (From 1st Oct. 2018) : 195.9 mm
Balance Rainfall Needed to achieve Seasonal Average : 242.3 mm
The chase Rate (Compared to average) : 116%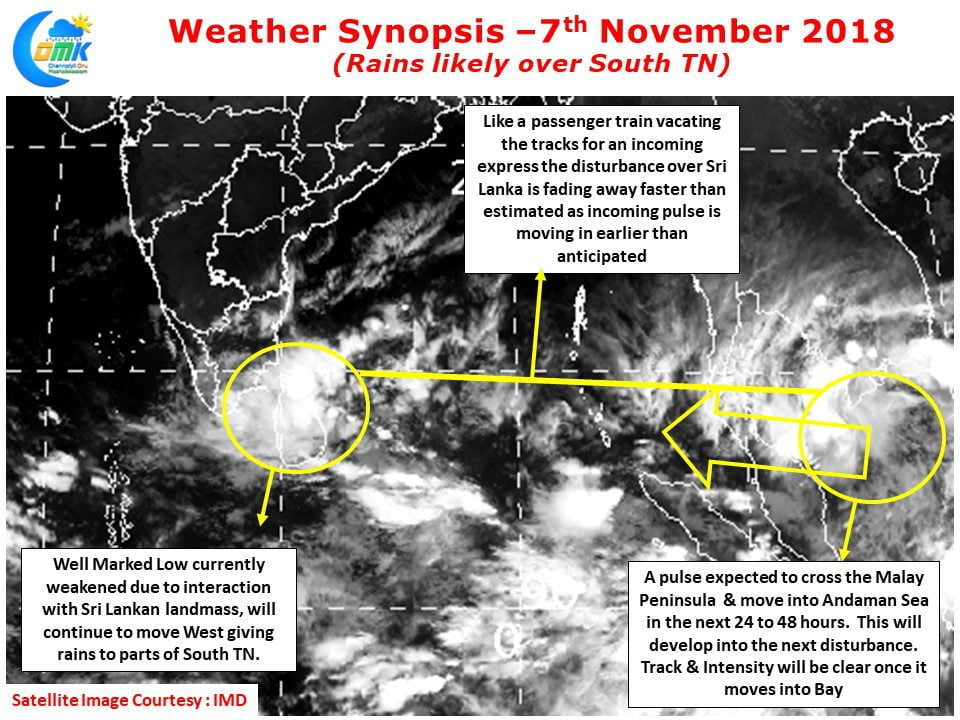 The Well Marked Low now lies over Sri Lanka and adjoining part of Comorin Sea.  This will continue to move towards the West bringing rainfall to parts of South Tamil Nadu starting today.  The land interaction over Sri Lanka has robbed some of the convection from the Well  Marked low, once it moves little west and reach the waters of Comorin Sea things could once again pick up. But one needs to keep in mind the dynamics is changing fast due to the early incoming pulse from Gulf of Thailand which is expected to move into Andaman Sea in the next 24 – 48 hours or so.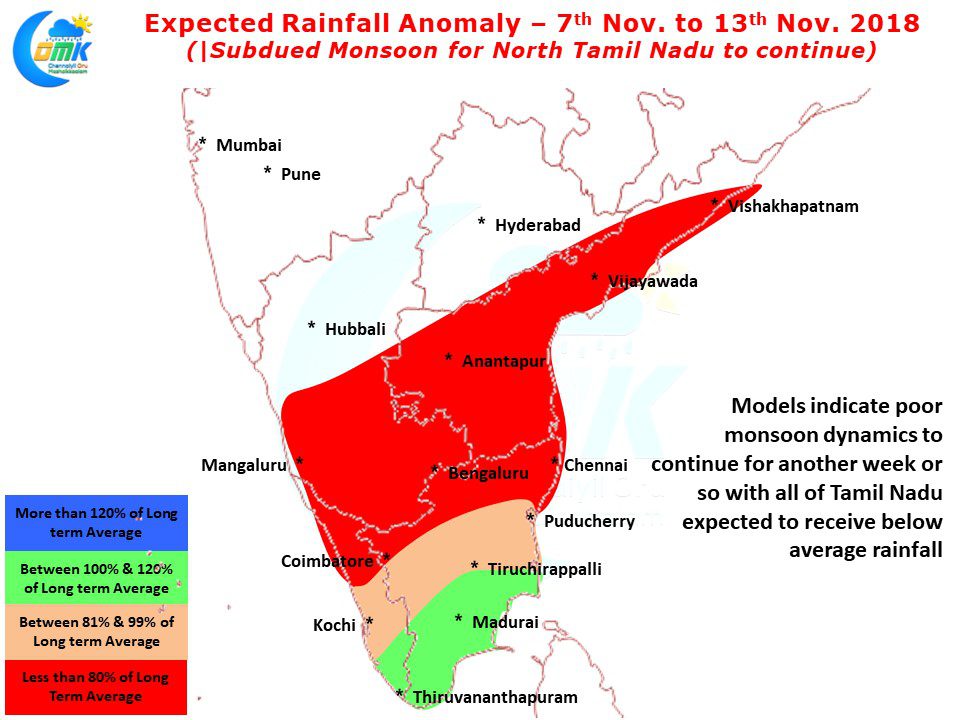 The bigger worry though is for North Tamil Nadu & adjoining parts of South Andhra Pradesh which requires a favorable roll of dice as of now.  The ITCZ has now gone south of Sri Lanka due to which the North TN & South Coastal AP is coming under Northerlies more often than the moist Easterlies.  A strong disturbance is needed to drag the ITCZ and bring favorable monsoon conditions for North Coastal TN.  A lot of anticipation is there on the pulse moving into Andaman Sea by tomorrow to move in a favorable direction for North Coastal TN.
The next few days though we may continue to see below average rains for places like Chennai.