While models indicate a couple of likely spells which may happen before the NEM 2018 season winds down on 31st December one cannot ignore that the Northeast Monsoon will get into wind down phase soon.  A lot of expectations were set before the start of the monsoon especially triggered by some good rains during the first fortnight of October.  Overall all as of yesterday we are looking at a deficit of -21% some of it though may be recovered by the upcoming spells of rainfall activity.  
In this context we have tried to understand how Northeast Monsoon has behaved over the past 3 years since the historic 2015 rains.  We have classified the districts of Tamil Nadu & Pondicherry based on the importance of Northeast Monsoon.  For those districts which get 50% or more of the annual rains during October – December NEM becomes critical.  While good rains during the rest of the months could help the overall trend cannot be reversed if Northeast Monsoon does not perform well in these districts. While we have used the IMD classification for rainfall status we have added another factor for better representation with above average & below average break ups in the  normal category for better understanding.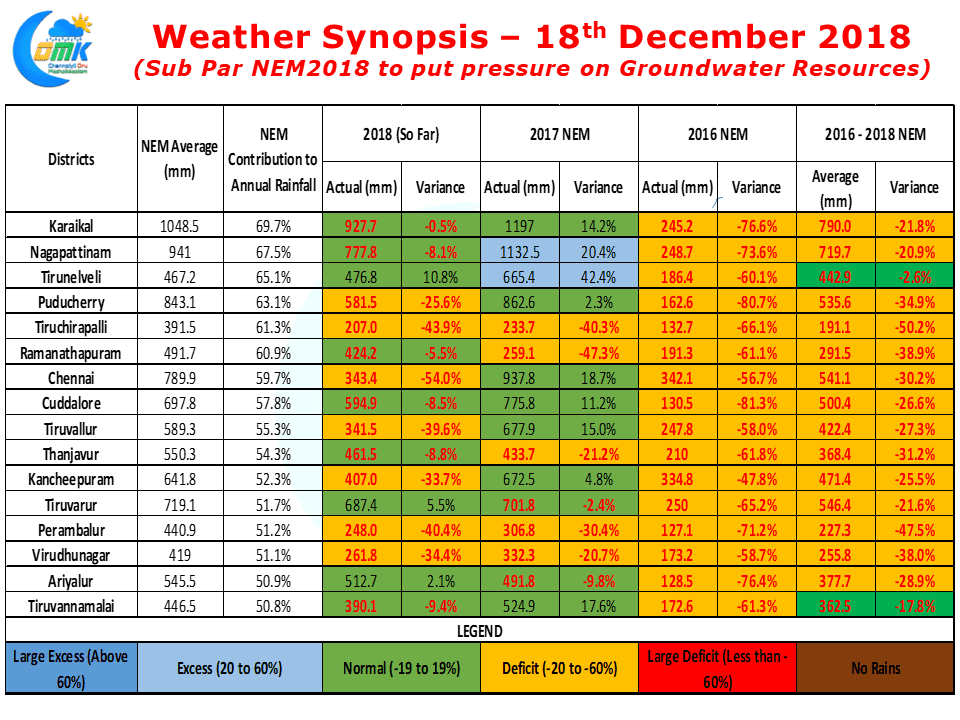 It is ironical that among those districts which receive more than half of their annual rains through NEM only Tiruvannamalai & Tirunelveli fall under normal category if one averages the NEM rainfall for the period 2016 – 2018 with only Tiruneveli  recording close to normal rains thanks to last year's excess through Cyclone Ockhi.  Tiruvannamalai though also falls under normal category even though overall it is at -17.8%. This shows  how bad 2016 was in terms of overall performance.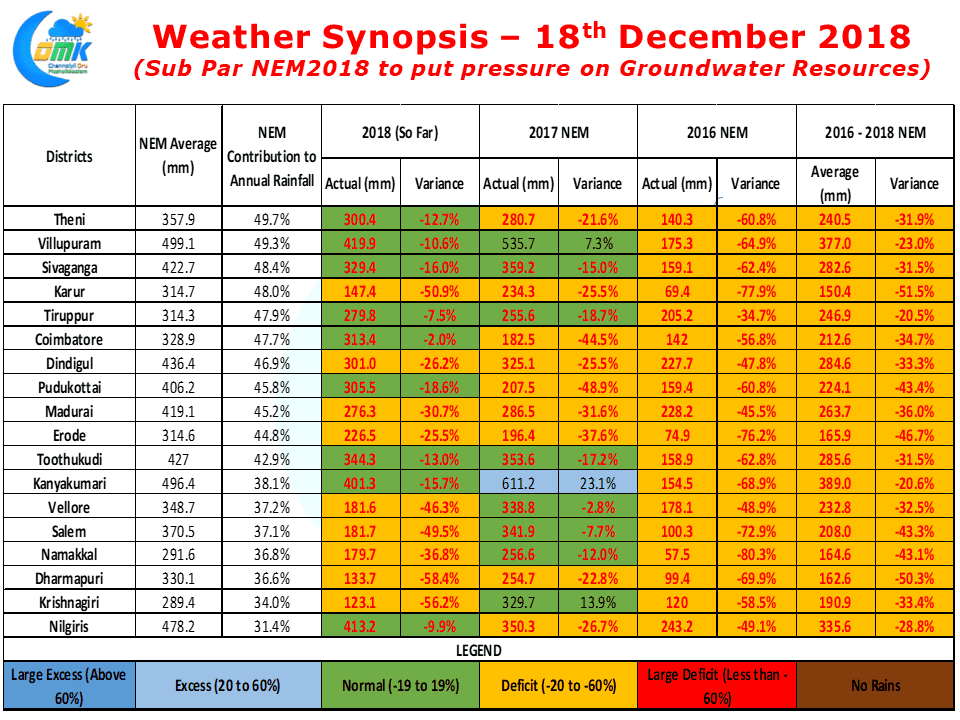 But the bigger worry is over the last 3 years only 12 out of 34 districts recorded above average rains in 2017 while for the current year so far only 3 districts are above average even though 17 districts fall under normal category according to IMD classification. The districts of Madurai, Virudhunagar, Erode, Perambalur, Tiruchirappalli, Dharmapuri & Karur have recorded deficit rains for all the 3 years since 2015 as things stand.  Of these Tiruchirappalli, Karur & Dharmapuri have recorded less than half of the rains if one averages for the past 3 years.  
With just a fortnight left for NEM 2018 it is anybody's guess how much deficit these districts will recover but without doubts a sub par monsoon this year will put a lot of pressure on ground water resources across the state.