In what was the first heavy duty thunderstorm action for Chennai & Suburbs the wee hours of Friday saw many parts of South Chennai come under cloud burst type of rainfall with few places recording around 10 cms of rains in a couple of hours. Today morning also saw light to moderate rains across Chennai from thunderstorms that formed around South Interior Karnataka and eased towards the coast after midnight.
Yesterday was relatively quiet on the thunderstorm front across Tamil Nadu which was understandable considering the intense thunderstorms that lashed over large parts of the state on Thursday evening and extending till Friday early morning hours. This intense activity certainly would have influenced the available energy for thunderstorms yesterday. In contrast yesterday's subdued activity will allow for better energy today which is likely to trigger another widespread thunderstorm activity over Tamil Nadu.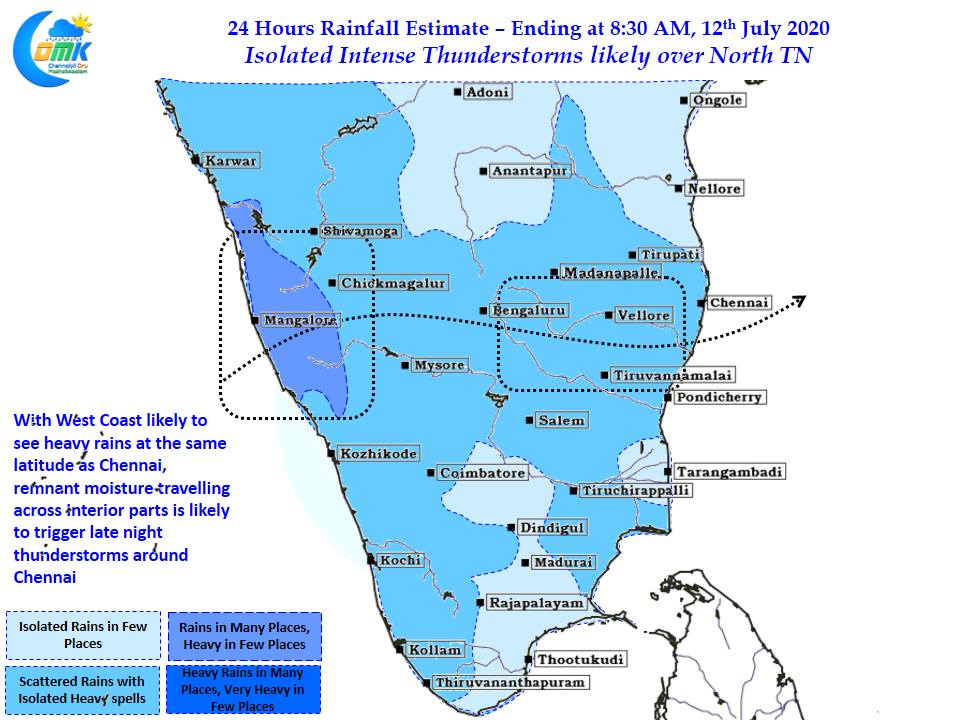 Looking at the wind charts its fairly clear the Westerly winds have slowed down over the southern parts of Peninsular India. This will allow thunderstorms to develop after what could be a much clearer day compared to yesterday in the interiors. With models indicating the heaviest rains likely over the Ghats around North TN latitude, there will be abundant remnant moisture that will move across the interior areas of Karnataka & Rayalaseema region providing conducive conditions for thunderstorms to develop later in the night.
Today could be another day of fairly intense thunderstorms in one or two places around North TN. As usual there is a fair chance for Chennai to see another day of rains, the exact quantum of rains is a matter of thunderstorm development & movement from the interior areas.