Since the onset of Southwest Monsoon over Kerala a couple of days before schedule on May 27th, the monsoon progress has been slow like a spluttering motor car with a clogged carburrettor. Traditionally June 10th is the expected onset date for the financial capital of India, Mumbai, though yesterday's thunderstorms around Mumbai and suburbs were resembling pre monsoon thunderstorms rather than monsoon onset surge. After covering most of Kerala by 30th of May for the next week to 10 days Monsoon behaved like a bear in hybernation before finally covering most of Karnataka on 9th of June remaining practically stationary during this period.
Finally on 10 th May Monsoon made onset over Goa, though East Coast of Peninsular India is still stuck at Pondicherry latitude as of yesterday. With winds picking up from yesterday and bringing good rains around South Konkan to Kerala stretch we can expect IMD to announce the onset of Southwest Monsoon over Chennai and rest of Tamil Nadu thereby completing the onset over the state. While the onset over places like Chennai is academic one good thing though is with westerlies picking up the chance for coastal areas benefitting from interior thunderstorms increase compared to the past week when winds remained unfavorable leaving places like Chennai as spectators most days.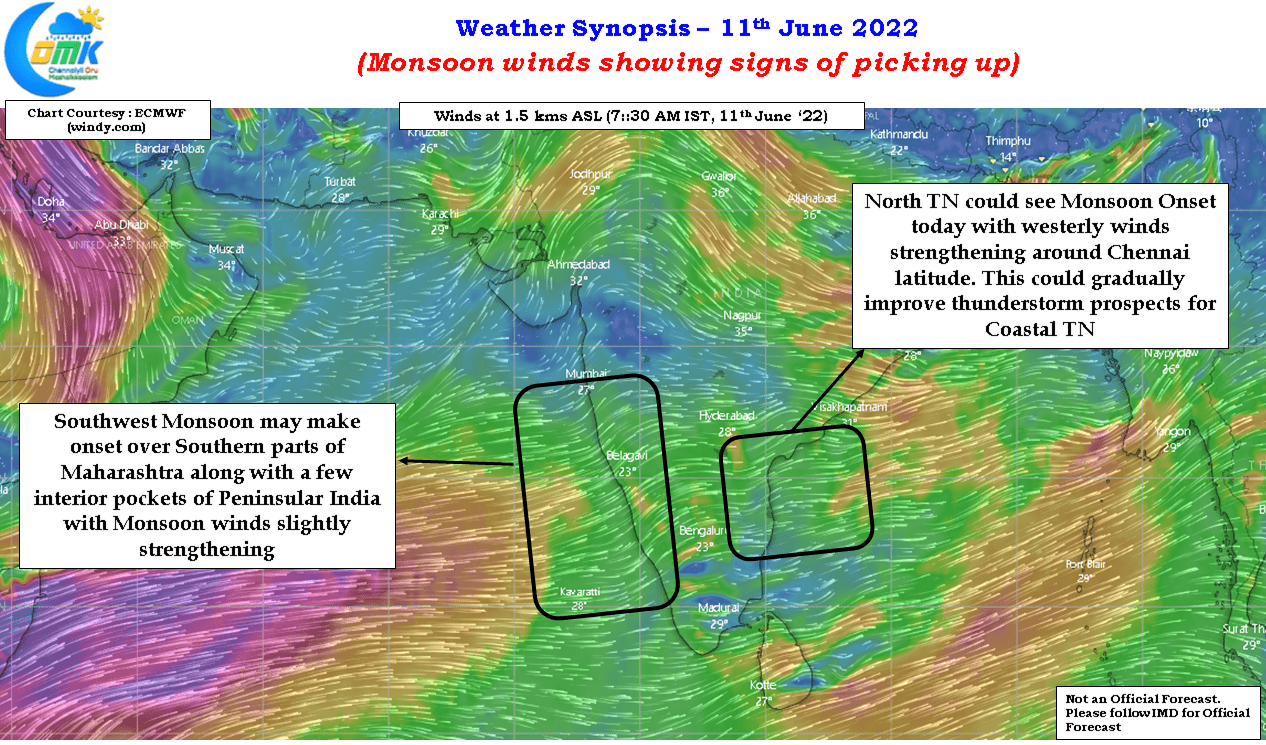 The incidental benefit of Southwest Monsoon making onset over Chennai is the partially cloudy skies that is greeting everyone today. This could keep the temperatures slightly under check, though the chance for thunderstorms does not drastically increase due to the strengthening westerlies it could provide some surprise showers in a few places with fast moving spell of rains.
West Coast of Peninsular India saw good rains yesterday and it is expected to continue today as well with mostly coastal Karnataka and adjoining Goa expected to see the heaviest spell of rains today. The Ghat areas of Tamil Nadu may see light to moderate spell of rains but the surge is not strong enough for the Ghats to see an increase in rains leaving only the coast to benefit majorly from the stregthening westerlies as of now.