As many of our followers know there is a distinct difference between the Southwest Monsoon Season & Southwest Monsoon conditions. While the season runs between 1st of June & 30th of September every year the Monsoon onset & withdrawal varies every year depending on prevailing conditions. Effective this year IMD has even made some changes to the Normal Onset & Withdrawal dates keeping in sync with how Monsoon has behaved over the past couple of decades.
One may question why the season follows a rigid pattern when the Monsoon varies in its arrival & departure. For the ease of record keeping IMD has divided the calendar year into four seasons. These dates allow IMD to create long term averages etc through which analyzing rainfall patterns / deficits / excess etc becomes easier.
Winter (1st January to 28th February)
Summer (Between 1st March to 31st May)
Southwest Monsoon (Between 1st June to 30th September)
Post Monsoon or Northeast Monsoon (Between 1st October to 31st December)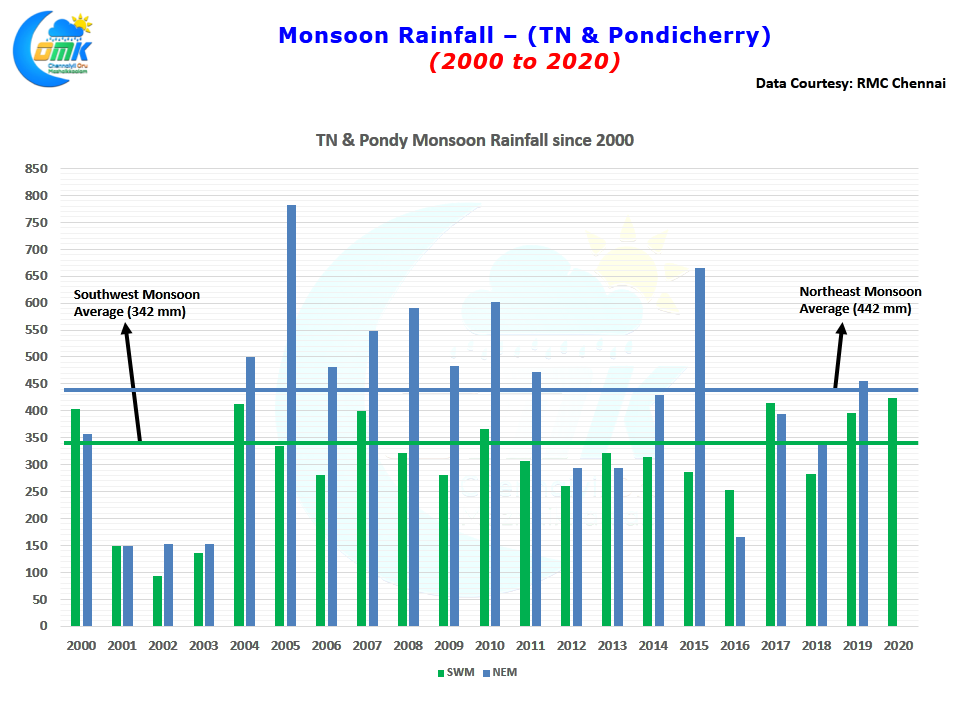 While overall this year's Southwest Monsoon has been very good for Tamil keeping in trend with the past couple of years when Southwest Monsoon thunderstorms have provided some much needed rainfall to the leeward areas of the state. Additionally since 2018 even the Ghats have seen above normal rainfall indicating a positive cycle underway. The past few days of thunderstorms have ensured this year Southwest Monsoon has ended with 409.8 mm rains 21% higher than average long term rainfall for the period.
Last year saw wide variance between the two IMD observatories in Chennai with Nungambakkam lagging behind Meenambakkam during both monsoon seasons ending up in a deficit for the year while Meenambakkam ended the year as above average. Similarly there was a wide variance in rainfall numbers between the IMD observatories at Pondicherry & Cuddalore even though both were possibly separated by less than 20 kms aerially.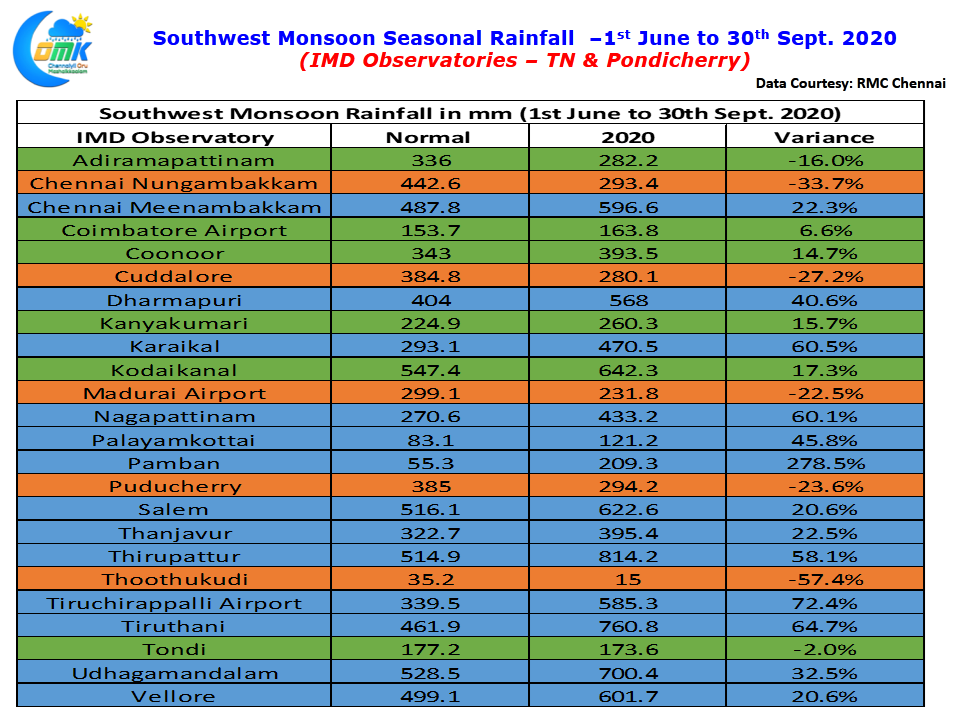 This year though interestingly both Cuddalore & Pondicherry have seen poor Southwest Monsoon season ending with less than normal rains. But the variance between the IMD observatories of Chennai has continued though with once again Nungambakkam performing badly recording just half of what Meenambakkam recorded for the Southwest Monsoon season. It is too early to say whether is there a definitive pattern emerging but nevertheless it is something that needs to be kept a watch on.
On the regular weather front the next week or so is going to be relatively dry over Tamil Nadu though there is some chance for Chennai to catch up a spell or two of rains tomorrow before the LPA forms over North Bay.