As Tamil Nadu waits for the onset of Northeast Monsoon, IMD announced the complete withdrawal of Southwest Monsoon from the Indian Sub Continent yesterday a delay of 7 days in comparison to the traditional withdrawal date of October 15th. Even though officially Northeast Monsoon has not yet started so far the season, from October 1st, has been good for many places of Tamil Nadu.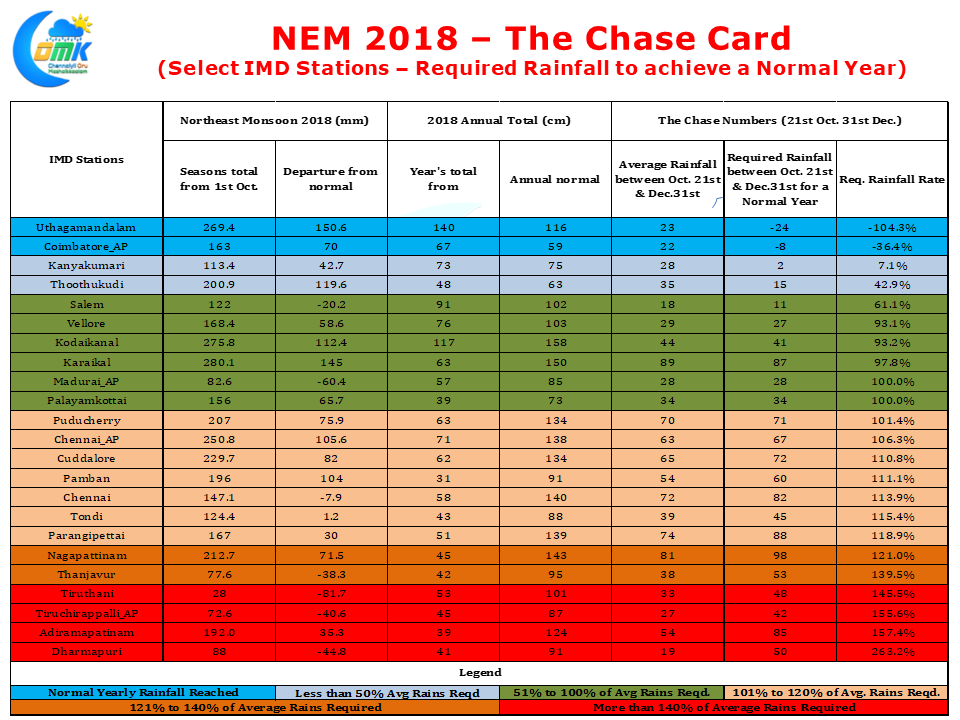 A look at the rainfall statistics indicate the growing importance of pre Northeast Monsoon thunderstorms .  Among the major IMD observatories Salem, Tiruchirappalli AP, Thanjavur, Tirupathur, Tiruttani, Dharmapuri are the only ones which show a clear negative trend for the current month ofcourse Chennai Nungambakkam is marginally in red having missed out on the spell of rains that hit southern parts of the city & Suburbs on Friday.
But the long term worry though is places like Tiruchirappalli, Thanjavur,  Dharmapuri, Tiruttani & Adirampattinam are going to require a huge boost to achieve their normal status for the year 2018.  Unless a very favorable tropical disturbance happens Dharmapuri might end with a huge deficit for this year.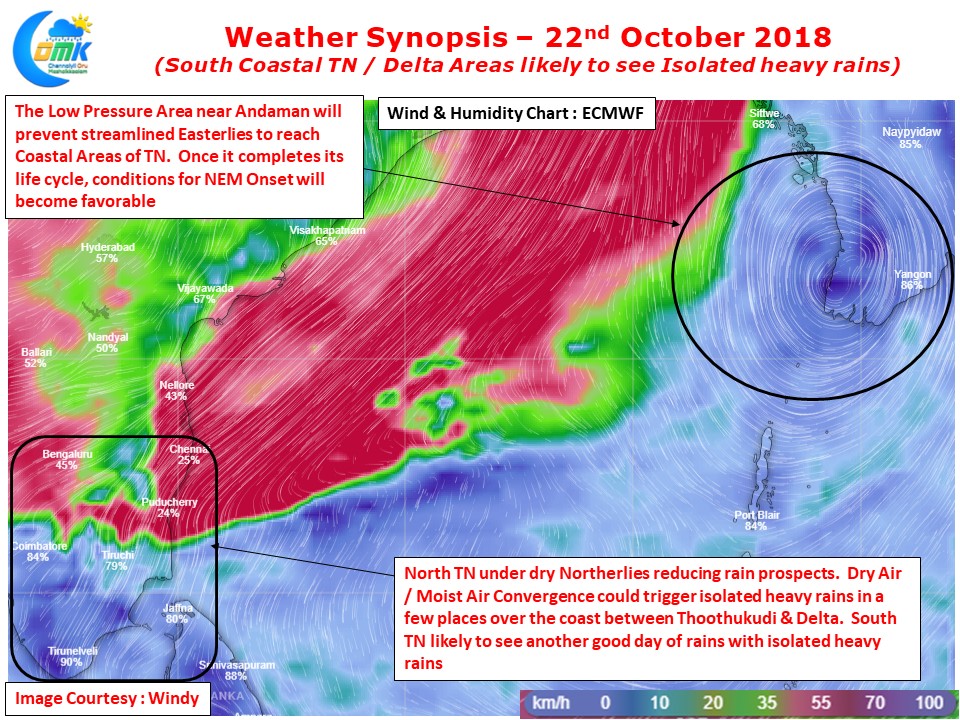 On the regular weather front the disturbance near Andaman is expected to eat away some of our Monsoon time holding back streamlined Easterlies for the next couple of days.  This would mean dry Northerlies for most of North Tamil Nadu leaving relatively dry weather to hold fort.  The past couple of days have seen isolated places record heavy spells of rains falling favorably under the zone of Dry Air Boundary, the area where the moist Easterlies meet the dry Northerlies triggering instability, like South Chennai on Friday.
This dry air boundary has been slowly sliding down south making the stretch between Delta & Thootukudi favorable placed today to enjoy a spell of thunderstorms.  Isolated places in this stretch could see heavy thunderstorms under this condition while South TN will continue to see good rains for another day with isolated heavy rains once again likely along the Western Ghats.