Since the Onset of Southwest Monsoon over Kerala on 8th June, Chennai Nungambakkam has seen the maximum temperature cross 40°C on six days while 3 of those days it crossed 41°C. During the same period the IMD observatory Meenambakkam crossed 41°C on six occasions.
The satellite image not only shows about the poor monsoon conditions currently prevailing over Peninsular but also gives the answer on why the temperatures are high over most parts of Coastal Tamil Nadu. While in the one hand Monsoon onset has not yet climbed above Cuddalore latitude on the East Coast, the overall reduced moisture at lower levels has pretty much reduced the insulation effect that could keep temperatures under check to some extent.
Very Severe Cyclone Vayu continues to persist over North Arabian Sea despite adverse conditions in the form of dry air and wind shear. The area to watch out though be over North Bay where an LPA is likely to form over the next couple of days. The presence of MJO over the Eastern parts of Maritime Continent will give it a boost in the development cycle. This LPA is likely to bring back some momentum into the monsoon dynamics but overall scenario though will remain sub par though there is a lot of catching up needed.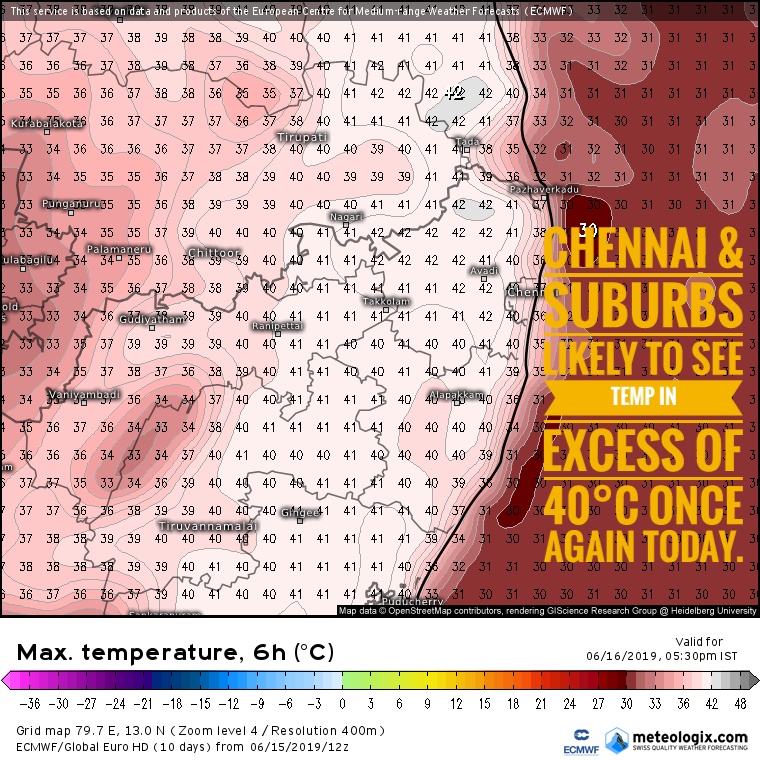 Today large swathes of Tamil Nadu except the west interiors will see day time maximum temperatures touch 40°C. Places in North Tamil Nadu is likely to see afternoon temperatures stay nearly 4 / 5 degrees above normal with Chennai and suburbs once again seeing a sizzling Sunday. Western Suburbs could see temperatures touch 42 / 43°C while city areas could be a notch lower.