The scintillating September season thunderstorms is set for a slow down in Tamil Nadu after a spell of rains that started way back in the first week of August and continued almost on a daily basis except for a day or two here and there when a couple of Lows tried to rekindle the monsoon dynamics.  After a couple of years that saw below average rains over Tamil Nadu & Pondicherry meteorological sub division 2017 will possibly end with a clear excess.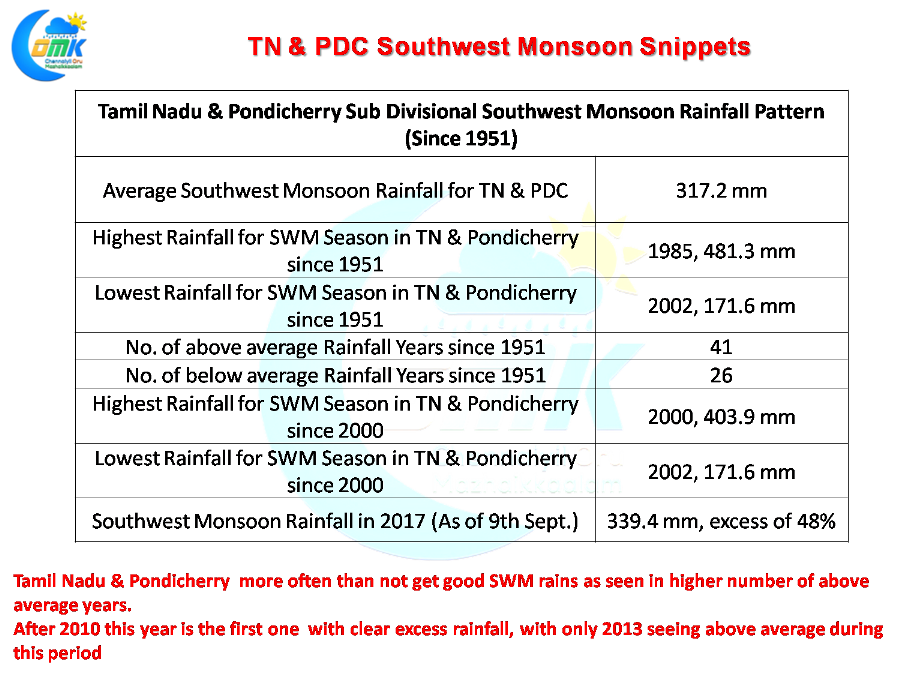 But as they say all good things have to come to an end.  These convective thunderstorms season for Tamil Nadu is no different as well.  Things will start to gradually slow down with possibly South Tamil Nadu & places along the western ghats getting some moderate spells of rains over the next couple of days.  North Tamil Nadu will start to see a much quieter rain front in particular the coastal areas around Chennai.
Wind instabilities played key role in the development of these thunderstorms over Tamil Nadu.  In particular after a good clear day of sunshine the "Veppa Salanam" dynamics handed over the baton the wind instabilities which was present at both lower levels & Mid tropospheric levels almost on a daily basis making these thunderstorms last longer and give rains to wider areas.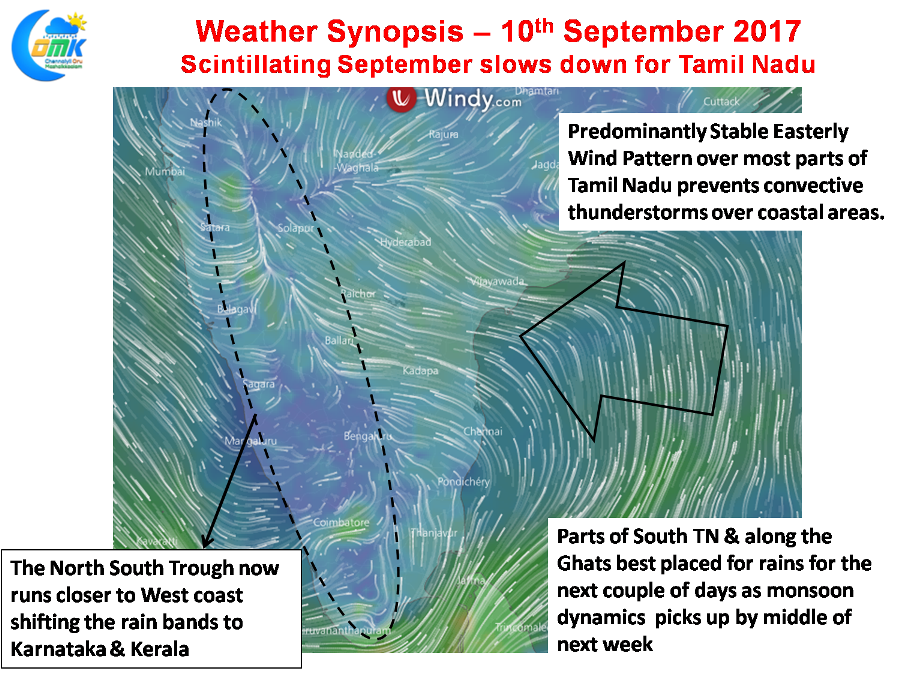 Now the North South trough has shifted further west and is running closer to the west coast which has shifted the rain bands also further west from the interiors of Tamil Nadu.  Yesterday was a relatively quiet day with possibly today seeing a similar pattern.  As long as the wind pattern was Westerlies Chennai & the other coastal areas stood a good chance with these convective storms, now the winds are completely Easterlies creating an NEM type of weather and bringing some light passing spell of rains at times.
With Northeast Monsoon still some days away the moisture from the Easterlies are not high enough to give more rains and trigger more storms in the interior areas of Tamil Nadu due to the interaction of rising air particles under day time heating & remnant moisture from the Easterlies. Normalcy is expected to return by around Thursday while a possible Monsoon low around Saturday could bring life back to Monsoon dynamics.
Powered by WPeMatico