This year's Northeast Monsoon has been seeing a YoYo performance ever since the Media Hyped Red Alert for Tamil Nadu during the first week of October when the first widespread rains from Easterlies hit the state. After the initial highs during the first fortnight of October things went quiet completely leading to a delayed monsoon onset by nearly 10 days. Even the Monsoon Onset was a mixed bag with heavy rains in parts of South TN and the delta districts while North TN got moderate rains.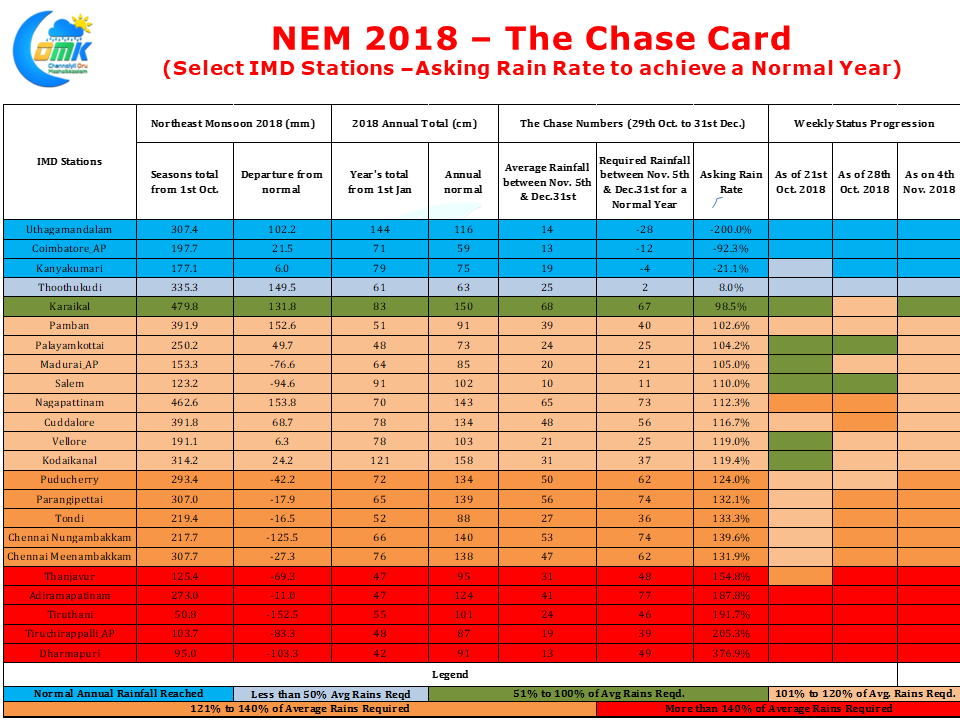 The Northeast Monsoon Chase card which we update every Monday confirms the erratic NEM2018 so far.  With a performance that stutters to life for a couple of days once a week or two there has been no visible improvement in the chase card despite the monsoon onset a few days back.  The past week saw Karaikal, Nagappattinam & Cuddalore improve while Palayamkottai, Salem & Puducherry deteriorated. 10 out of the 23 observatories being tracked by COMK needs more than 120% of the Average rains during the rest of the year to reach the annual average.  While Tiruttani & Tiruchirappalli AP needs twice the normal rainfall spare a thought for Dharmapuri which needs nearly 4 times the normal rainfall to end the year with the annual avearge.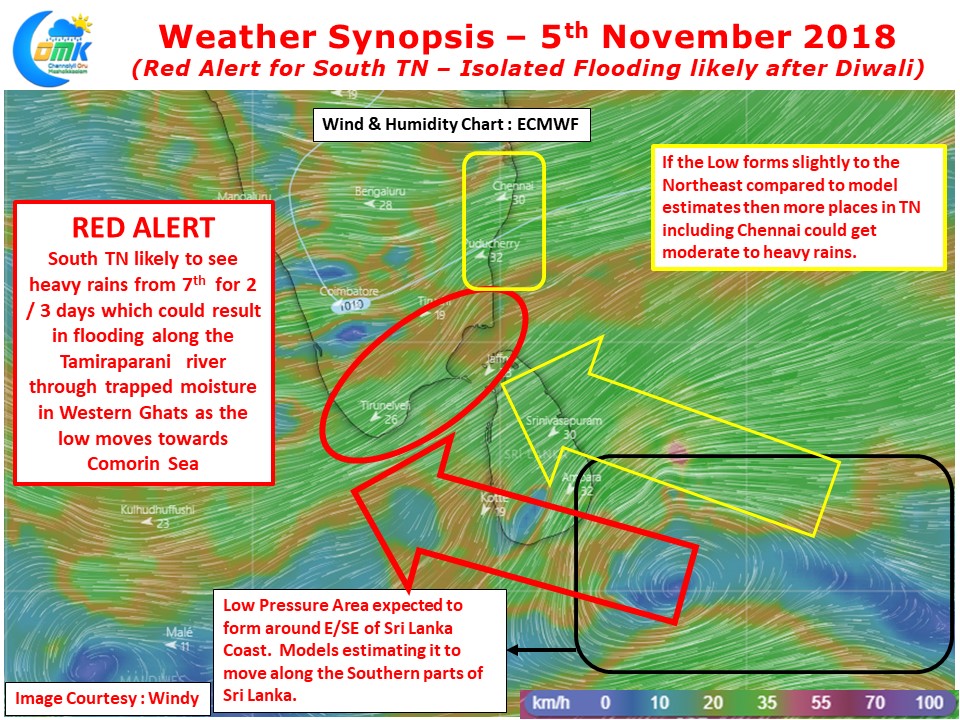 While the Red Alert during October 1st week went all fizzle the evolving disturbance near Sri Lanka warrants a Red Alert for South Tamil Nadu especially along the Tamirabarani river which is known for sudden spurt in flow of water especially during Northeast Monsoon times.  Models estimate a low pressure to evovle around E/SE of Sri Lanka and subsequently travel as a weak disturbance brushing the southern parts of Sri Lanka and evolve into the Comorin Sea area.
This is likely to trigger heavy rains over many parts of South Tamil Nadu and a few parts of Delta districts from 7th November.  As is always the case places along the Western Ghats are likey to see very heavy rains as the low moves in a East to West direction with moisture getting trapped by the ghats.  Places like Papanasam / Manimutharu which recorded more than 30 cms over the past couple of days can braze for more than 50 cms of rains from Wednesday till Friday.  Similarly places like Sathuragiri hills in Virudhunagar district is also likely to receive sudden spurt of heavy rains which devotees visiting the shrine on the day after Diwali need to be vary off.
If the low pressure takes genesis slightly to the Northeast of what the model estimates more areas of Tamil Nadu could come under rainfall probability otherwise places like Chennai may have to satisfy with light to moderate rains during the same period.
Diwali could be relatively dry across most parts of Tamil Nadu while coastal areas & parts of South TN could see isolated sharp spell of shower which may not upset the festivities