As February gives way to March the overall theme among not only weather bloggers but also common public is summer and associated heat. The days start to become warmer while not yet uncomfortably hot over large parts of Peninsular India. The night time nip in the interior areas also gradually gives way to pleasant mornings as winter conditions become a distant memory while coastal areas move into warm mornings setting the stage for Summer to make a grand entry.
Since middle of February the west coast of Peninsular India though has started seeing summer conditions with temperatures staying above normal. On 27th February the IMD Observatory at Mangalore (Panambur) recorded 38.8°C which was the hottest recorded day during the month of February topping the earlier record of 38.7°C recorded on 16th February 2017. A couple of days later it recorded 39.6°C which equals the hottest day recorded during the month of March which happened on 2nd March 2017. With IMD giving a heat wave alert warning for Coastal Karnataka for 4th March '23 there is a very high chance Mangalore (Panambur) could recorded its hottest March day today.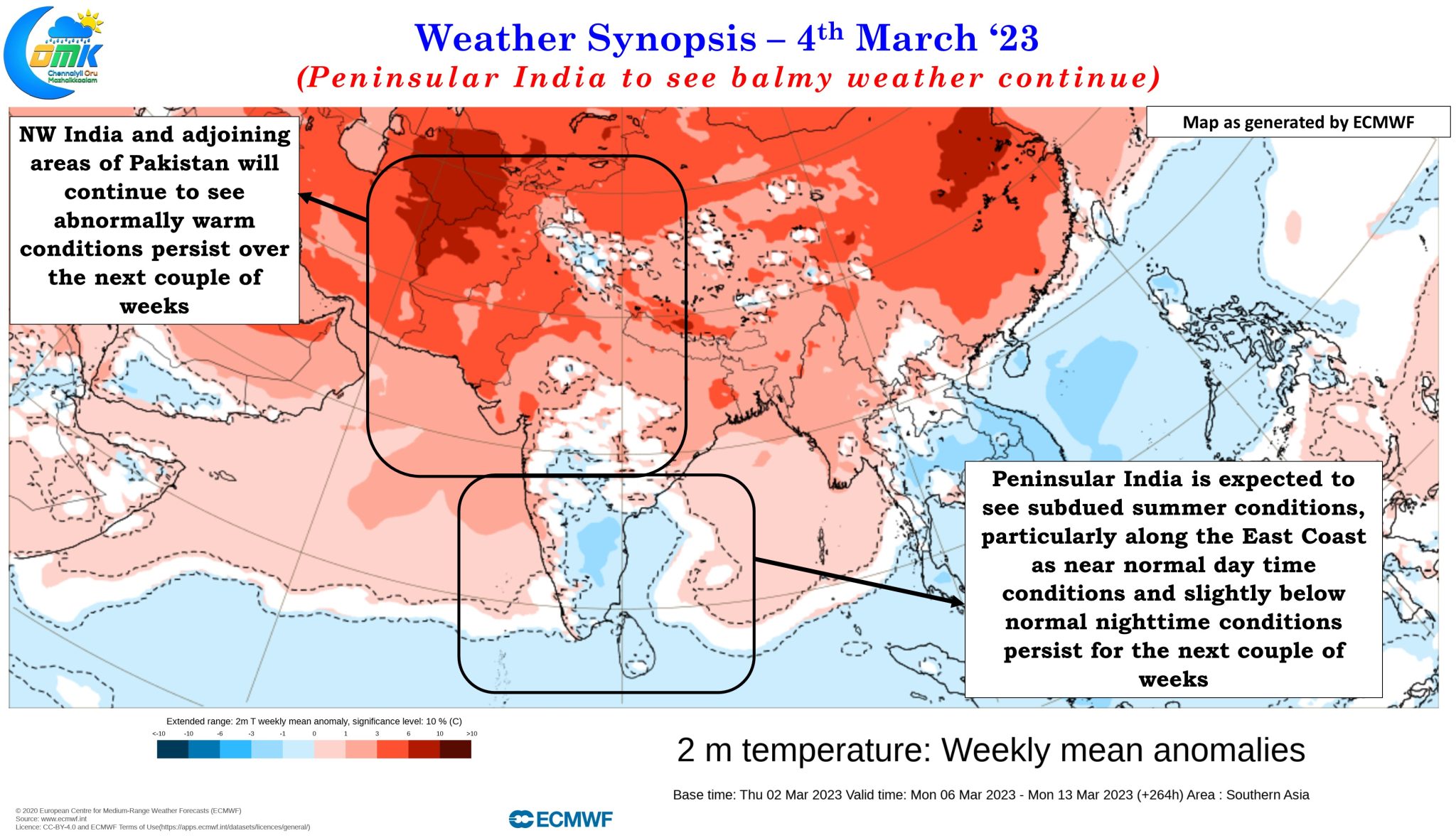 In the meanwhile the east coast of Peninsular India though has been benefitting from the Easterlies keeping a check on the day time temperatures over places like Chennai. The 46 day ECMWF forecast for the next couple of weeks indicates while NW India and adjoining areas of Pakistan is expected to see fairly hotter than normal conditions along with the west coast of Peninsular India which is expected to see near normal or slightly above normal temperatures. Except for Peninsular west coast most parts of South India is expected to see temperatures stay slightly below normal going by the 46 day ECMWF forecast. With chance of isolated rains over South TN over the next few days being picked up by weather models this is an indication of the influence of Easterlies over Tamil Nadu and adjoining areas of South AP.
All in all the balmy weather is expected to continue over many parts of Peninsular India with days not being uncomfortably hot except for the west coast which may see hot day time conditions.