Reading Time:
3
minutes
As we get closer to September we get to a stage where one starts to think of the window for Southwest Monsoon to start its withdrawal. Just like how the onset of monsoon is spread out over a few weeks the withdrawal is also spread over weeks with Northwest India the last point for monsoon to check in and the first point to check out. IMD has established guidelines for following and announcing the withdrawal of Southwest Monsoon similar to established protocols for announcing monsoon onset the Indian subcontinent.
While it is not yet time to sort of announce a possible window for the withdrawal of Southwest Monsoon surely it is time though to keep looking for pointers which might indicate the kickstart of monsoon withdrawal. One such indicators is reduction in rainfall activity over Northwest India, which is a factor of not only the establishment of an anti cyclone or high pressure zone over these areas but also the intrusion of drier continental winds. Currently we have the remnant low pressure area sitting over parts of Pakistan which will keep the rainfall going for NW India for the next couple of days.
But overall we are seeing a shift in the factors that had kept the enhanced phase of monsoon over Central India and adjoining areas for the past couple of weeks. Planetary waves are now skewed towards favoring and enhancing rainfall over Peninsular India for the next week to 10 days which is bound to impact the status of monsoon over Northwest India and possibly trigger the start of withdrawal.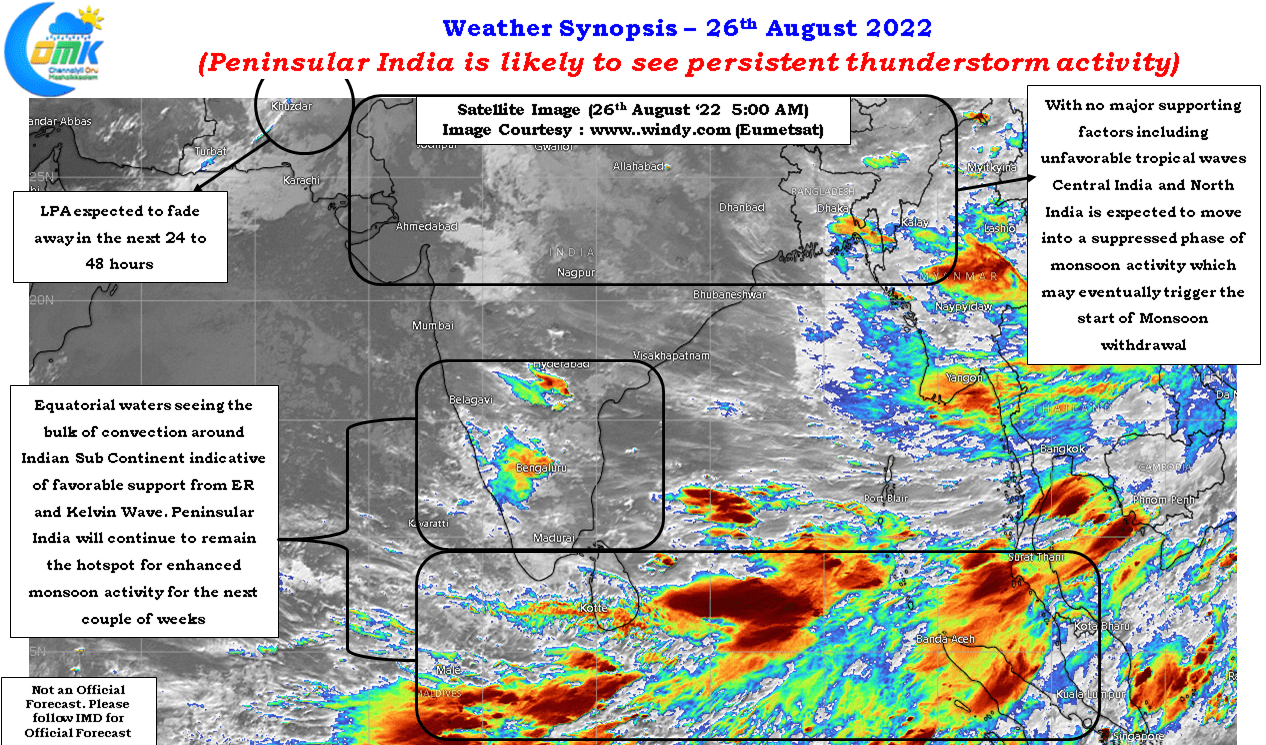 The presence of not only Kelvin wave which is known to enhance thunderstorm development in addition to the passing of ER wave along the Indian Ocean will firmly keep the monsoon activity over Peninsular India bringing about a potentially enhanced thunderstorm activity over the interiors of Tamil Nadu and other interior areas of Peninsular India like South Interior Karnataka, Rayalaseema etc. Though monsoon might be subdued in the west coast rains associated with thunderstorms in the downstream interior catchment areas are likely to keep the water managers of Krishna, Cauvery, Palar & Thenpennai basins on their toes. With MJO knocking on the doors of Indian Ocean, now straddling African Continent and parts of Western Indian Ocean, the next few weeks promises to be a period of enhanced persistent thunderstorms
Today wind instabilities are likely to once again favor the area about 100 kms away from the coast all the way from Tirupathur / Vellore / Tiruvannamalai region up to Pudukottai which may see widespread thunderstorms continue. Few places in this belt could see intense thunderstorm activity during the evening hours after what is likely to be a fairly clear and warm day for most of TN. Coastal areas may once again see sharp spell of rains through localized developments but due to weak steering pattern the areas that see rains may get dumped with rains while places a couple of kms away may remain dry.